A 501(C)3 Non-Profit Organization Serving New England
The Boxer Rescue
We are a group of volunteers, dedicated to finding loving forever homes for unwanted, abandoned, and surrendered Boxers. Our rescue works within Massachusetts, Rhode Island, Connecticut, and New Hampshire. We strive to not only save boxers, but to educate the public about responsible dog ownership, the importance of spaying and neutering, and how to best meet the needs of this amazing breed.
Adoptees
Make a Donation
Getting Involved
Save a Boxer
Adopting a Boxer
The Boxer Rescue, Inc. is a 501(c)3 non-profit organization serving the New England area.  Our group is made up of dedicated volunteers. These are the people who care for the homeless, abused and unwanted boxers because they have a love and passion for the breed and believe they all deserve a second chance. 
Make a Donation
The Boxer Rescue could not exist without donations from people like you. Many of our dogs coming into rescue require expensive medical treatment before they can be placed in their "forever" homes. The adoption donation is often not sufficient to cover all of the expenses.   Since The Boxer Rescue is solely operated on a volunteer basis, funding is always tight; therefore, your donation small or large will go a long way in helping our dogs in need.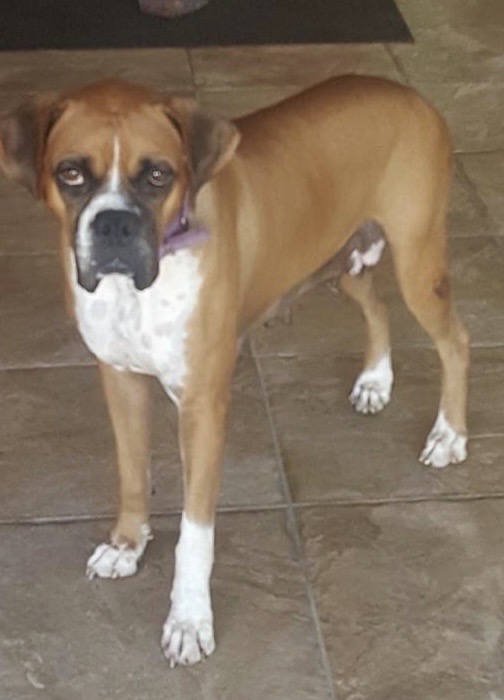 Meet Lazzie 🐾 2-4yrs 🐾 Female
** ADOPTION PENDING **
Welcome LAZZIE to The Boxer Rescue. She is currently waiting in Puerto Rico, for us to send for her. Lazzie is estimated to be between 2-4 years old. She LOVES LOVES LOVES people, meeting people, being around people, playing with people, laying with people... She is a people boxer. She also loves kids, so we can consider a family with children for Lazzie. She is not a huge fan of other dogs or cats, but that's because her love for people takes up her whole heart.
Please fill out an application if you are interested in Lazzie.
PEOPLE? YES.. SHE LOVES PEOPLE
KIDS? YES.. They are people
CATS? NOPE
DOGS? NOPE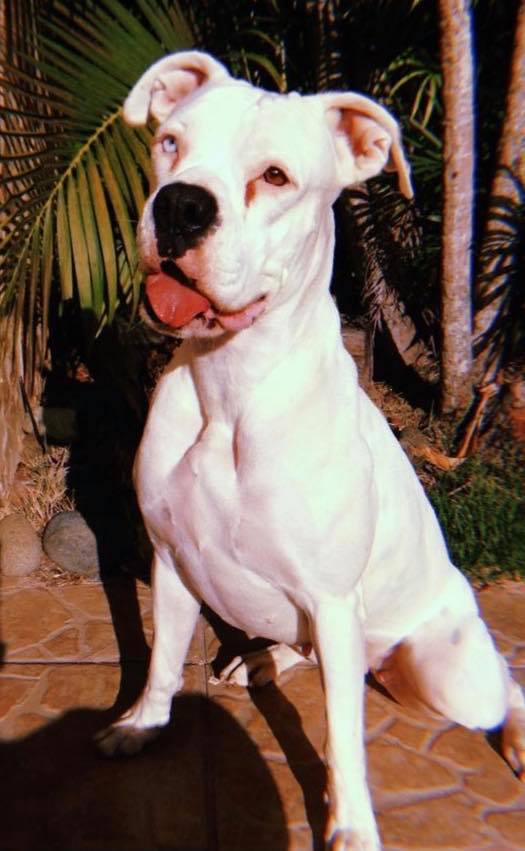 Meet Luna🐾 3yrs 🐾 Female
** Adoption Pending **
This is 3 year old Luna!! She is a bundle of fun all packaged up in a sweet boxer body, topped off with one blue eyed bow
Luna is currently in Puerto Rico where she lives with kiddos and is great with other dogs.
She's a strong girl, will need someone to help drain some of her boxer energy, and tucker her out. She is deaf, but don't tell her that. She really doesn't care one bit. We are looking to place Luna in a home with a fenced in yard, a male canine companion, and kids would be just fine as well. No cats.
Email us at info@theboxerrescue.org if you are interested in Luna.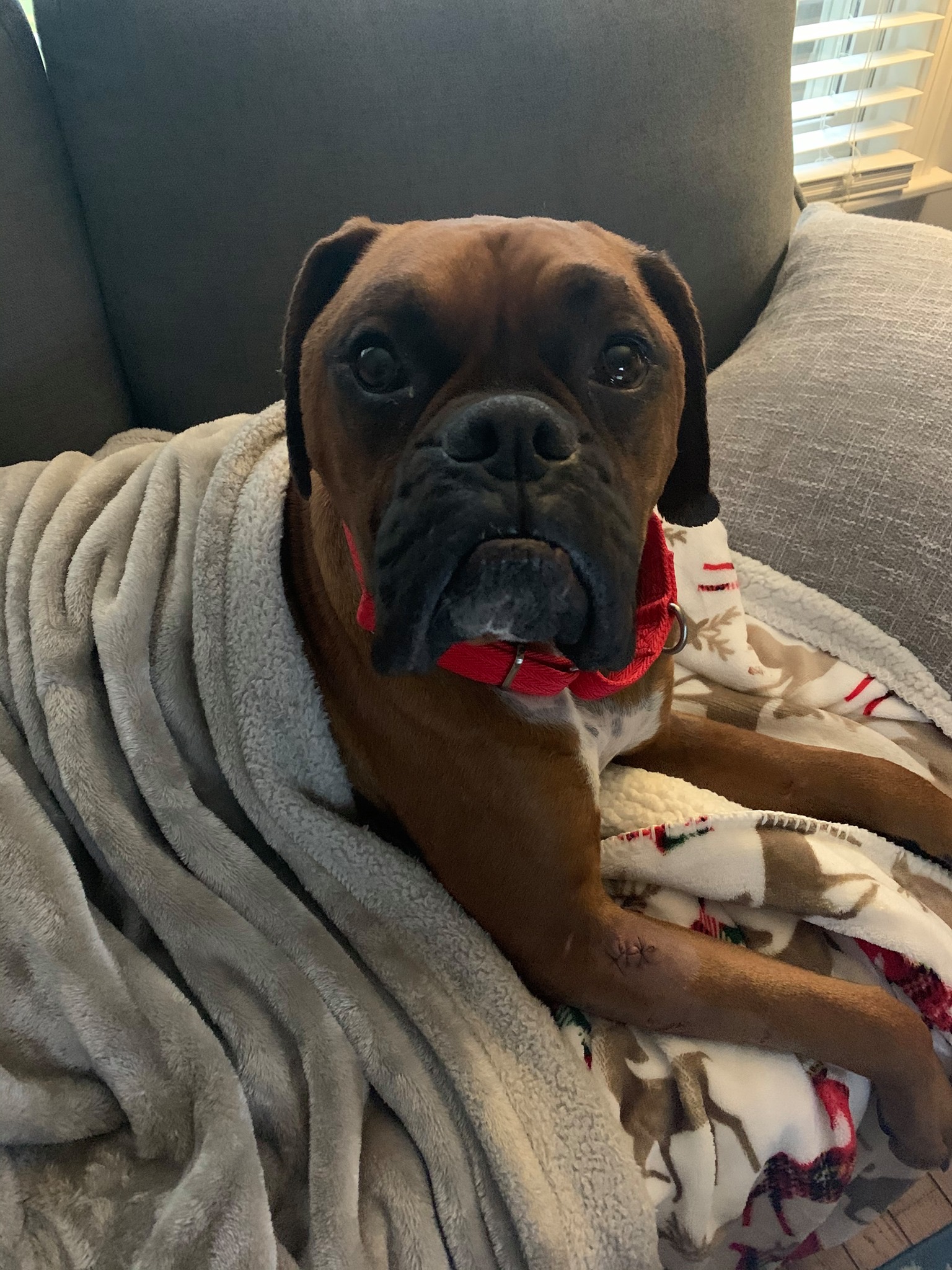 Meet Rocco 🐾 17 month 🐾 Male
This muffin head is 17 month old Rocco. Aside from being the cutest thing on the planet, he's also quite the lover of all things belly rubs.
Rocco came to us as an emergency surrender after being attacked by another resident boxer. It wasn't the first attack, but it left him very banged up and full of stitches and puncture wounds. He's healing nicely in his foster home and we've gotten to know him a bit better with each passing day.
Rocco loves.... belly rubs (already established that), fluffy toys, car rides, sitting, giving paw, and dancing. He also loves to sneak sips of beer.... shhhhhh he's underage!! He loves humans a lot and wants to be by their side because that maximizes his chances of those belly rubs.
Rocco does not love other dogs. Who can blame him after what happened. He does not love cats either.
Rocco is looking for a fresh start with a boxer experienced human. He's quite under-socialized and has a bark that would scare the pants off most people. Dogs send him over the edge, when he sees them out and about. So he needs to learn how to be in the general area of another dog without fearing for his life and that will likely take time, patience, and commitment from his new owner. He needs to learn that if you bark at people, they don't see that as a friendly greeting, even though he really just wants to give kisses.
Rocco is an excellent keeper of the couch for anyone who might work from home. He will hang out there while you make money to pay the bills. If you have to leave for a bit, he'll likely just stay on the couch. But, he'd really prefer a human who doesn't work crazy hours... it cuts into his belly rub time.
Rocco is a special guy who has been through the ringer, and while his physical scars will heal, his mental scars will take a little more time.
Dogs? Absolutely not
Cats? Nope
Kids? 13+ but perhaps younger if situation is just right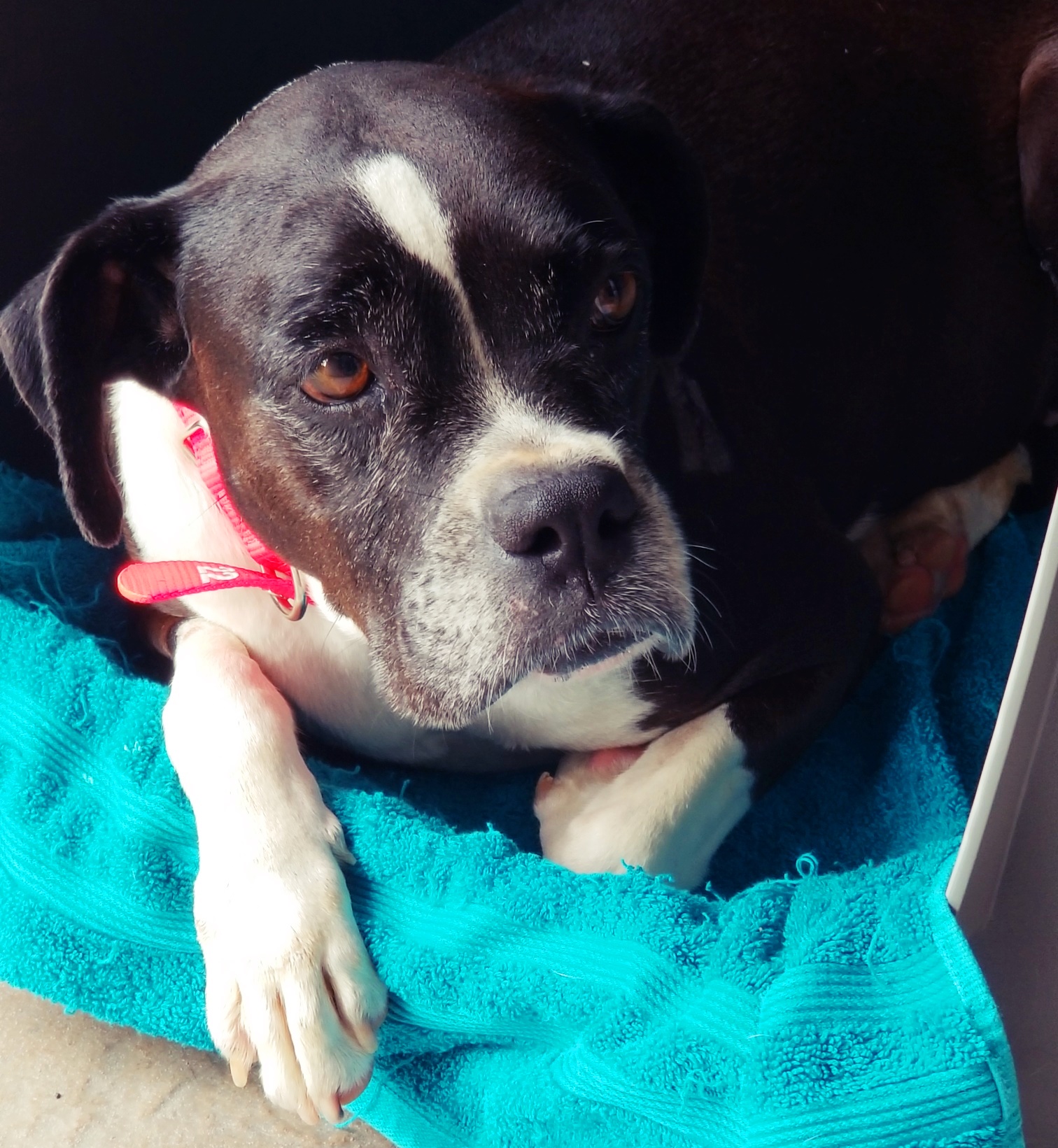 Meet Becky 🐾 4YR 🐾 Female
Well... Here's another one that just pulls at your heartstrings. This is Becky and, if she could tell you her story, she might struggle to get through it without crying. Her life has been a series of changes, followed by sadness and uncertainty. She was rescued in Puerto Rico, from a less than desirable living situation, and when we were asked if we could help, there was no way in hell we were going to say no. She's been through enough. It's HER time to shine. It's HER time to know love, stability, comfort, security, and joy. Becky is around 4 years old and when I say that she has the best wiggle but, I'm not fibbing. This girl can shake it like a polaroid picture!! She was super nervous and stressed when she was first rescued, but since arriving in foster on the island, she is doing so great!! She loves belly rubs and giving kisses. Her ability to trust, even after being failed, has not waivered. If you've been waiting for a sweet, snuggle muffin... here she is!!! Fill out an app! She is true rescue. She is why we do what we do. She may not be that show stopping puppy that everyone seems to want, but she is living creature with feelings and a desire to be a part of something wonderful for the rest of her life. Be her something wonderful!!
CATS? NO
KIDS? Older kids considered, but she might prefer the calmness of a child free house
DOGS? We may consider an older MALE, who will not be in her face. Again, she just wants to "be"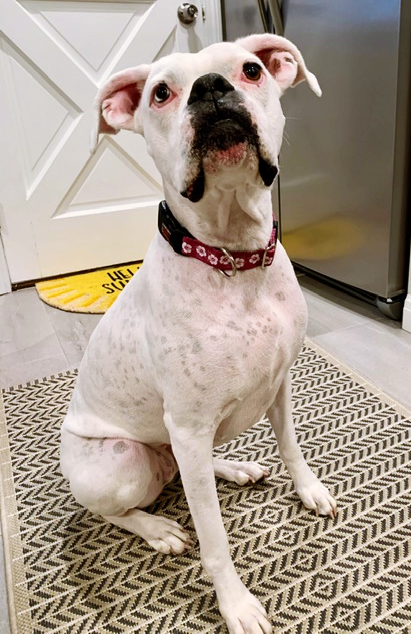 Meet Coconut 🐾 6yrs 🐾 Female
Meet COCONUT!!! This 6 year old Sweetie McSweet Pants, is looking for a home that has a chill male dog for her to play with. Coconut is good with kids, walks well on leash, and is UTD on her vaccines. Her owner is moving out of the country and cannot take her, so we were happy to help find a perfect forever home for this girl. She is NOT deaf.
If you are interested in Coconut, please email us or fill out an application for her.
DOGS? Chilled out male dog would be ok
CATS? NO
KIDS? OK
Meet Greko 🐾 15MNS 🐾 Male
Meet Greko. He's coming to us from Puerto Rico. He's approximately 15 months old and oozes boxer puppy energy. Greko can be placed with a sweet female boxer, but no cats.
He needs work on leash walking, as he pulls like he's a member of the Iditarod team.
If you are interested in Greko, and can commit to the exercise, training, and structure that a young boxer needs, feel free to fill out an application.
Other dogs? Female ok
Cats? No
Kids? 10-12+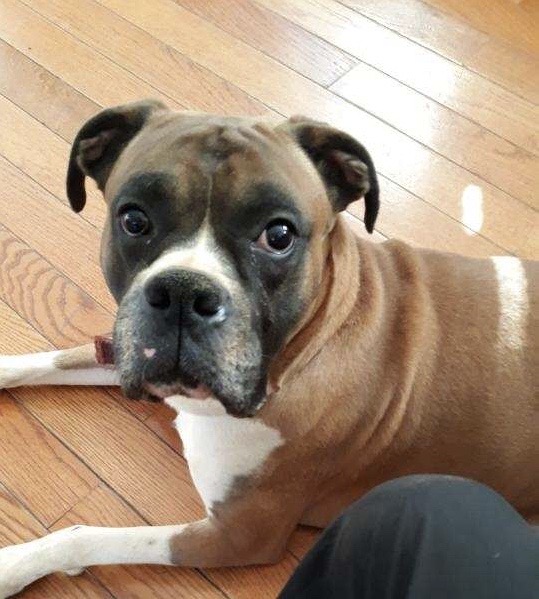 Meet Milo 🐾 3yrs 🐾 Male
This is MILO! He is 3 years old and coming into rescue because he spends a lot of time alone and crated. Milo is a BIG BOY, at 90 lbs. Our volunteer who evaluated him said that he wasn't too jumpy, but needs reminders to keep all four on the floor. He pulls a bit on leash, but with some work in that area, he'll be an expert walker in no time. Milo was friendly with our volunteer's female dog, HOWEVER, he is not yet neutered and was a humping machine. So, we would consider placing him with a spayed female only if 1) his new family is willing and able to take him to one of our low cost neuter clinics right away. He's not able to be neutered in his current home because he is alone too often and will not be supervised during recovery. 2) If placed with a female, his new family needs to be able to manage the humping behavior and redirect him.
Milo is looking for a home where he will get plenty of love and attention. He loves car rides! He'll make a great companion to someone looking for a big boxer boy!
OTHER DOGS? Female considered but not necessary
CATS? No
KIDS? 15-16+ but will consider a bit younger if situation is perfect for him.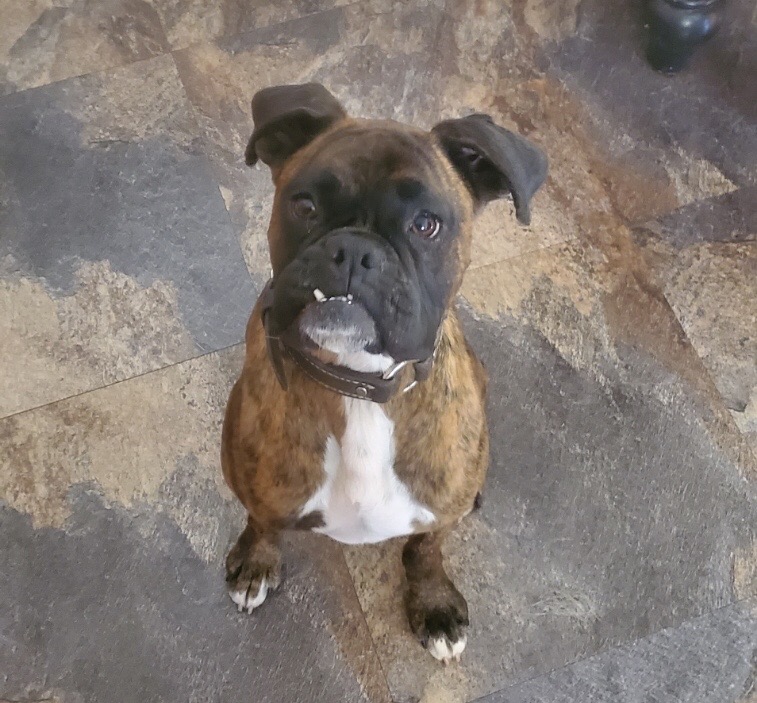 Meet Shelby 🐾 4 YRS 🐾 Female
Meet Shelby! She's 4 years old and looking for a home. Shelby is very very petite... she could stand to gain 10lbs or so, but she does have a tiny boxer frame. Right now, she's spending most of her day and night, in a crate, with little to no physical or mental exercise. Our volunteer that met Shelby, reported that she was very sweet, but takes time to warm up to new people. She was scared and reluctant at first, but after a little while, was happily taking treats. We will consider placing her with a male dog, as she does live with a dog and tested well with our volunteer's dog.
Shelby's new home should have boxer experience. She's going to need a lot of time, structure, and commitment from her humans to help her settle into a new life. She will need work on housebreaking, as she's currently crated for so long, that she has no idea where to potty. Shelby isn't walked much, if at all, so she pulls and can be reactive to other dogs. Her new family will need to help her work through this in a positive way.
Her ideal family is one where she's not left home alone for hours and hours. She's had enough of that and would much rather the company of her humans.
Due to her shyness, we prefer not to place her with young kids. No cats for her!!
If you would like to welcome this girl, with the million dollar smile, into your home, please fill out an application.
She'll be sure to let you know how much she appreciates you saving her and giving her the best life possible!

We often have many beautiful boxers in need of forever homes. From puppies to seniors, they all deserve their happily ever after. Keep an open mind and an open heart, and you just might find your best friend.

Foster a Boxer
Foster homes are a critical piece of our rescue puzzle and enable us to learn as much as we can about the boxers that come to us before being placed in forever homes.
Volunteer
We are always in need of volunteers. Do as little or as much as you want to help us, help them.
In order to continue to save the lives of beautiful boxers, we need funding help from the public. Please consider making a tax deductible donation in honor of your love for the breed.
The Boxer Rescue
Our Mission
Our goal is to promote responsible dog ownership, provide support to boxer owners, inform the public about the needs, qualities and characteristics of the boxer breed, and to be a positive presence in the boxer rescue community.  
Get Involved
If you would like to help The Boxer Rescue, please consider making a monetary donation.  The Boxer Rescue, Inc. is a 501(c) 3 non-profit organization and all donations are tax deductible. No donation is ever too small to help a boxer dog in need.
Pet Rock
September 8 🐾 12pm

Wyman Gordon
Woofstock
September 21 🐾 11am – 4pm
Hudson Elks Pavilion

Boxer Bash
 October 6  🐾  11am-3pm
Hopkinton State Park

Learn
Boxer Adoption Notes
Why Two Female Dogs May Not Be the Best Combination
If you find yourself considering this sort of same-sex adoption scenario, think again. As cute and playful same-sex sibling puppies are, chances are that once they mature, they will engage in some serious discussions that could turn bloody.
Is the boxer the right breed for you?
Boxers are forever puppies.  They seem to never to "grow up". So be prepared to deal with puppy behavior until they are around 3-4 years old.  They require a lot of exercise and stimulation.  Multiple long walks a day will help tire them out, and we all know that a "tired boxer is a good boxer".