A 501(C)3 Non-Profit Organization Serving New England
The Boxer Rescue
We are a group of volunteers, dedicated to finding loving forever homes for unwanted, abandoned, and surrendered Boxers. Our rescue works within Massachusetts, Maine, Rhode Island, Connecticut, and New Hampshire. We strive to not only save boxers, but to educate the public about responsible dog ownership, the importance of spaying and neutering, and how to best meet the needs of this amazing breed.
Adoptees
Make a Donation
Getting Involved
Save a Boxer
Adopting a Boxer
The Boxer Rescue, Inc. is a 501(c)3 non-profit organization serving the New England area.  Our group is made up of dedicated volunteers. These are the people who care for the homeless, abused and unwanted boxers because they have a love and passion for the breed and believe they all deserve a second chance. 
Make a Donation
The Boxer Rescue could not exist without donations from people like you. Many of our dogs coming into rescue require expensive medical treatment before they can be placed in their "forever" homes. The adoption donation is often not sufficient to cover all of the expenses.   Since The Boxer Rescue is solely operated on a volunteer basis, funding is always tight; therefore, your donation small or large will go a long way in helping our dogs in need. 
Get Ready To Snuggle
Our Adoptees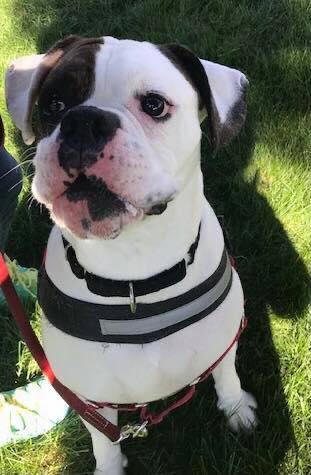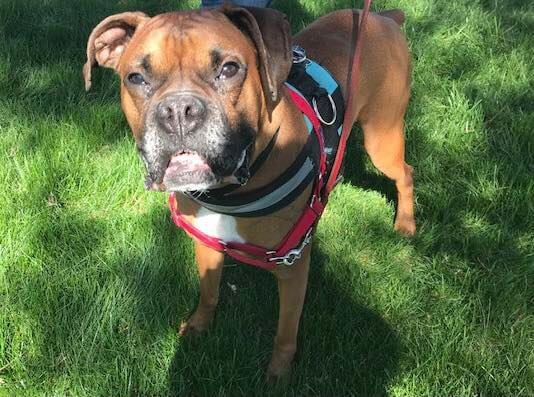 Meet Jax 🐾 4 YRS 🐾 M
Applications are no longer being accepted as Jax is ** ADOPTED!! **
Y'all gon' make me lose my mind
Up in here, up in here
Y'all gon' make me go all out
Up in here, up in here
My name is Jax and that is my theme song. I'm a little bit losing my mind cause I'm soooo bored. Dear lord, someone exercise me, so I can be a better man. I'm 4 years old, and right now, I'm spending too much time alone. I've gotten pretty good at chewing rugs, hot wiring cars, and laundering money. Hey... a guy needs to do something to keep busy. I'm kind of hoping that those volunteers who came to evaluate me were like some sort of intervention and I'm going to be whisked away to boxer rehab, where the days consist of loooooooooong walks, yummy treats for doing good things, and more human attention that I can wiggle a nub at.
I live with my brother, who is also in need of boxer rehab. We've chatted and we understand that it might be best for us to part ways, so that we can stop being bad influences on each other. I admit, together, we are a lot. We even pulled a human down to the ground on a walk. #knowyourownstrength That might have been the straw that broke that weird camel's back.
Anyhoooooo... If there's someone out there, willing to work with me and get me back to hangin with the right crowd, so I can make better life decisions, that would be sweet. It really is exhausting being bored all the time. I would much rather a confident human guide me and tell me what I need to be doing. I love food and I'm super motivated. So, fill your pockets with hot dogs or cheese and I'll follow your butt to the ends of the earth. Trust me, I'm ready to learn!
You have to reach out to the rescue if you're interested in me, so they can see what you bring to the table.
Definitely NO OTHER PETS.... I need all the attention and focus on me so I can learn how to be even more amazing than I already am.
NO YOUNG KIDS ... I'm strong. It's just how I'm made. Also, I did pull a human to the ground, so there's that. Sorry. Not sorry.
Please, if you apply, be an active person. I cannot sit around and do nothing for one more second ( see theme song at beginning)
I need to move.. I need to shake what my momma gave me. I need to experience life. I need to eat ice cream and visit the Great Wall of China and climb Everest and see Paris and fly over the Grand Canyon in a helicopter. I need to do ALL THE THINGS!! ALL OF THEM! Who's in???????????

We often have many beautiful boxers in need of forever homes. From puppies to seniors, they all deserve their happily ever after. Keep an open mind and an open heart, and you just might find your best friend.

Foster a Boxer
Foster homes are a critical piece of our rescue puzzle and enable us to learn as much as we can about the boxers that come to us before being placed in forever homes.
Volunteer
We are always in need of volunteers. Do as little or as much as you want to help us, help them.
In order to continue to save the lives of beautiful boxers, we need funding help from the public. Please consider making a tax deductible donation in honor of your love for the breed.
The Boxer Rescue
Our Mission
Our goal is to promote responsible dog ownership, provide support to boxer owners, inform the public about the needs, qualities and characteristics of the boxer breed, and to be a positive presence in the boxer rescue community.  
Get Involved
If you would like to help The Boxer Rescue, please consider making a monetary donation.  The Boxer Rescue, Inc. is a 501(c) 3 non-profit organization and all donations are tax deductible. No donation is ever too small to help a boxer dog in need.
Pet Rock
September 8 🐾 12pm

Wyman Gordon
Woofstock
September 21 🐾 11am – 4pm
Hudson Elks Pavilion

Boxer Bash
 October 6  🐾  11am-3pm
Hopkinton State Park

Learn
Boxer Adoption Notes
Why Two Female Dogs May Not Be the Best Combination
If you find yourself considering this sort of same-sex adoption scenario, think again. As cute and playful same-sex sibling puppies are, chances are that once they mature, they will engage in some serious discussions that could turn bloody.
Is the boxer the right breed for you?
Boxers are forever puppies.  They seem to never to "grow up". So be prepared to deal with puppy behavior until they are around 3-4 years old.  They require a lot of exercise and stimulation.  Multiple long walks a day will help tire them out, and we all know that a "tired boxer is a good boxer".