A 501(C)3 Non-Profit Organization Serving New England
The Boxer Rescue
We are a group of volunteers, dedicated to finding loving forever homes for unwanted, abandoned, and surrendered Boxers. Our rescue works within Massachusetts, Rhode Island, Connecticut, and New Hampshire. We strive to not only save boxers, but to educate the public about responsible dog ownership, the importance of spaying and neutering, and how to best meet the needs of this amazing breed.
Adoptees
Make a Donation
Getting Involved
Save a Boxer
Adopting a Boxer
The Boxer Rescue, Inc. is a 501(c)3 non-profit organization serving the New England area.  Our group is made up of dedicated volunteers. These are the people who care for the homeless, abused and unwanted boxers because they have a love and passion for the breed and believe they all deserve a second chance. 
Make a Donation
The Boxer Rescue could not exist without donations from people like you. Many of our dogs coming into rescue require expensive medical treatment before they can be placed in their "forever" homes. The adoption donation is often not sufficient to cover all of the expenses.   Since The Boxer Rescue is solely operated on a volunteer basis, funding is always tight; therefore, your donation small or large will go a long way in helping our dogs in need.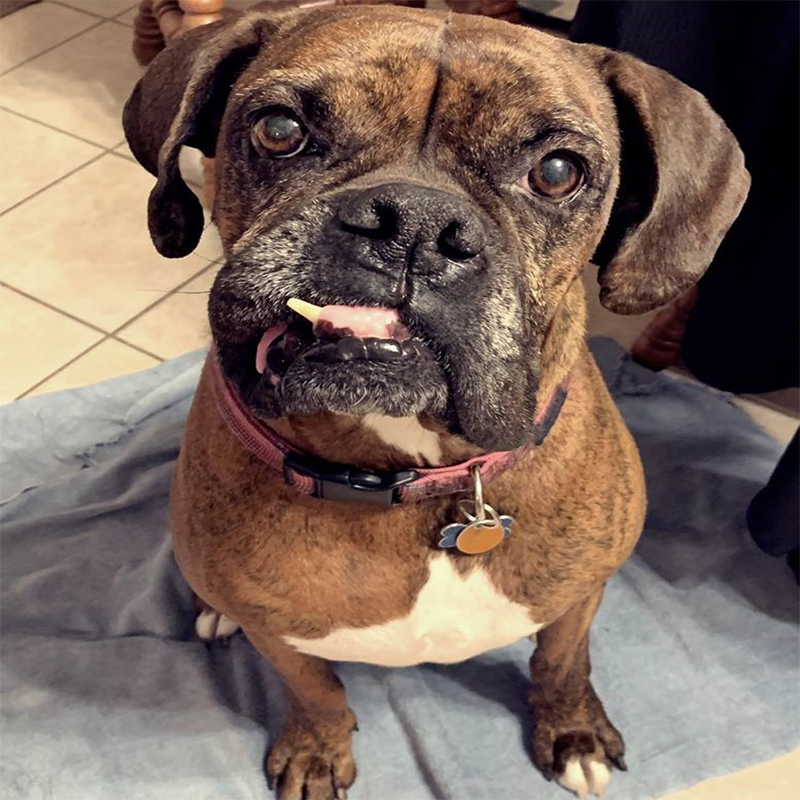 Meet Cooper 🐾 5yrs 🐾 Male
If this mug doesn't scream KISS ME, then you need to have your eyes checked! 5 year old Cooper is a big lovable goofball. He is coming back into the program as he is not getting along with the other dog in the home. He absolutely loves people and does great with people coming into the house. He is fine in the crate at night, and when his people are not at home. Cooper walks pretty well on leash but, needs to work on how to respond when there is another dog in sight. He's super treat and food motivated, so it helps to walk with treats to keep him focused on you in the event another dog comes along. Bottom line is Cooper is a giant muffin head who loves attention from his people and all people in the general public. His size can be a bit intimidating and he is very strong, but he means no harm. We are looking to place Cooper as an ONLY PET. We will consider a family with children over 12 years. If you are interested in Cooper, please fill out an adoption application.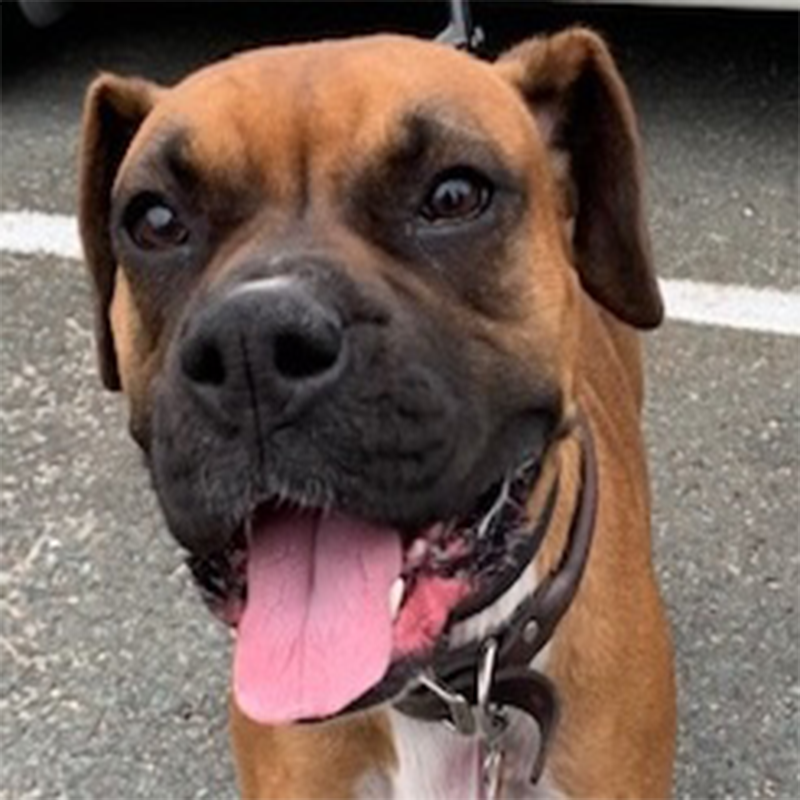 Meet Daphne 🐾 3yrs 🐾 Female
This beautiful girl is 3 years old and is coming into the program because she is not getting along with one of the 5 dogs in her current home. Daphne has been in her current home for 6 months and prior to that she lived with an elderly person who was unable to care for her. Daphne seems to be the instigator with the scuffles she's having, so we will be looking to her place her as an only dog for now. She has no history with cats or children, so no cats for this girl and no young kiddos. She is very sweet and loves everyone she meets. Daphne will need to work on some basic commands, as she likes to pull a little on walks and LOVES to jump. She would benefit greatly from a class or 2 at doggie school. She is crate trained and is used to having a fenced in yard. If you are interested in this beautiful girl, please fill out an adoption application.
Meet Ali 🐾 12yrs 🐾 Male
My name is Ali and I am 12 years young. I was brought into a shelter when my owner moved away and couldn't take me. The shelter just neutered me and removed a large mass, so I'm here, recovering from surgery, waiting for someone to want to take me "home". I am not a couch potato. In fact, I have the energy of a pup and could benefit from a bit of obedience 101. I am beyond sweet, very friendly, very loveable, and very ready to get out of here and start exploring the world around me. I want to take walks, smell all the smells, lay in the sun, maybe eat some grass, chase a squirrel, and pee on a hydrant. I want to do all those fun dog things. Right now, everyone's thinking I should be placed as an only dog because I have no manners when I meet other 4 legged friends, and I might end up getting myself hurt. But, the shelter and the people at TBRI will do a few more tests with other dogs and see if things change.
So, if you're looking for the best old man on the planet, here I am!! I've got lots of life left in me and I am ready to live each moment to the fullest. Fill out an application if you want to take me home. I'm waiting!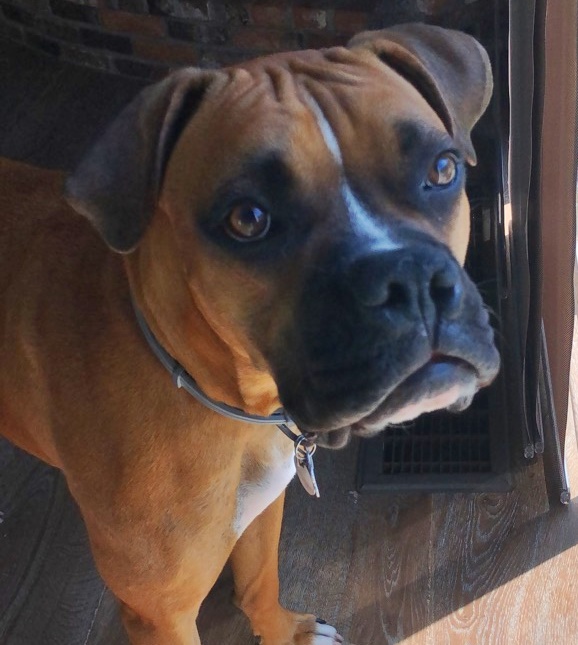 Meet Turk 🐾 1.5yrs 🐾 Male
Turk is a 1 ½ year old boxer boy who is super energetic, super sweet, and extra super handsome. He's so much goodness wrapped into a bundle of boxer, but he isn't a boxer for just anyone. You see, Turk can be fearful of people and it's not always easy to know who will make him scared. Could be the fed ex guy, maybe the pizza delivery person, maybe the UPS driver. Turk is currently in a wonderful home and they adore and love him very much, but it's a busy home with lots of kids coming and going and lots of activities. For Turk, it's just not the best place to be on a forever basis. Turk LOVES other dogs and when another dog is around, people don't seem to scare him so much. He tends to look to the other, more confident dog, for reassurance and guidance. So, we 100% want to place him in a home with another dog. He would likely do best in a home that is not bustling with a ton of activity… one where kids and teens are not in and out all the time. Turk has had some formal training and he's a fast learner. His new family should plan on continuing some positive based training with him and keep him moving onward and upward. Turk is full of potential. You can just see it in his eyes. We just need to find that person(s) who has the time and patience to help him shine. Turk is neutered and current on all of his vaccinations. If you are interested in him, please fill out an application.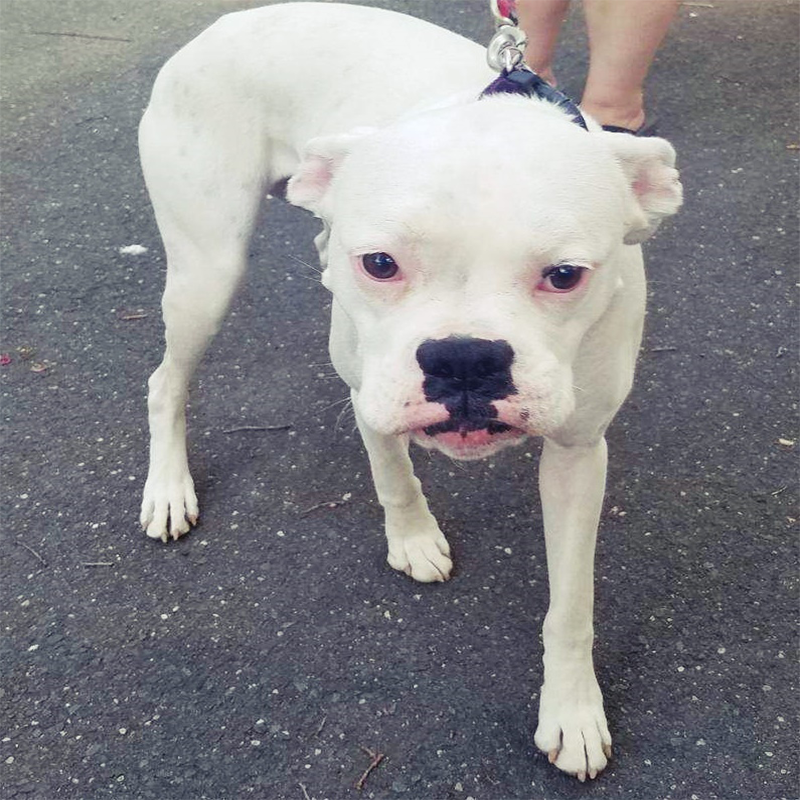 Meet Stella 🐾 3yrs 🐾 Female
Meet Miss Sweet as Sugar STELLA!!! She is 3 years old and coming into rescue because she is fighting with the female dogs in her home. Stella is very loved and well socialized. She enjoys car rides, long walks, and time with her humans. Stella does have a low grade heart murmur, that is not causing her any issues, but it is worth noting given that she is a boxer. We will be placing Stella as an only pet at this time. She would likely do best with children over 10 years old, but we will consider younger if the situation is right for her. If you are interested in Stella, please fill out an adoption application.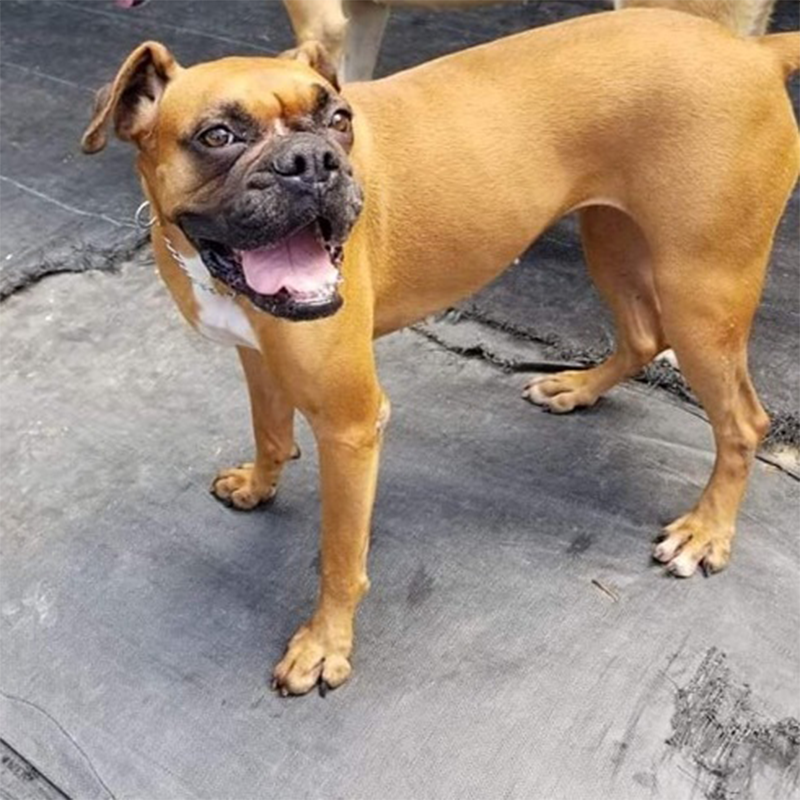 Meet Nikita 🐾 2.5yrs 🐾 Female
** ADOPTION PENDING **
Miss Happy Pants from Puerto Rico is 2.5 years old, spayed, and as you can see, very beautiful. She is reportedly good with other dogs, enjoys meeting people, and would be ok with kids over 10. She will need work on leash walking and is not crate trained. If you are interested in Nikita, please fill out an adoption application.

We often have many beautiful boxers in need of forever homes. From puppies to seniors, they all deserve their happily ever after. Keep an open mind and an open heart, and you just might find your best friend.

Foster a Boxer
Foster homes are a critical piece of our rescue puzzle and enable us to learn as much as we can about the boxers that come to us before being placed in forever homes.
Volunteer
We are always in need of volunteers. Do as little or as much as you want to help us, help them.
In order to continue to save the lives of beautiful boxers, we need funding help from the public. Please consider making a tax deductible donation in honor of your love for the breed.
The Boxer Rescue
Our Mission
Our goal is to promote responsible dog ownership, provide support to boxer owners, inform the public about the needs, qualities and characteristics of the boxer breed, and to be a positive presence in the boxer rescue community.  
Get Involved
If you would like to help The Boxer Rescue, please consider making a monetary donation.  The Boxer Rescue, Inc. is a 501(c) 3 non-profit organization and all donations are tax deductible. No donation is ever too small to help a boxer dog in need.
Pet Rock
September 8 🐾 12pm

Wyman Gordon
Woofstock
September 21 🐾 11am – 4pm
Hudson Elks Pavilion

Boxer Bash
 October 6  🐾  11am-3pm
Hopkinton State Park

Learn
Boxer Adoption Notes
Why Two Female Dogs May Not Be the Best Combination
If you find yourself considering this sort of same-sex adoption scenario, think again. As cute and playful same-sex sibling puppies are, chances are that once they mature, they will engage in some serious discussions that could turn bloody.
Is the boxer the right breed for you?
Boxers are forever puppies.  They seem to never to "grow up". So be prepared to deal with puppy behavior until they are around 3-4 years old.  They require a lot of exercise and stimulation.  Multiple long walks a day will help tire them out, and we all know that a "tired boxer is a good boxer".