A 501(C)3 Non-Profit Organization Serving New England
The Boxer Rescue
We are a group of volunteers, dedicated to finding loving forever homes for unwanted, abandoned, and surrendered Boxers. Our rescue works within Massachusetts, Maine, Rhode Island, Connecticut, and New Hampshire. We strive to not only save boxers, but to educate the public about responsible dog ownership, the importance of spaying and neutering, and how to best meet the needs of this amazing breed.
Adoptees
Make a Donation
Getting Involved
Save a Boxer
Adopting a Boxer
The Boxer Rescue, Inc. is a 501(c)3 non-profit organization serving the New England area.  Our group is made up of dedicated volunteers. These are the people who care for the homeless, abused and unwanted boxers because they have a love and passion for the breed and believe they all deserve a second chance.
Make a Donation
The Boxer Rescue could not exist without donations from people like you. Many of our dogs coming into rescue require expensive medical treatment before they can be placed in their "forever" homes. The adoption donation is often not sufficient to cover all of the expenses.   Since The Boxer Rescue is solely operated on a volunteer basis, funding is always tight; therefore, your donation small or large will go a long way in helping our dogs in need.
Get Ready To Snuggle
Our Adoptees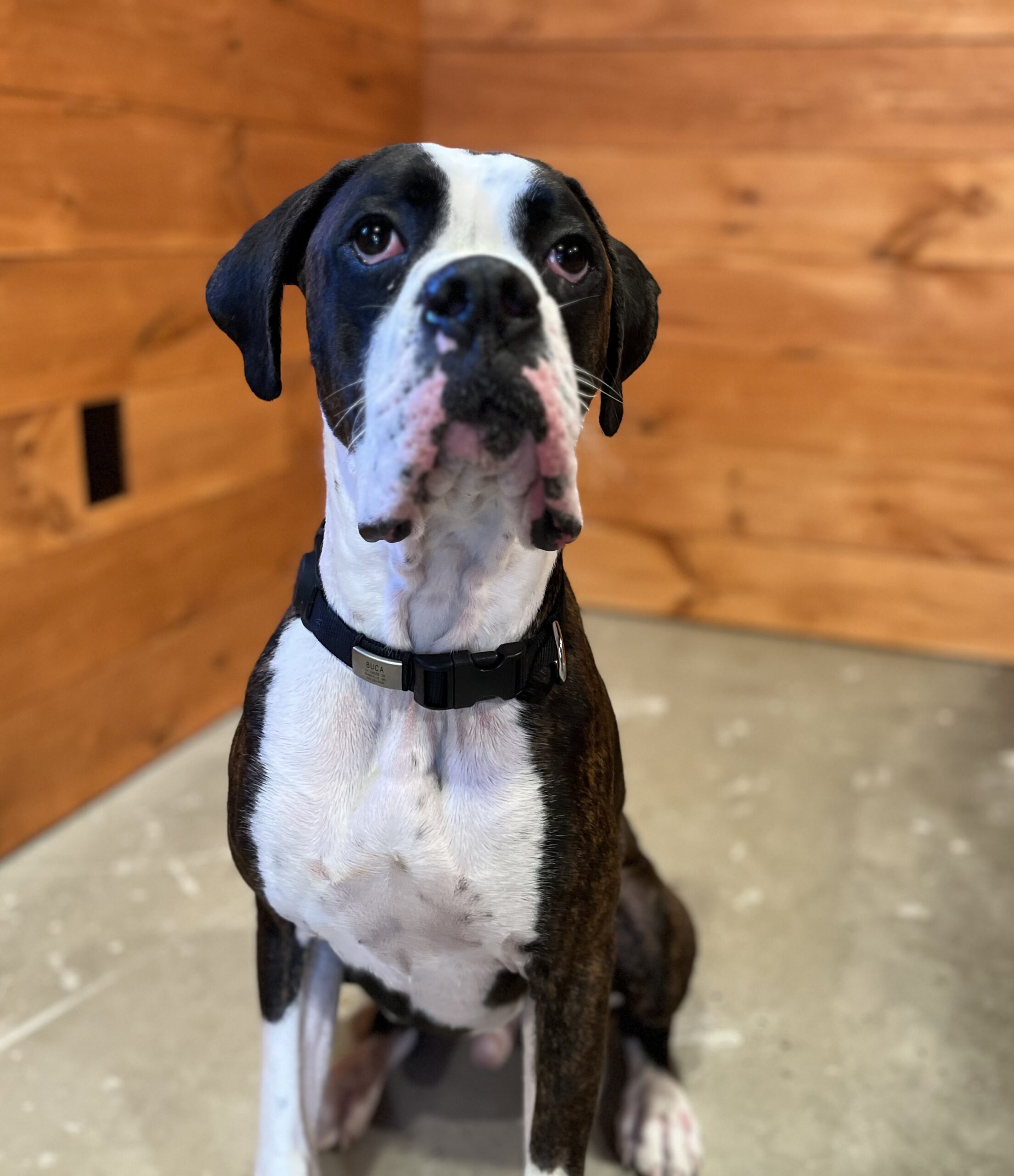 Meet Buca 🐾 1 YRS 🐾 M
Who's looking for a giant, droopy jowl face, love muffin?  We got your guy right here!
Buca is in foster and we had hoped that he'd be able to live with another boxer but he's got some resource guarding going on (with the dog only) and it's not going to be a successful forever situation for him.
So we are seeking a forever home where he will be an only dog and get all the attention. Buca's a great dog, full of so much energy, and so smart.
His foster dad has been working on crate training with him and he's making progress. The key is to exhaust this small horse and then he seeks out the comfort of his crate to catch some zzzzz's.
Buca's getting lots of hikes with his fosters. He'd make an epic hiking partner and thanks to his size, he'd probably scare off any wildlife you encounter. He walks well on leash, is totally housebroken, and sleeps soundly all night.
We are looking to place Buca in a home that's willing to take him to some positive based training classes, as he's so eager to learn. He needs active humans. Couch taters need not apply. Looking to Forest Gump your way across America? Buca's up for it!  He does have some separation anxiety so a work from home situation would be ideal or someone who isn't gone all day. He does do much better when he's tuckered out. Buca is pure love, and oozing so much potential. We are sad that his foster situation isn't going to be forever. But we tried. And now we know. He could make a great playdate pup..  just not a live with a pup, pup. 
OTHER DOGS? Play dates could be ok. But he needs to be an only.
CATS?  No
KIDS? Has lived with kids. Sturdy children ok, as he's a baby rhino.
FENCED IN YARD WOULD BE MOST IDEAL but a crap ton of exercise in the form of walks/hikes is even more important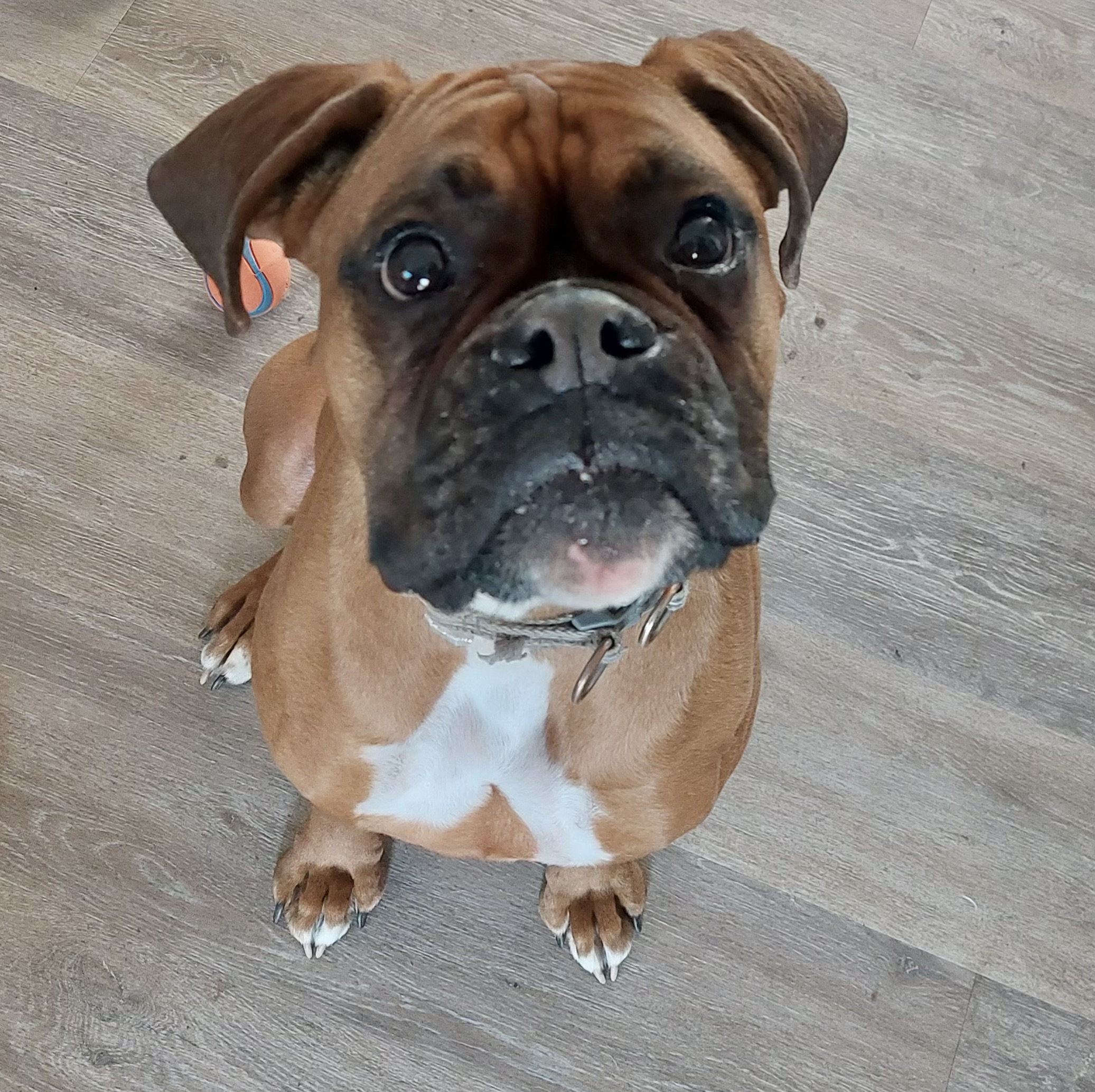 Meet Titus 🐾 4YRS 🐾 M
4 year old Titus, and all his handsomeness, is coming into rescue due to a divorce situation. He is not getting nearly the attention and exercise that he needs. He's currently crated upwards of 9 hours a day, and not being walked. We need to find Titus a home that can meet all his crazy boxer needs.
He's a jumper. Big. Time. Jumper. Like a kangaroo in a boxer suit. And he's so strong. That said, he's coming in hot with so much pent up energy, that needs somewhere to go. Just like with the 5764688 other boxers we've placed, we feel that once his energy is being drained, he will start to calm his butt down. 9 hours in a crate with no walks is a recipe for a boxer disaster zone.
Titus will not be placed with young kids or cats. He's shown some anxiety around the child he currently lives with and cats are just a no for this guy.
We will consider placing him with a female boxer however he is a lot of dog and his energy could be too much for many dogs and/or someone not prepared to deal with integrating a velociraptor into a home with a resident dog. Ask yourself if you're equipped to separate the dogs as needed, and act as a referee and supervise their interactions. It's a huge commitment and will not be without bumps in the road.
Titus can absolutely be placed as an only dog and be perfectly happy getting all the love and attention. He'd be great for playdates with dog friends (not a fan of small dogs) and love to join a new family on walks and outings.
He needs some structure in his life… and just like so many we take into rescue, when they are placed into a new environment, they thrive. Titus will do the same.
OTHER DOGS? Possibly a female that can tolerate his extremely high energy level.
KIDS? Teens +
CATS? No
FENCED IN YARD? Would be great, especially if placed with another dog.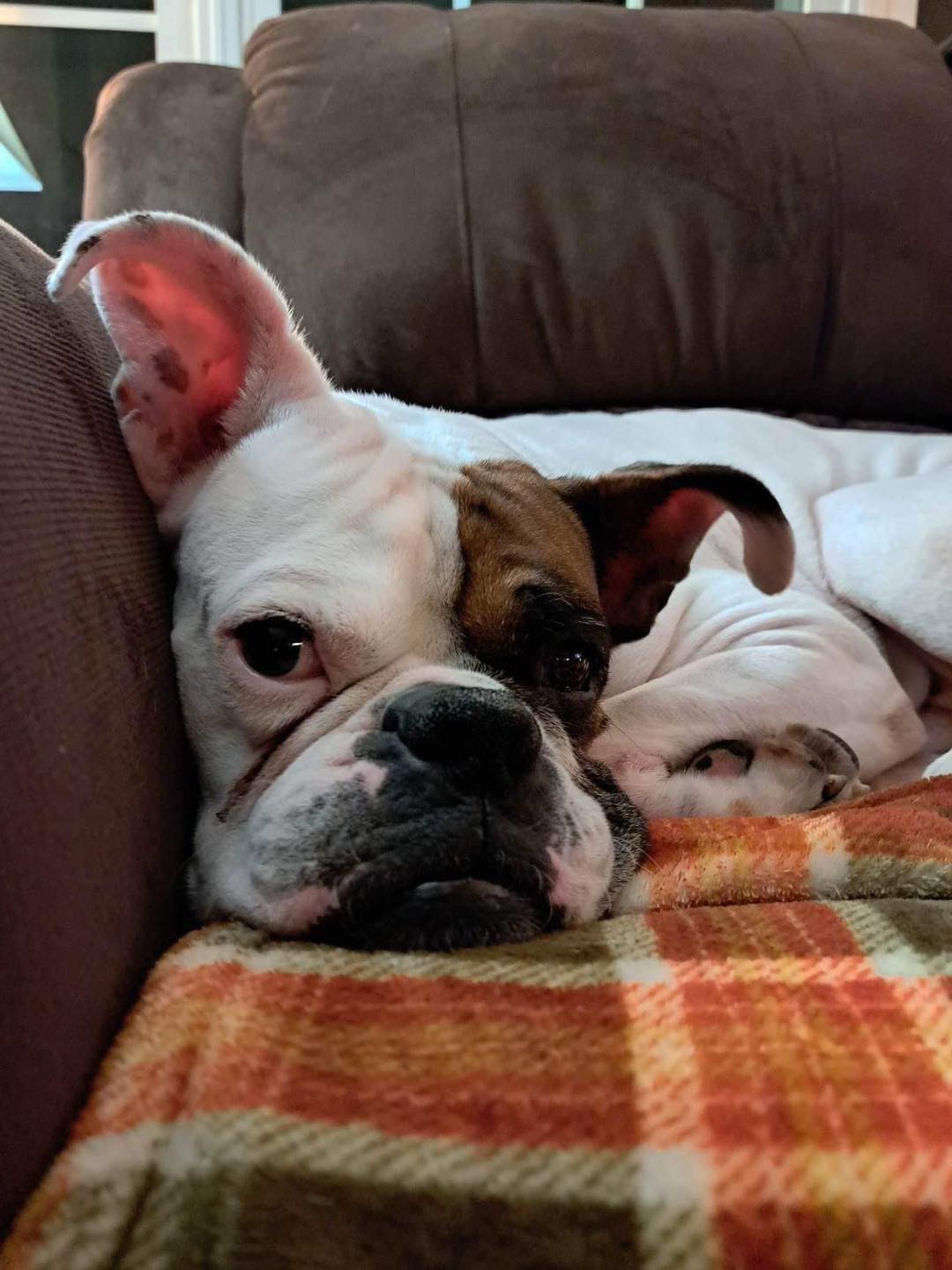 Meet Rocky 🐾 9/10YRS 🐾 M
Rocky is available for adoption in MA RI CT and NH. He's around 9-10 years old. No one knows for sure when his birthday is. His previous owners didn't seem to care much about him at all. He spent his days, alone. He had no toys. No one gave him attention. He didn't go for walks or car rides. He just existed. When we took him into rescue, he got in the car and never ever looked back. He knew he had been saved.
Rocky's life of isolation and little to no socialization, shaped who he is today. He's not quick to trust strangers. He doesn't want random peeps running up to him screaming about how freaking adorable his ears are. He just wants to be the center of someone's world. He wants to go for a few long walks every day, toss some toys around, and then snuggle up with whatever human decided that he's worth it.
Rocky is a dog who will need to be managed. Whoever adopts this gem needs to accept that he's not a dog who is going into Petco or into crowds of people. It doesn't make him a bad dog. He's communicating what his comfort zone is. He's asking for that to be respected and accepted. Rocky is pure love, and he has proven that to his foster mom and dad. They earned his trust by listening to him. He knows he's safe with them.
Rocky is so deserving of a forever home that is willing to love him. He's made so much progress, brought so much joy, and has shown how resilient dogs are. He didn't ask for a crap life before rescue.
We'd love to see Rocky find a committed forever home. One who gets that there will be an adjustment period and bumps along the road as he builds up that trust with his new humans. He needs humans who love to snuggle, who have comfy couches, lots of toys, and most importantly, who love to walk! It's his favorite pastime and you're sure to get whipped into bikini shape with this dude by your side. Rocky needs a family or human who wants a companion. Someone who doesn't care if he doesn't love crowds of people, parties, and hoopla. He just wants his besties by his side. Rocky is a good boy when left alone, but we aren't looking to place him in a home where he's alone all day. He's been there, done that, and gives it 2 flying nun ears, way down.
OTHER DOGS? Nope.. he's a solo boy. But he's been great about passing other dogs on his walks so YEAH Rocky!
CATS? No
KIDS? No.. kids = hustle and bustle. He's anti that nonsense.
MEDICAL - Rocky has recovered from his neuter and has all his vaccines.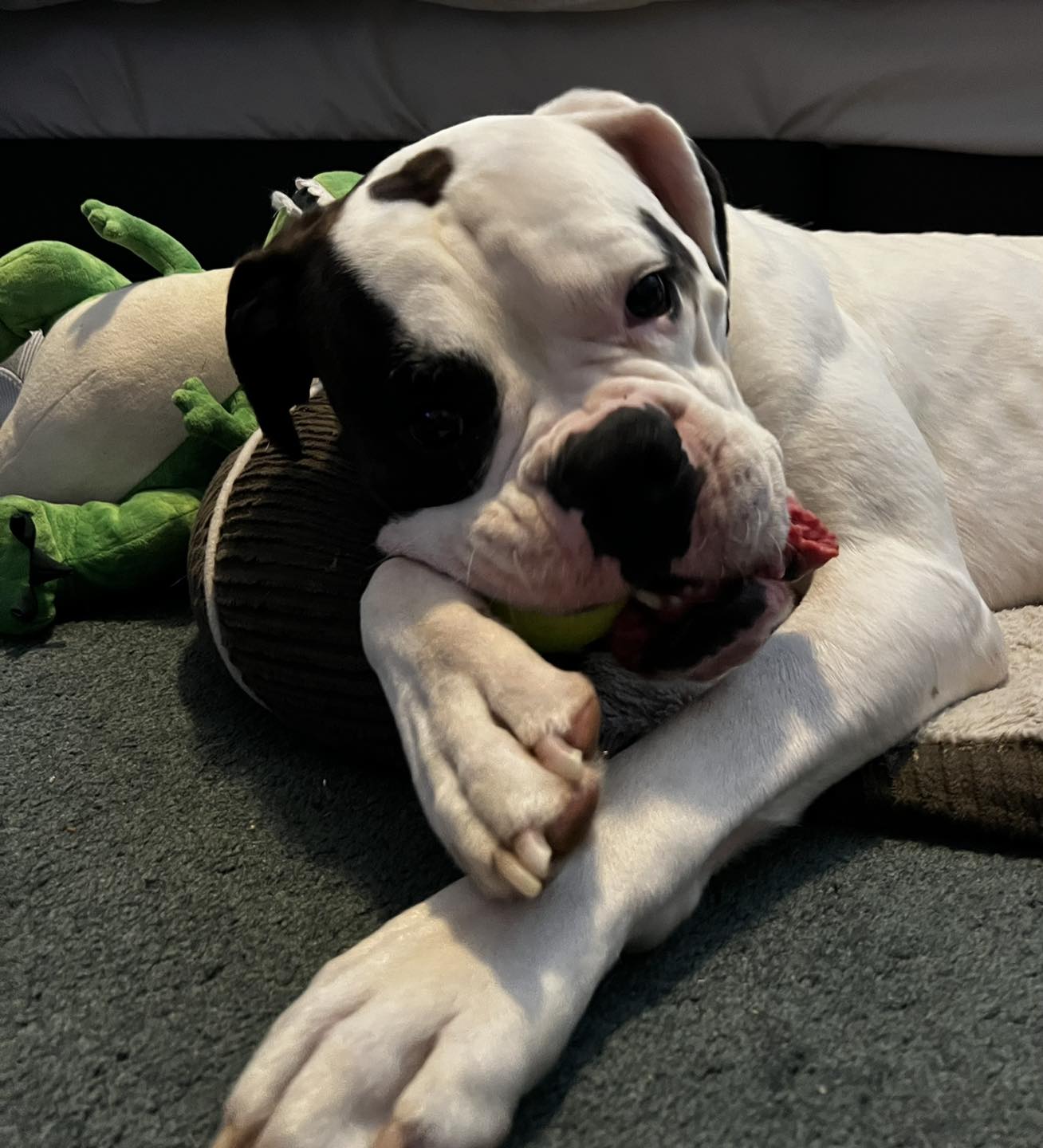 Meet Rocky2🐾 2 YRS 🐾 M
** PENDING ADOPTION **
Rocky is a 2 year old, neutered male, looking for his happily ever after.  He comes accessorized with a perfect heart smack dab in the middle of his head.
We are desperately trying to find an adult only home for this guy. His life before rescue was not great. He was never walked, spent his time in a crate, and likely not treated kindly by the children and adults in the home. All of that is in his past now and he's moving onward and upward.
He's been with one of our volunteers for 5 days now and he's doing amazingly well. He doesn't have to worry about kids. He doesn't have to wonder if he will eat. He is getting walked. He's on a schedule and he's loving every minute of the consistency in his life. All the stress is melting away.
Rocky loves his humans. He greets people with lots of boxer zest but chills out pretty quickly. He's the goodest boi in the whole wide world. At 2 years old, he's an energetic boxer boy who needs lots of exercise to keep him in check. He's a stellar walking partner so there's no excuse to not be out there getting your steps in. After a long walk, he's a great snuggle buddy. Rocky is crate trained, loves to play fetch, explore toys, and is super smart.
Tomorrow, Rocky will be neutered! Once that's done, we have to find him a home. We HAVE to!
If you'd be interested in welcoming this goober boober into your life, please apply!
OTHER DOGS? Not at this time. He has done resource guarding around food and toys with other animals.
CATS? No
KIDS? No.. adults only. He's comfortable with adults… not with kids, at all.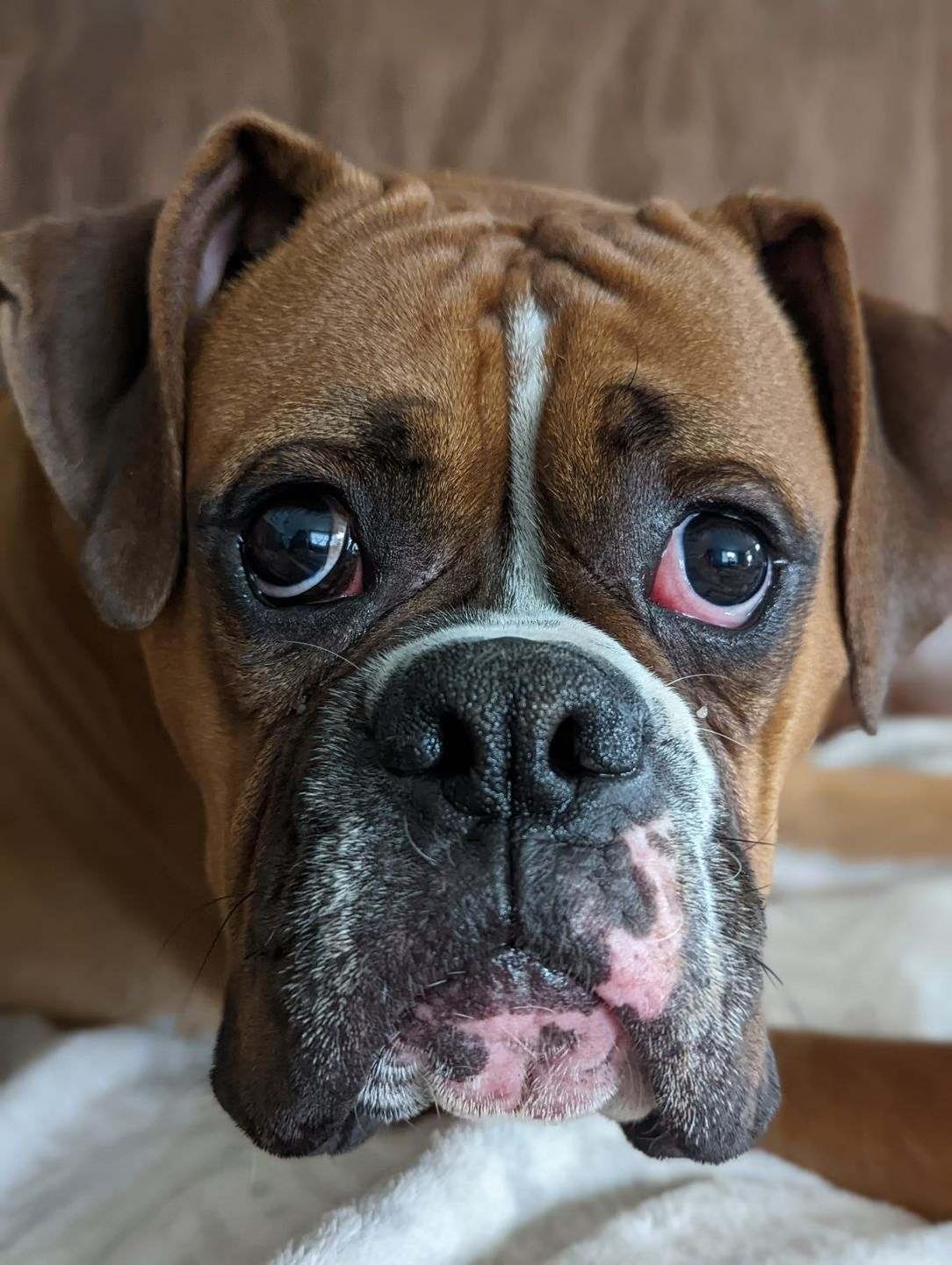 Meet Rip 🐾 2 YRS 🐾 M
** PENDING ADOPTION **
Foster or foster to adopt home needed!
We are trying like heck to find this boy his new beginning. Rip is almost 2 years old and is being surrendered due to serious fighting with his female litter mate. The dogs are living separately within the same house, and the stress and anxiety level is through the roof for both humans and dogs.
This mush face needs a new start to his life so he can learn how to be a dog outside of his littermate's shadow. He's a bundle of nerves. So much so, that his humans took him to a behaviorist who prescribed Prozac. We'd love to see Rip gain some confidence and be able to wean off the meds.
He would do best in a home where his humans are around during the day. It's what he's accustomed to, and he really is going to need the guidance of a special someone to hold his paw as he starts this new chapter. He needs someone who can show him all the great things this works has to offer and how much fun it is to be a boxer without the worry of a fight breaking out. Rip will need patience, kindness,
structure, consistency, and a whole lotta love.
When our volunteer met Rip, he was initially very weary of her. But she brought her chill vibe into his world and soon they were besties. Once Rip was outside of the environment that causes him stress, he relaxed a little.
We cannot wait to see Rip's troubles melt away. He's carrying a lot of worry on his boxer shoulders. This boy is going to shine in the right home.
If you'd like to be Rip's angel, apply!
OTHER DOGS? No
KIDS? No.. they make him nervous and bring chaos to the table (no offense kiddos). Rip needs zen in his life.
CATS? No

We often have many beautiful boxers in need of forever homes. From puppies to seniors, they all deserve their happily ever after. Keep an open mind and an open heart, and you just might find your best friend.

Foster a Boxer
Foster homes are a critical piece of our rescue puzzle and enable us to learn as much as we can about the boxers that come to us before being placed in forever homes.
Volunteer
We are always in need of volunteers. Do as little or as much as you want to help us, help them.
In order to continue to save the lives of beautiful boxers, we need funding help from the public. Please consider making a tax deductible donation in honor of your love for the breed.
The Boxer Rescue
Our Mission
Our goal is to promote responsible dog ownership, provide support to boxer owners, inform the public about the needs, qualities and characteristics of the boxer breed, and to be a positive presence in the boxer rescue community.
Get Involved
If you would like to help The Boxer Rescue, please consider making a monetary donation.  
The Boxer Rescue, Inc. is a 501(c) 3 non-profit organization and all donations are tax deductible
. No donation is ever too small to help a boxer dog in need.
Pet Rock
September 8 🐾 12pm

Wyman Gordon
Woofstock
September 21 🐾 11am – 4pm
Hudson Elks Pavilion

Boxer Bash
 October 6  🐾  11am-3pm
Hopkinton State Park

Learn
Boxer Adoption Notes
Why Two Female Dogs May Not Be the Best Combination
If you find yourself considering this sort of same-sex adoption scenario, think again. As cute and playful same-sex sibling puppies are, chances are that once they mature, they will engage in some serious discussions that could turn bloody.
Is the boxer the right breed for you?
Boxers are forever puppies.  They seem to never to "grow up". So be prepared to deal with puppy behavior until they are around 3-4 years old.  They require a lot of exercise and stimulation.  Multiple long walks a day will help tire them out, and we all know that a "tired boxer is a good boxer".