A 501(C)3 Non-Profit Organization Serving New England
The Boxer Rescue
We are a group of volunteers, dedicated to finding loving forever homes for unwanted, abandoned, and surrendered Boxers. Our rescue works within Massachusetts, Maine, Rhode Island, Connecticut, and New Hampshire. We strive to not only save boxers, but to educate the public about responsible dog ownership, the importance of spaying and neutering, and how to best meet the needs of this amazing breed.
Adoptees
Make a Donation
Getting Involved
Save a Boxer
Adopting a Boxer
The Boxer Rescue, Inc. is a 501(c)3 non-profit organization serving the New England area.  Our group is made up of dedicated volunteers. These are the people who care for the homeless, abused and unwanted boxers because they have a love and passion for the breed and believe they all deserve a second chance. 
Make a Donation
The Boxer Rescue could not exist without donations from people like you. Many of our dogs coming into rescue require expensive medical treatment before they can be placed in their "forever" homes. The adoption donation is often not sufficient to cover all of the expenses.   Since The Boxer Rescue is solely operated on a volunteer basis, funding is always tight; therefore, your donation small or large will go a long way in helping our dogs in need. 
Get Ready To Snuggle
Our Adoptees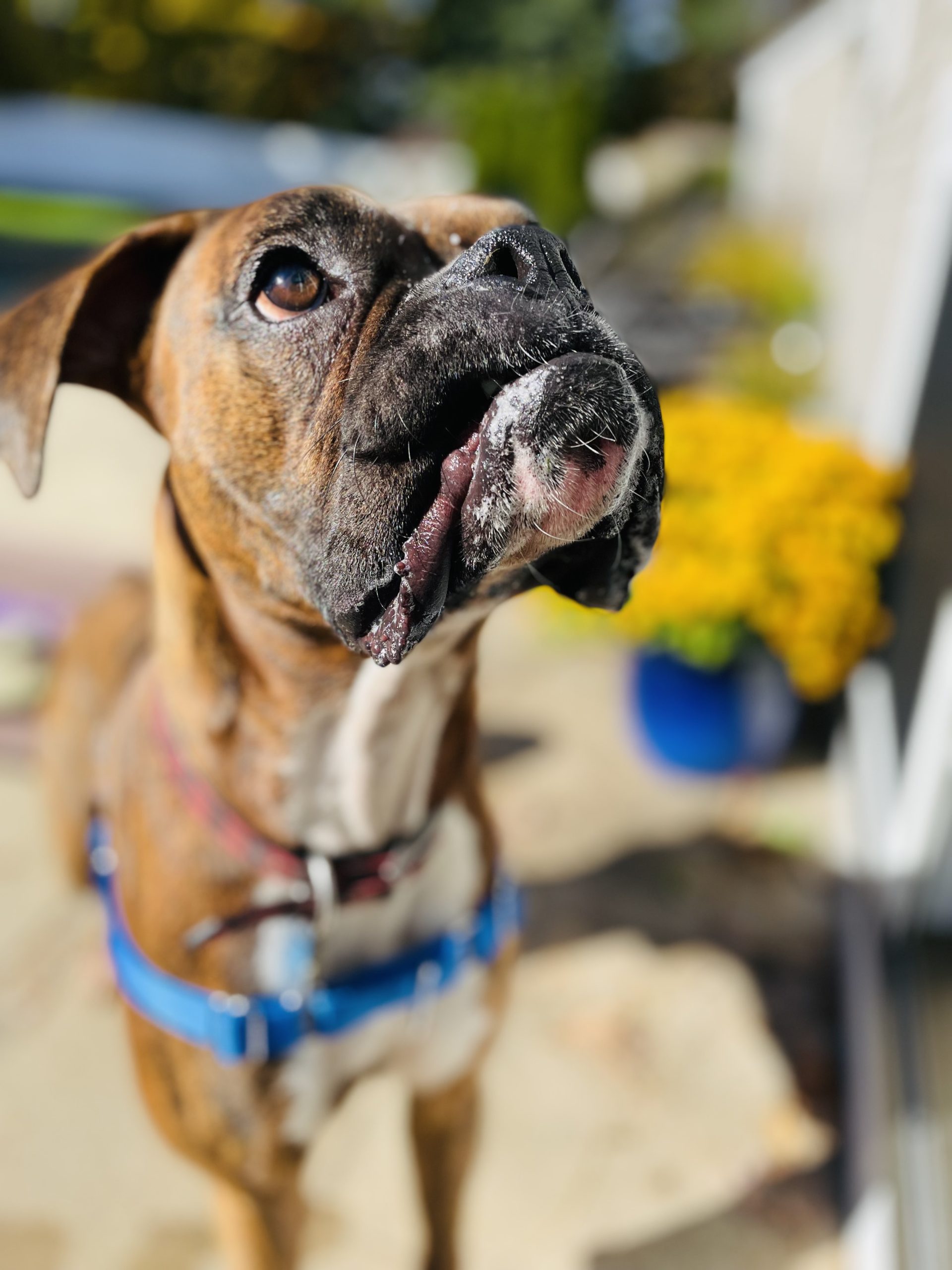 Meet Kash 🐾 1.5YRS 🐾 M
It's been one month since Kash came into rescue. When he arrived at his foster home, he was a bit anxious, unsure of what was happening, unsure of where he was, FULL of boxer energy, and trying to figure out where he fit in this new living arrangement. Prior to rescue, Kash was left home alone for very long periods of time. He wasn't getting nearly enough exercise or the critical attention that a young boxer needs. All that has changed, and as a result, Kash is undergoing a metamorphosis of sorts. It's taken all of these 4 weeks for him to settle and decompress. It's taken him these 4 weeks to understand that he doesn't have to make the rules and, boy oh boy, he's much happier not having to carry that burden. Kash thrives on structure and consistency. He likes knowing he'll get his multiple walks each day. He likes knowing when it's time to eat, time to chill, time to play, and time to go to bed. He's not the same dog he was a month ago. He's new, improved, and so willing to learn.
Kash is looking for a home that will continue to work with him, challenge him in all the best ways, exercise him (a lot), and help him be the very best version of himself. We cannot stress how amazingly wonderful this boy is. But it's important to note, that in the wrong home, Kash from the past, might start to creep back into the picture. A home that fails to provide him with lots of physical and mental stimulation will set him back.
Kash loves all people and meets everyone with full fledged boxer exuberance. His loud talk isn't meant to sound scary.. it's just his way of saying "I'm ready for all the pets and attention you have to give". There are no strangers to Kash. He even loves the vet!
Kash is ok with most dogs he's met. But there are a few that he's not liked. We would consider a home with a female dog of equal size. But, anytime you bring two dogs together, there is ALWAYS an adjustment period. The humans must be committed to sticking it out, and working through any issues that may arise during that adjustment time.
Our boy will not do well in a home where he's left alone all day #recipefordisaster !  Kash's foster mom works from home so it's a perfect set up for him. He gets an early morning walk, then an afternoon walk, and and then an evening walk. His walks are not circles around the yard. They are productive, energy draining walks. A tired Kash is a happy Kash. He is ok left for short periods of time, if he's been exercised. Kash doesn't like the crate. It's a hard no for him.
We are trying to be as up front and honest about Kash's needs. He's really a very typical young  boxer, with a few little quirks that make him extra awesome. We think the most important thing for Kash is that he be given the time he needs to settle in. It's taken him a month to settle in foster. So, it will likely take him at least that amount of time to settle into a new home with a new family. That's at least a month of getting to know each other, and understanding that any bumps in the road, are temporary.
Kash will need to attend a positive based training class and we know he will excel because he is so smart and so willing to please.
This guy is going to bring so much joy and laughter to a very lucky human or family. He deserves all the best because he quite simply is the best. Kash is all things love, laughter, goofiness, and snuggles. Kash is all things boxer!
CATS? No
KIDS? Probably 10+
OTHER DOGS? Will consider a female of equal size but would be happy as an only dog, getting all the attention
FENCE? We'd love to see Kash with a large fenced in yard. However, it's more important that Kash be walked. A fenced in yard would be a bonus.
KASH IS NEUTERED AND CURRENT ON HIS VACCINATIONS

We often have many beautiful boxers in need of forever homes. From puppies to seniors, they all deserve their happily ever after. Keep an open mind and an open heart, and you just might find your best friend.

Foster a Boxer
Foster homes are a critical piece of our rescue puzzle and enable us to learn as much as we can about the boxers that come to us before being placed in forever homes.
Volunteer
We are always in need of volunteers. Do as little or as much as you want to help us, help them.
In order to continue to save the lives of beautiful boxers, we need funding help from the public. Please consider making a tax deductible donation in honor of your love for the breed.
The Boxer Rescue
Our Mission
Our goal is to promote responsible dog ownership, provide support to boxer owners, inform the public about the needs, qualities and characteristics of the boxer breed, and to be a positive presence in the boxer rescue community.  
Get Involved
If you would like to help The Boxer Rescue, please consider making a monetary donation.  The Boxer Rescue, Inc. is a 501(c) 3 non-profit organization and all donations are tax deductible. No donation is ever too small to help a boxer dog in need.
Pet Rock
September 8 🐾 12pm

Wyman Gordon
Woofstock
September 21 🐾 11am – 4pm
Hudson Elks Pavilion

Boxer Bash
 October 6  🐾  11am-3pm
Hopkinton State Park

Learn
Boxer Adoption Notes
Why Two Female Dogs May Not Be the Best Combination
If you find yourself considering this sort of same-sex adoption scenario, think again. As cute and playful same-sex sibling puppies are, chances are that once they mature, they will engage in some serious discussions that could turn bloody.
Is the boxer the right breed for you?
Boxers are forever puppies.  They seem to never to "grow up". So be prepared to deal with puppy behavior until they are around 3-4 years old.  They require a lot of exercise and stimulation.  Multiple long walks a day will help tire them out, and we all know that a "tired boxer is a good boxer".