A 501(C)3 Non-Profit Organization Serving New England
The Boxer Rescue
We are a group of volunteers, dedicated to finding loving forever homes for unwanted, abandoned, and surrendered Boxers. Our rescue works within Massachusetts, Maine, Rhode Island, Connecticut, and New Hampshire. We strive to not only save boxers, but to educate the public about responsible dog ownership, the importance of spaying and neutering, and how to best meet the needs of this amazing breed.
Adoptees
Make a Donation
Getting Involved
Save a Boxer
Adopting a Boxer
The Boxer Rescue, Inc. is a 501(c)3 non-profit organization serving the New England area.  Our group is made up of dedicated volunteers. These are the people who care for the homeless, abused and unwanted boxers because they have a love and passion for the breed and believe they all deserve a second chance.
Make a Donation
The Boxer Rescue could not exist without donations from people like you. Many of our dogs coming into rescue require expensive medical treatment before they can be placed in their "forever" homes. The adoption donation is often not sufficient to cover all of the expenses.   Since The Boxer Rescue is solely operated on a volunteer basis, funding is always tight; therefore, your donation small or large will go a long way in helping our dogs in need.
Get Ready To Snuggle
Our Adoptees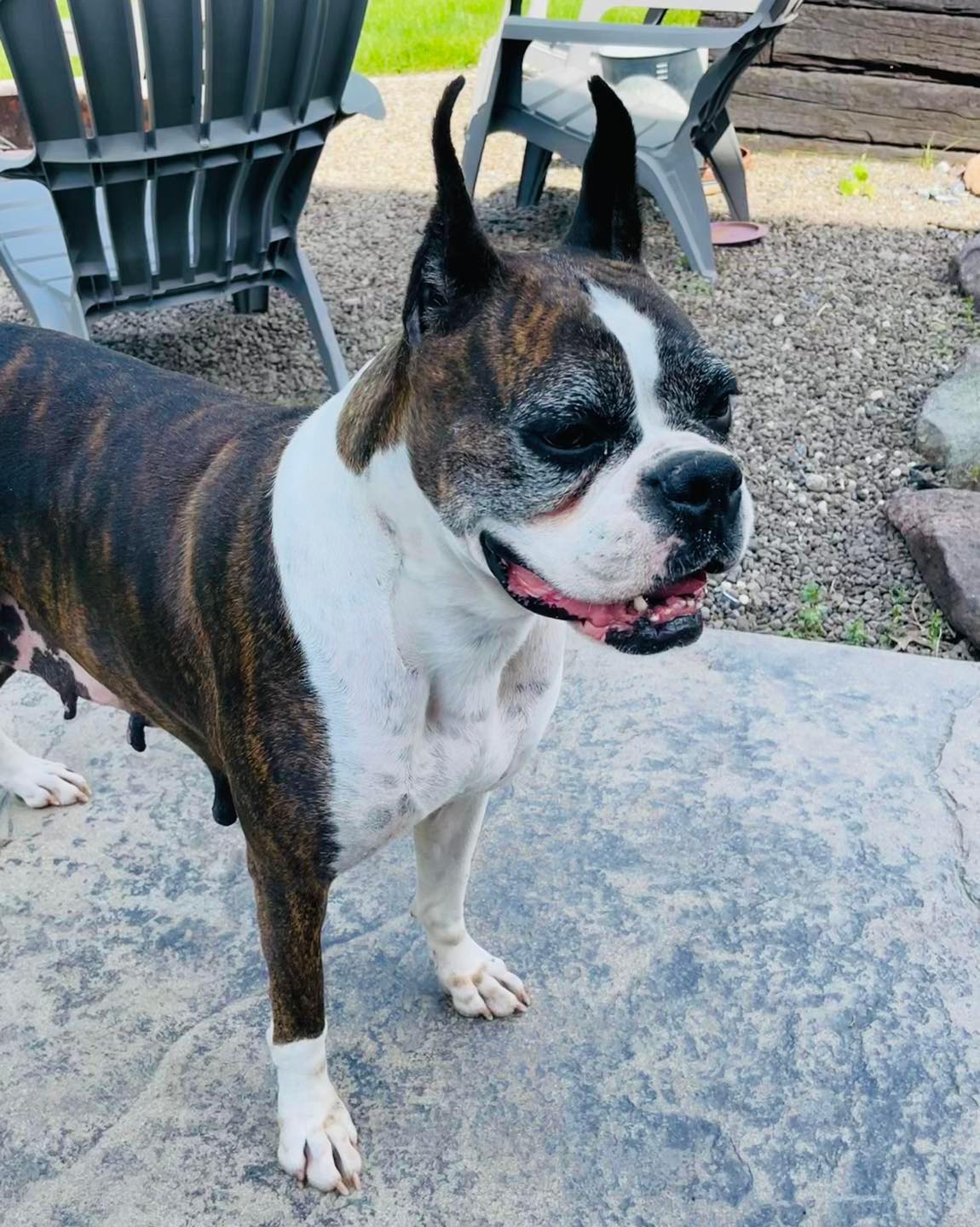 Meet Ziva🐾 5 YRS 🐾 F
** MEDICAL HOLD **
Come on, people! The sweetest soul is waiting for a forever home and not one person has applied or even inquired about her. We sure as hell aren't going to tell her that, as it will break her heart in a million pieces. I thought she'd be scooped up as soon as we posted her photo. But, alas… I was wrong.
Is it her age? She's 5. It's the PERFECT age! She's passed the velociraptor stage and is now content to just be loved and give love, without mowing any humans down in the process.
Yup, she's a little gray. You'd be gray too, if your life was spent living outdoors, producing litter after litter of puppies. She's been through a lot. She's given a lot of herself. It's time for her to relax and breathe easy.
Is it her ears? Are they turning people off? She didn't crop them herself. Can't hold that against her.
Is it her dangling nipples? We know that some people think that looks yucky because we've heard it. Her body gave life, over and over and over again. She fed her babies. She did the best she could until her body was no longer able to produce enough pups to make money. She's a freaking warrior. Those low hanging nipples are her mark of strength.
Is it the "requirements" we have put in place to adopt her? We know that some people think we're unreasonable and too strict. That's cool. Feel how you want to feel. But, we won't just place her anywhere. She has a history that has shaped who she is today. Her forever home must be understanding of that and be willing to hold her paws as she starts her new journey. Ziva has not really ever lived inside. She had a job to do, and was recently retired when she couldn't do that job anymore. We are beyond thankful that she has found her way to rescue so we can ensure her retirement is filled with all things beautiful.
Is she fully housebroken? Not sure. But, given that she's been outdoors for her life, we'd say she's going to need someone to teach her. That's one of the reasons we want her to go with someone who is home more often than not.
Does she walk well on leash? Well, she's likely never been walked. So, there's that. But, how fun it will be to show her a world outside of her kennel.
Does she like other dogs? Sure.. We will consider placing her with a chill MALE dog. She's not looking to rough house all day.
Kids? Yeah, she's been around kiddos over 8.
Look, if you're not considering Ziva, you're missing out on an opportunity to watch a dog transform. You're missing out on the chance to show a once very sheltered boxer girl, that life exists outside of producing puppies. Will she be nervous? Probably. Will she be a bit timid and shy? Who wouldn't be? Will things take time? Sure.
But will she shine? Hell yes, she'll shine! They all do… some on day 1. Some in a week. Some in a month. Some in a year. It's what rescue is all about… Helping them find their light within.
If you think you can help ZIVA, live her best and most beautiful retirement life, reach out to us. She's a gorgeous bundle of love, joy, and affection, just waiting for a family to want her.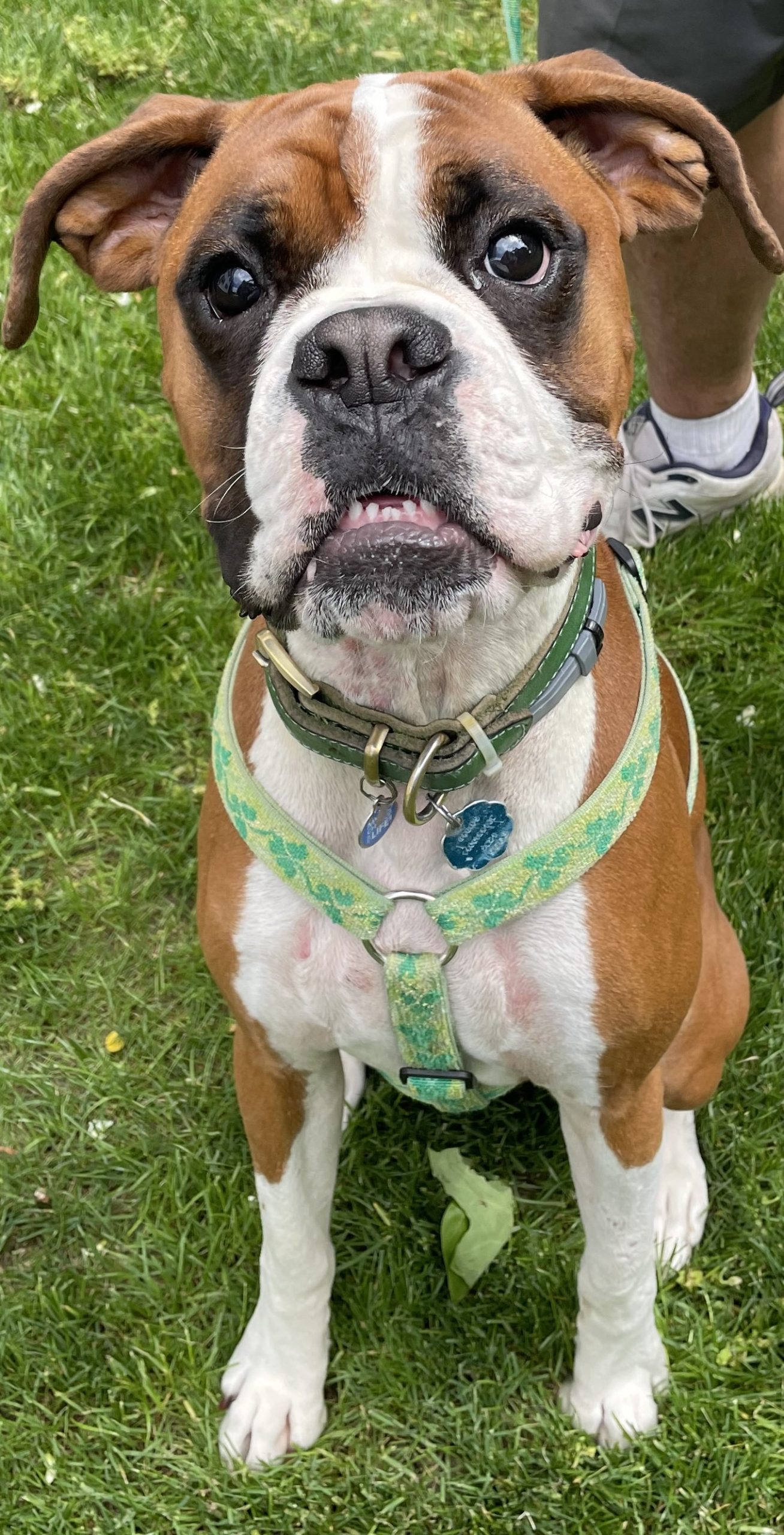 Meet Echo 🐾 1 YRS 🐾 M
** ADOPTED **
Meet 1 year old, ECHO!! He's your pretty typical young, exuberant, energetic, fun loving, goofy, active, crazy train, adorbs, boxer boy! At a little over one year old, he's entering those spicy teenage years. So, hold on tight, and enjoy the ride!
Echo is coming into rescue because he and the female bulldog in the home are fighting, and the fights are escalating in frequency and severity. His owners want us to find him the best possible home that will meet his needs forever and ever.
When our volunteer met him, he was happy to have a new friend, and welcomed her by jumping up and giving lots of licks. In true boxer fashion, he plopped himself right in her lap #byebyepersonalspace
He needs a boxer experienced home, ready and able to rise to the challenge of raising a loony toon. He needs structure, consistency, EXERCISE, and lots of positive training. A boxer like Echo, left to his own devices or whose needs are not met, can go very quickly in the wrong direction, and we don't want that for him. He's got a great foundation, and we want to continue to build off that.
Echo will be placed as an ONLY PET. No other dogs. No cats. We feel that he will likely make a great "playdate" friend, but is not a great candidate to share his home and space with another dog.
We'd love to see Echo join a very active family or human, who will take him places, continue to socialize him, exercise his body AND brain, and commit to signing up for some positive training classes with him. He LOVES to run, chase balls, and is a frisbee superstar.
He would thrive in a home with a large, fenced in yard and with people who love the breed and can appreciate all that he brings to the table... the good AND the challenging.
OTHER DOGS? NO
CATS? NO
KIDS? 12+
FENCED IN YARD? Would be most ideal but not a deal breaker
TRAINING? Will be required as part of his adoption agreement
MEDICAL? He's neutered and current on vaccines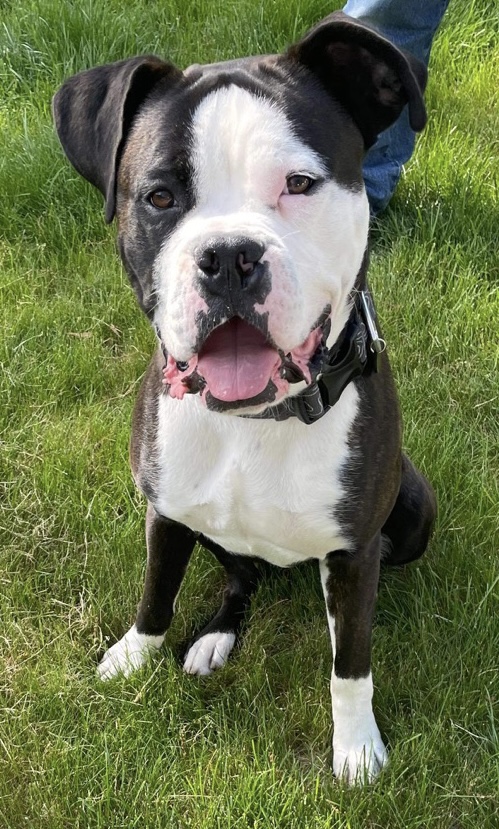 Meet Jack 🐾 10 MNS 🐾 M
** ADOPTED **
HANDSOME HUNKA CHUNKA ALERT!!!! Meet 10 month old, JACK! He is coming into rescue due to some fighting in the home between Jack and his Frenchie fur siblings. His humans feel it would be safest for everyone, to rehome Jack so that he can be the best version of his stunning self.
Our volunteer met him this afternoon, and he was very sweet, took treats very gently, and was pretty much your typical young boxer boy. He wasn't jumpy, although he's got it in him to hop up and greet you face to face. He's also very much a "your space is my space" kind of guy. So, be prepared to likely never shower, sleep, sit, eat, pee, stand, or breathe all by your lonesome.
Given Jack's young age, AKA the boxer velociraptor stage of life, it is critical that his new family be ready and able to provide him with lots of exercise in the form of long walks/hikes. He's no couch potato. That mug of his was made to see the world!! We will also be requiring that his new family attend training with Jack. He will totally benefit, love, and rock some positive based classes. It's also a great way to bond with a new dog and build a relationship based on trust and respect.
Jack is used to having someone home with him during the day, so we'd like that to be a thing in his new home. He is crate trained, but he will not thrive being crated for hours at a time. His owner reports he walks well on leash, and when he sees another dog, he is able to be redirected. We will be placing Jack as an ONLY dog, as it will ensure his success and allow him to bond with new humans.
OTHER DOGS? NO
CATS? NO
KIDS? Teens +
FENCED IN YARD? Not required, but would be awesome for him. Long walks are most important.
TRAINING? Will be required
MEDICAL - He is current on vaccines, but is NOT neutered. Our rescue will take care of that once he is settled. We will get him into one of our vets.
If you have the time, energy, and patience to welcome a young boxer into your home, Jack could be your guy

We often have many beautiful boxers in need of forever homes. From puppies to seniors, they all deserve their happily ever after. Keep an open mind and an open heart, and you just might find your best friend.

Foster a Boxer
Foster homes are a critical piece of our rescue puzzle and enable us to learn as much as we can about the boxers that come to us before being placed in forever homes.
Volunteer
We are always in need of volunteers. Do as little or as much as you want to help us, help them.
In order to continue to save the lives of beautiful boxers, we need funding help from the public. Please consider making a tax deductible donation in honor of your love for the breed.
The Boxer Rescue
Our Mission
Our goal is to promote responsible dog ownership, provide support to boxer owners, inform the public about the needs, qualities and characteristics of the boxer breed, and to be a positive presence in the boxer rescue community.
Get Involved
If you would like to help The Boxer Rescue, please consider making a monetary donation.  
The Boxer Rescue, Inc. is a 501(c) 3 non-profit organization and all donations are tax deductible
. No donation is ever too small to help a boxer dog in need.
Pet Rock
September 8 🐾 12pm

Wyman Gordon
Woofstock
September 21 🐾 11am – 4pm
Hudson Elks Pavilion

Boxer Bash
 October 6  🐾  11am-3pm
Hopkinton State Park

Learn
Boxer Adoption Notes
Why Two Female Dogs May Not Be the Best Combination
If you find yourself considering this sort of same-sex adoption scenario, think again. As cute and playful same-sex sibling puppies are, chances are that once they mature, they will engage in some serious discussions that could turn bloody.
Is the boxer the right breed for you?
Boxers are forever puppies.  They seem to never to "grow up". So be prepared to deal with puppy behavior until they are around 3-4 years old.  They require a lot of exercise and stimulation.  Multiple long walks a day will help tire them out, and we all know that a "tired boxer is a good boxer".