A 501(C)3 Non-Profit Organization Serving New England
The Boxer Rescue
We are a group of volunteers, dedicated to finding loving forever homes for unwanted, abandoned, and surrendered Boxers. Our rescue works within Massachusetts, Maine, Rhode Island, Connecticut, and New Hampshire. We strive to not only save boxers, but to educate the public about responsible dog ownership, the importance of spaying and neutering, and how to best meet the needs of this amazing breed.
Adoptees
Make a Donation
Getting Involved
Save a Boxer
Adopting a Boxer
The Boxer Rescue, Inc. is a 501(c)3 non-profit organization serving the New England area.  Our group is made up of dedicated volunteers. These are the people who care for the homeless, abused and unwanted boxers because they have a love and passion for the breed and believe they all deserve a second chance.
Make a Donation
The Boxer Rescue could not exist without donations from people like you. Many of our dogs coming into rescue require expensive medical treatment before they can be placed in their "forever" homes. The adoption donation is often not sufficient to cover all of the expenses.   Since The Boxer Rescue is solely operated on a volunteer basis, funding is always tight; therefore, your donation small or large will go a long way in helping our dogs in need.
Get Ready To Snuggle
Our Adoptees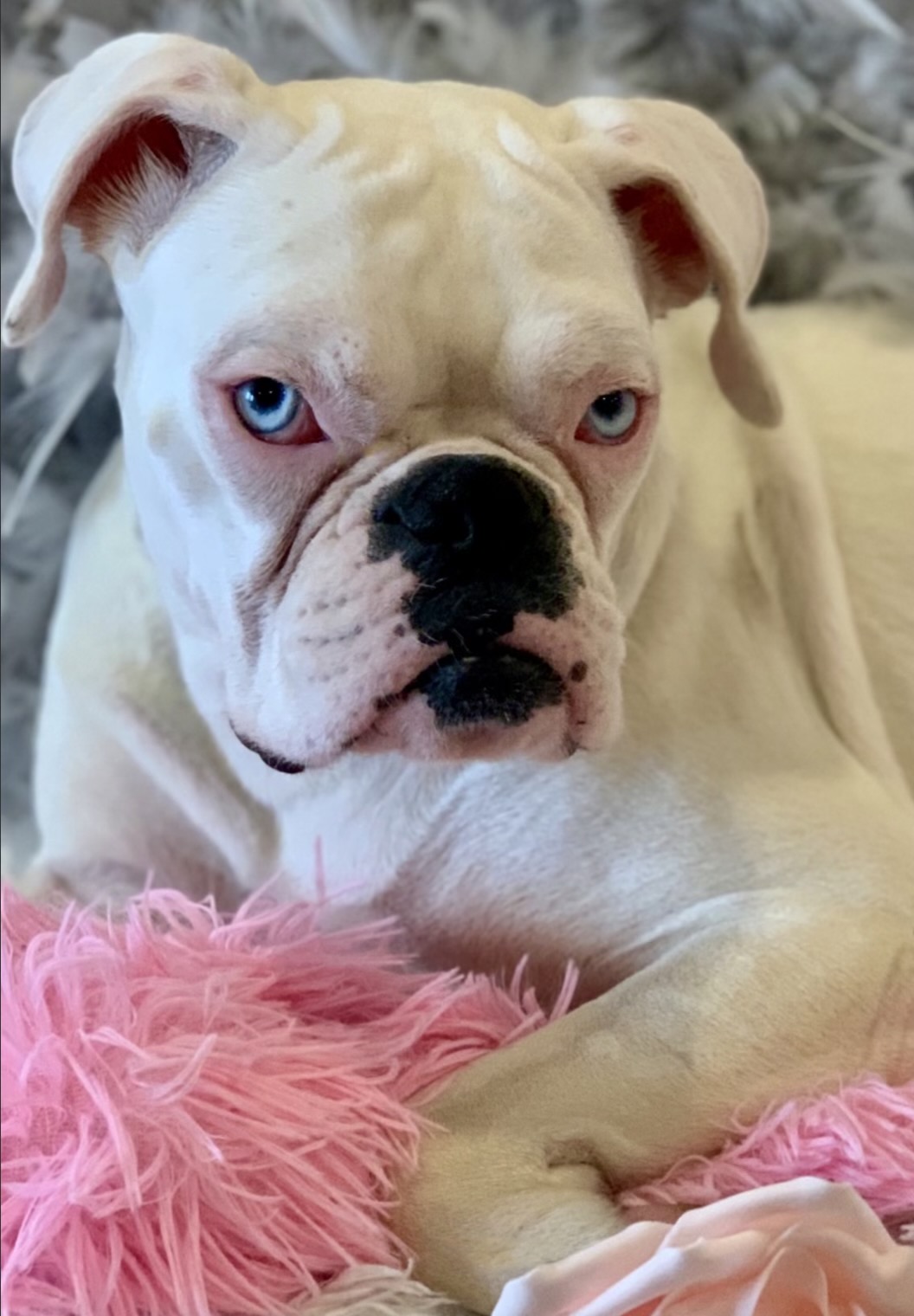 Meet Cleo 🐾 1 YRS 🐾 F
2022 is going to be Cleo's year!!! Let's find this fanny pack of perfection, the most glorious forever home!
Cleo came into rescue feeling pretty yucky, and looking very defeated. In just a few short weeks, she's put on over 10lbs and has found her girlish figure. She's gone from shy and unsure, to full of life and sass. Cleo is active, fun loving, goofy, silly, playful, and all other things boxer. But, she's also the most perfect cuddle bug, spooner, and bed hog.
While, Cleo is certainly thriving in her foster home, the neglect she suffered has left its mark. She's very much a work in progress. Cleo is NOT housebroken. She's getting there, but she's definitely not there yet. Cleo was under socialized and not exposed to much of the world around her, before rescue.  Some things are still scary to her… She's just beginning to explore all that is out there to see. Baby steps. Cleo is not crate trained, and her experience with a crate or cage or room or whatever she was kept in, has left her fearful of the whole containment thing.
We are super excited for this gal to find her forever home. She's going to need someone home more often than not… work from home? She'd love it!!!!
Cleo is a young boxer, and we all know what that means.  This girl has to move. She loves to run and play, and with continued leash work, she's going to love going for long walks. She's discovered the joy of living her best life, and we aren't about to stifle that joy
Cleo has found a friend in another boxer. We would be perfectly fine placing her with a mild mannered, playful, active, MALE boxer.  It would be good for her to have a confident role model. She may be tiny but she plays hard. Her foster mom reports that she's less concerned about guarding items these days, which is great. It's a testament to her feeling safe and comfortable. A new home will need to allow her time to settle in and feel that safety all over again. She may not be as willing to share with a new, unfamiliar dog right away. It's all part of the rescue process. She will need time, space, patience, and commitment.
OTHER DOGS? Sweet, playful, active MALE will be considered
CATS? No
KIDS? 8+
FENCED IN YARD? Yes
MEDICAL? Cleo needs to be spayed in approximately 3 months. Our rescue will take care of that. She's currently eating a prescription food, as her GI system readjusts to nourishment.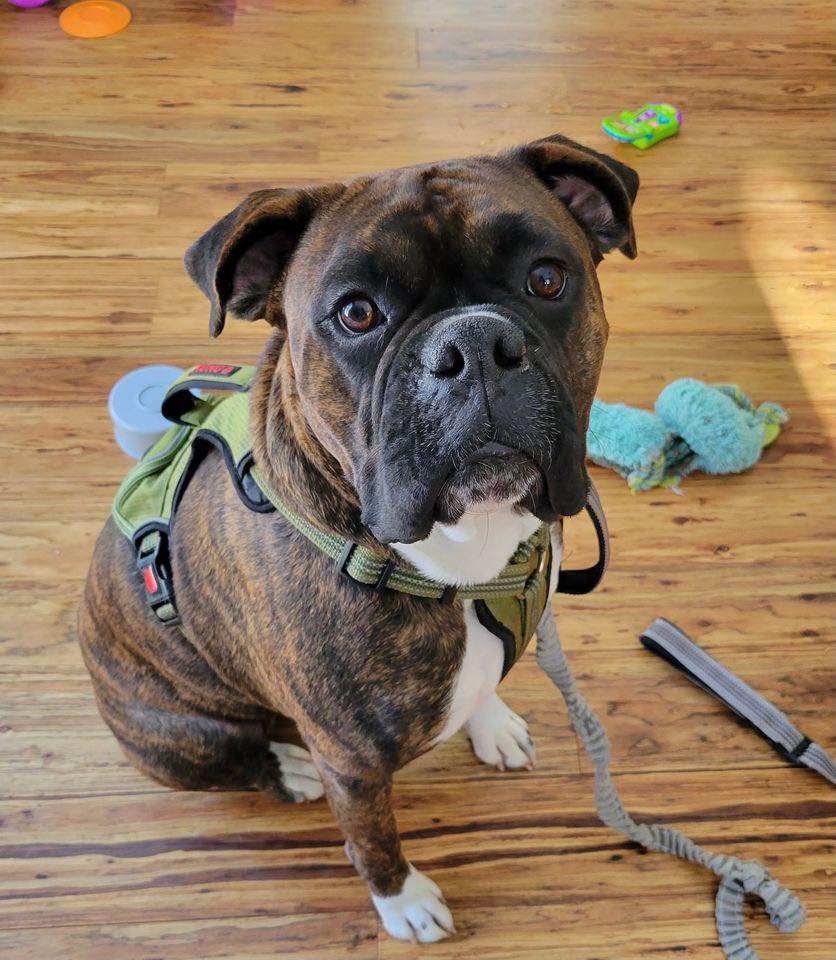 Meet Hank 🐾 1.5 YRS 🐾 M
ER MER GERD....  Handsome Hunky Hot Stuff HANK is ready and waiting for his forever home!  LOOK AT HIS FACE!!  Soooo squishy and mushy and goobery!!
Our volunteer met 1.5 year old Hank this afternoon and BRRRRR it was a chilly day to do an eval.  But, the cold didn't stop his nub from going 1,000 MPH.  He was beyond happy to meet her and her husband and welcomed all the rubs and pets and attention that was coming his way. 
Hank is being surrendered because he is very scared, nervous, and uncomfortable around young children.  They move fast, smell weird, and invade space.  Hank does all he can to avoid the child in the house, and with another on the way, Hank's life is about to get more stressful.  So, we are looking to place him in an adult only home or a home with teens and older, where he doesn't have to worry about little humans all up in his biz. 
He's also very scared of fireworks, thunder, and the vet.  Whoever adopts him, must be willing and able to keep him safe during storms and during fireworks, and help him perhaps become more comfortable in a veterinary environment.  It's totally possible, but your vet needs to be on board and willing to take the time with Hank.  Right now, he's needing to be muzzled.  It would awesome if that whole experience  could be turned around for him.
Hank is spending a lot of time in his crate right now, mainly due to the fact that he isn't a fan of the little peep in the house.  We'd love to see this boy with a new family who can provide him with all the exercise and attention that a young boxer boy needs.  He loves to play outside in the snow. He loves walks and hikes.  He loves to move and shake that brindle booty. 
Hank soaked in all the attention he was getting when we met him today.  He could not possibly get enough. 
We will consider placing Hank with a FEMALE dog (NO MALES), as he tested pretty well with our volunteer's girl.  However, it's most important that his physical and mental needs be met.  So, if he goes into a home as an only dog, that's ok...  He would very much enjoy that one on one attention for sure.  And he'd likely be happy to make some doggie friends in the hood. 
We are recommending positive based training for Hank and his humans in his new home.  It's a great way to bond and get to know the ins and outs of each other.  Plus, he's a young boy and has lots to learn. 
OTHER DOGS? Will consider a sweet FEMALE but another dog isn't necessary
CATS? No
KIDS?  Hard NO.  He's being surrendered due to his fear of kids, and we are not putting him in a situation where he will be made to feel uncomfortable again or where he could be set up for failure.  No kids... no future kids, no grandkids... no friends' kids... you get the drift. ACTIVITY LEVEL - HIGH... needs a lot of exercise and training will be required.

We often have many beautiful boxers in need of forever homes. From puppies to seniors, they all deserve their happily ever after. Keep an open mind and an open heart, and you just might find your best friend.

Foster a Boxer
Foster homes are a critical piece of our rescue puzzle and enable us to learn as much as we can about the boxers that come to us before being placed in forever homes.
Volunteer
We are always in need of volunteers. Do as little or as much as you want to help us, help them.
In order to continue to save the lives of beautiful boxers, we need funding help from the public. Please consider making a tax deductible donation in honor of your love for the breed.
The Boxer Rescue
Our Mission
Our goal is to promote responsible dog ownership, provide support to boxer owners, inform the public about the needs, qualities and characteristics of the boxer breed, and to be a positive presence in the boxer rescue community.
Get Involved
If you would like to help The Boxer Rescue, please consider making a monetary donation.  
The Boxer Rescue, Inc. is a 501(c) 3 non-profit organization and all donations are tax deductible
. No donation is ever too small to help a boxer dog in need.
Pet Rock
September 8 🐾 12pm

Wyman Gordon
Woofstock
September 21 🐾 11am – 4pm
Hudson Elks Pavilion

Boxer Bash
 October 6  🐾  11am-3pm
Hopkinton State Park

Learn
Boxer Adoption Notes
Why Two Female Dogs May Not Be the Best Combination
If you find yourself considering this sort of same-sex adoption scenario, think again. As cute and playful same-sex sibling puppies are, chances are that once they mature, they will engage in some serious discussions that could turn bloody.
Is the boxer the right breed for you?
Boxers are forever puppies.  They seem to never to "grow up". So be prepared to deal with puppy behavior until they are around 3-4 years old.  They require a lot of exercise and stimulation.  Multiple long walks a day will help tire them out, and we all know that a "tired boxer is a good boxer".