A 501(C)3 Non-Profit Organization Serving New England
The Boxer Rescue
We are a group of volunteers, dedicated to finding loving forever homes for unwanted, abandoned, and surrendered Boxers. Our rescue works within Massachusetts, Maine, Rhode Island, Connecticut, and New Hampshire. We strive to not only save boxers, but to educate the public about responsible dog ownership, the importance of spaying and neutering, and how to best meet the needs of this amazing breed.
Adoptees
Make a Donation
Getting Involved
Save a Boxer
Adopting a Boxer
The Boxer Rescue, Inc. is a 501(c)3 non-profit organization serving the New England area.  Our group is made up of dedicated volunteers. These are the people who care for the homeless, abused and unwanted boxers because they have a love and passion for the breed and believe they all deserve a second chance. 
Make a Donation
The Boxer Rescue could not exist without donations from people like you. Many of our dogs coming into rescue require expensive medical treatment before they can be placed in their "forever" homes. The adoption donation is often not sufficient to cover all of the expenses.   Since The Boxer Rescue is solely operated on a volunteer basis, funding is always tight; therefore, your donation small or large will go a long way in helping our dogs in need. 
Get Ready To Snuggle
Our Adoptees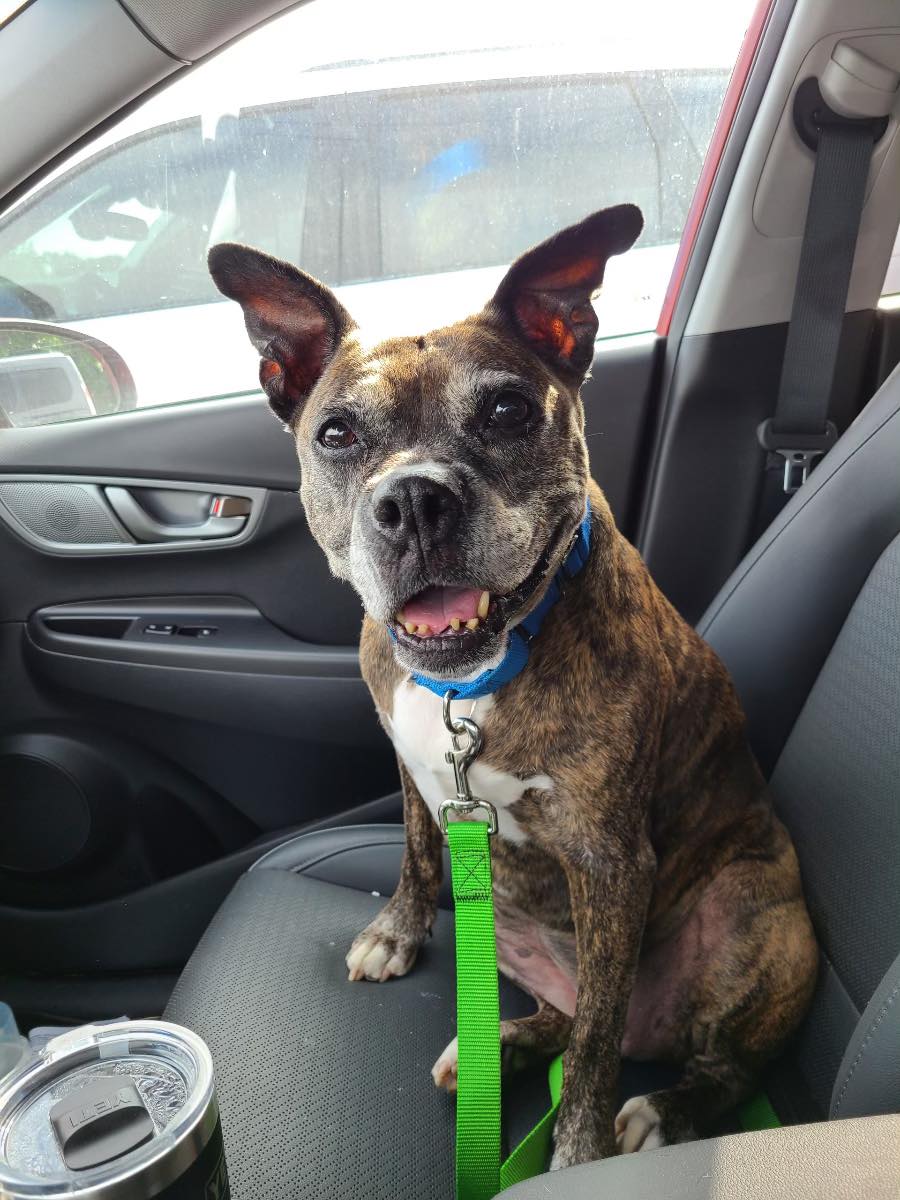 Meet Noel 🐾 9 YRS 🐾 F
Our volunteer was able to go and meet 9 year old Noel and she's quite simply as sweet as she looks. Noel is 9 years old and surrendered to a local ACO by her owner. He and Noel were homeless for a long time, and he had to make the decision to give her up, for his own well being.
Noel love being petted. She loves belly rubs, head rubs, bum rubs, neck rubs, back rubs... She loves all the petting and all the rubs! That's pretty much what she asks of you. At 9 years old, she's over the need to be a freshy mcfresh pants. She's looking for a quiet house, with some extra comfy beds, a nice daily walk to smell the smells, and any yummy treats you want to toss her way.
Noel was dog tested and it didn't go well. She made it known that she's a one woman show... This girl isn't sharing her belly rubs.
She does however not mind cats... So, if you have a cat, Noel could be your girl!
Please let us know if you'd be interested in her. ACO would love us to get her placed so she can enjoy the comforts of home and a family. She does have a sore/ulcerated lump on her hind end that is being looked at by a vet.
OTHER DOGS? NO
CATS? YES
KIDS? NO - we have no history at all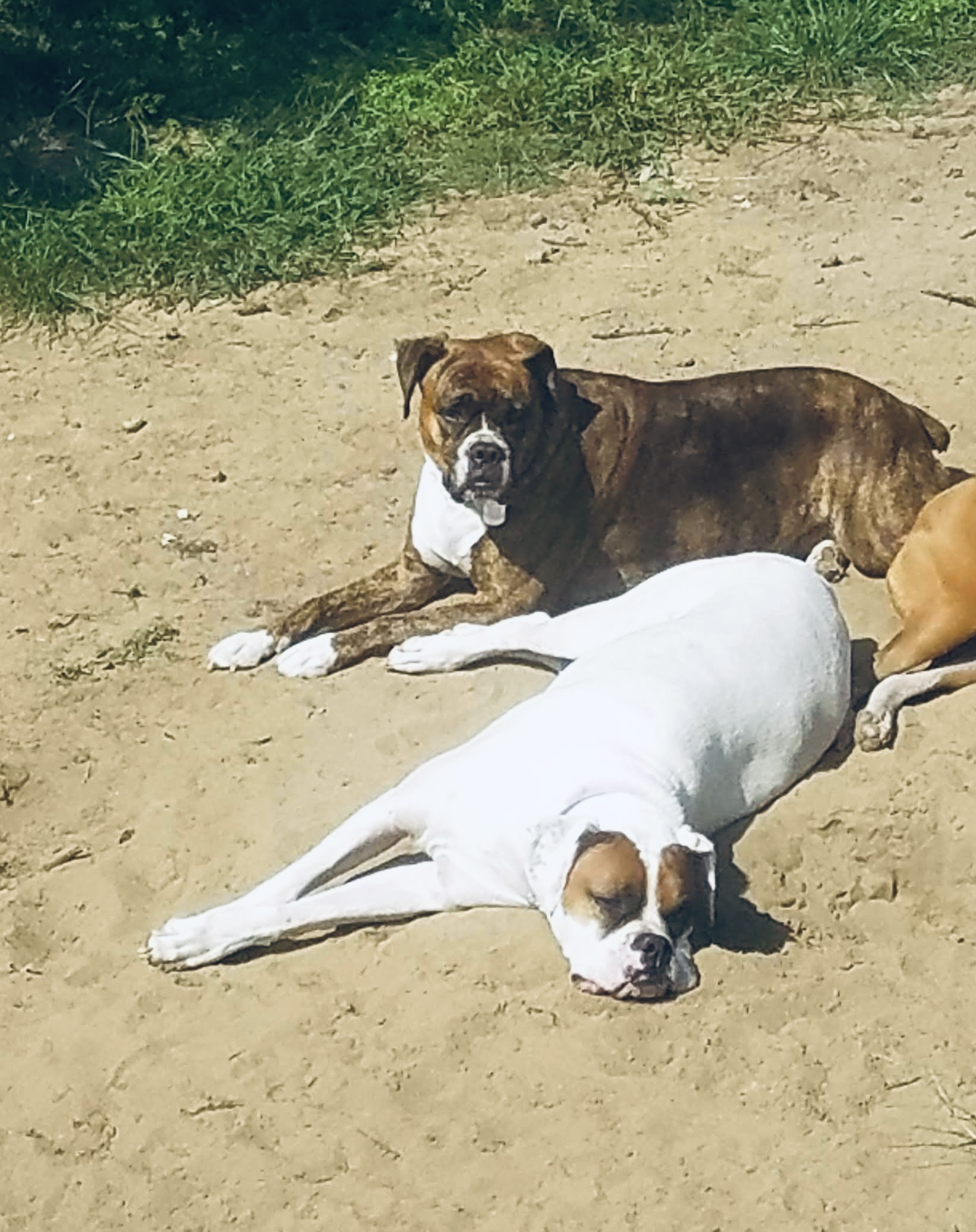 Meet Phoenix & Max 🐾 6/7 YRS 🐾 M/F
Phoenix, the brindle girl, will be 7 years old in November, and Max, the white boy, will be 6 in January. Their living situation has changed over the past few years and their mom wants them to be able to get out and about more. Right now, they spend much of their day confined to a small area of the home and don't get enough exercise. As a result, they've put on a little extra weight and are really missing the attention that we all know boxers crave so much. Phoenix and Max have lived with children so we will consider placing them in a home with kids. Mom reports that they are ok with other dogs, but Phoenix can be a little iffy around other female dogs.
Our volunteers reported that they were very friendly, not overly excitable by any means. Max was the barker of the crew, but he just seems to want attention. Their takeaway from this evaluation is that the dogs just don't seem to know how to be dogs, if that makes any sense. Sadly, they've spent so much time sort of gated off in a room in their home, that they've lost their boxer zest and zing. They did go for a short walk and they pulled a little bit, but nothing crazy. Again, they weren't super thrilled to go, but they don't get out much these days, so they are sort of accustomed to a more sedentary existence. This is why their family called us. They realize the dogs deserve more... We are thankful they reached out for help.
If you have been searching for a boxer, but would prefer to not have a velociraptor living amongst you, please consider this pair. They are at the perfect ages.... Happy to go for walks, but won't rip your arms out of your sockets. Happy to get attention, but won't bowl you over like you aren't even visible in their path. They are both happy to just relax and be a part of a family. They are a perfect boxer package!
OTHER DOGS? No.. they will be placed with each other only
CATS? No
KIDS? Yes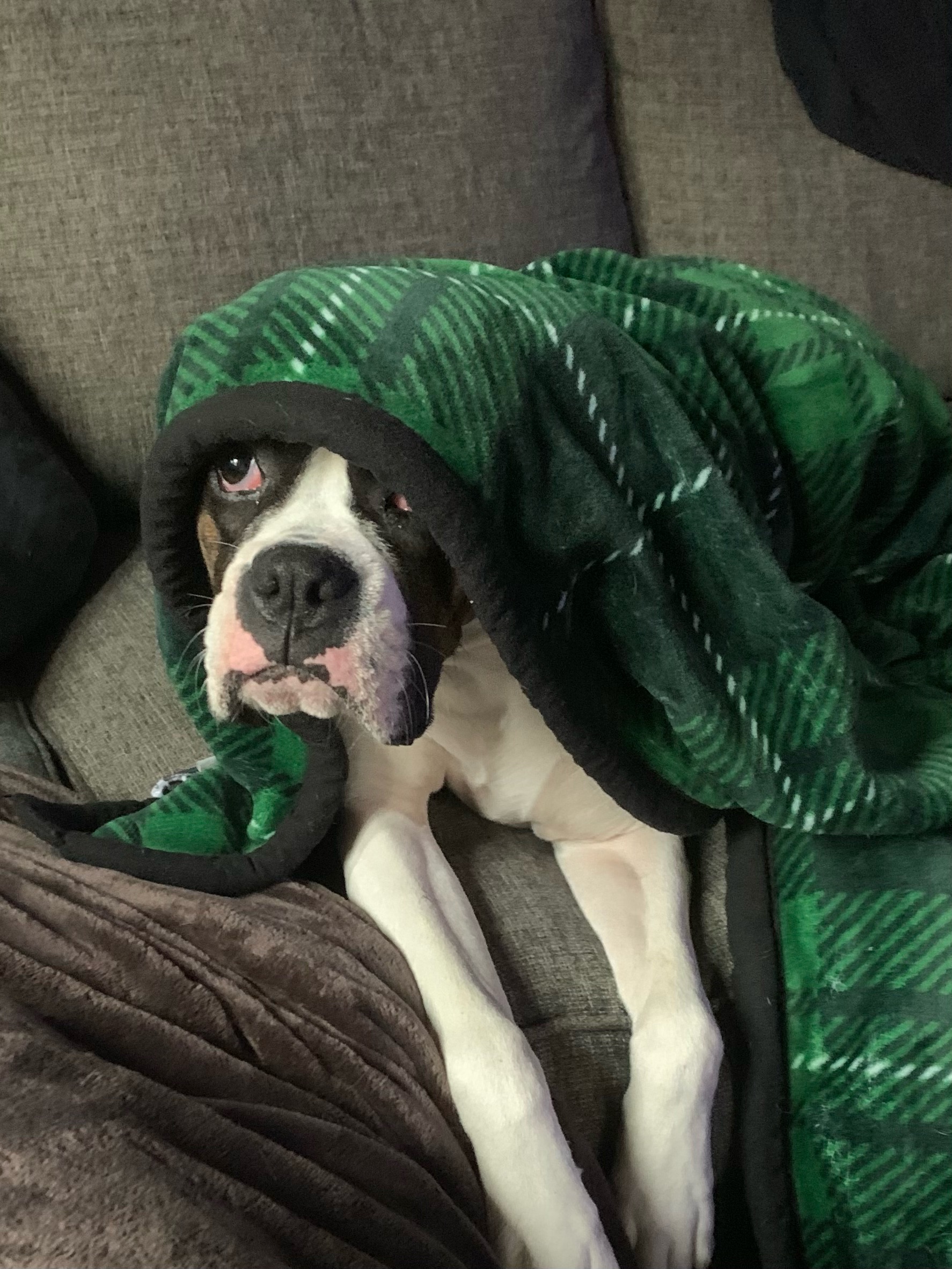 Meet Nora 🐾 2YRS 🐾 F
This gorgeous brindle gal is Nora. She's got her 2nd birthday coming up next month and is ready to party!
Nora is coming into rescue because she needs to be an ONLY DOG. She's living with other dogs, and the fights are becoming quite serious. Her owners are needing to keep her separated for safety's sake. They feel she will thrive as an only where she will get all the attention and all the snuggles.
Nora is spayed, and current on her vaccinations. She does have focal seizures and has been seen by a neurologist as a result. She currently takes phenobarbital and will require bloodwork every six months to be sure her dosage is correct. On the meds, the focal seizures are controlled. She lives a very happy, boxer existence.
Nora was super friendly with our volunteer when she met her. She loved being petted and assumed that boxer lean we all know so well. Nora is well behaved, super smart, and obviously quite a head turner with those stunning good looks. She does have a little bit of leash reactivity, but is easily redirected with positive reinforcement and praise for doing the right thing.
She's lived with children and is great with them.
Bottom line for this girl, is she just prefers to be an only dog. It's what will make her happiest. So, if you've been looking for a young boxer girl, Nora is ready and waiting.
OTHER DOGS? NO
CATS? NO
KIDS? YES
SPECIAL NEEDS? Medication for focal seizures (controlled with the meds)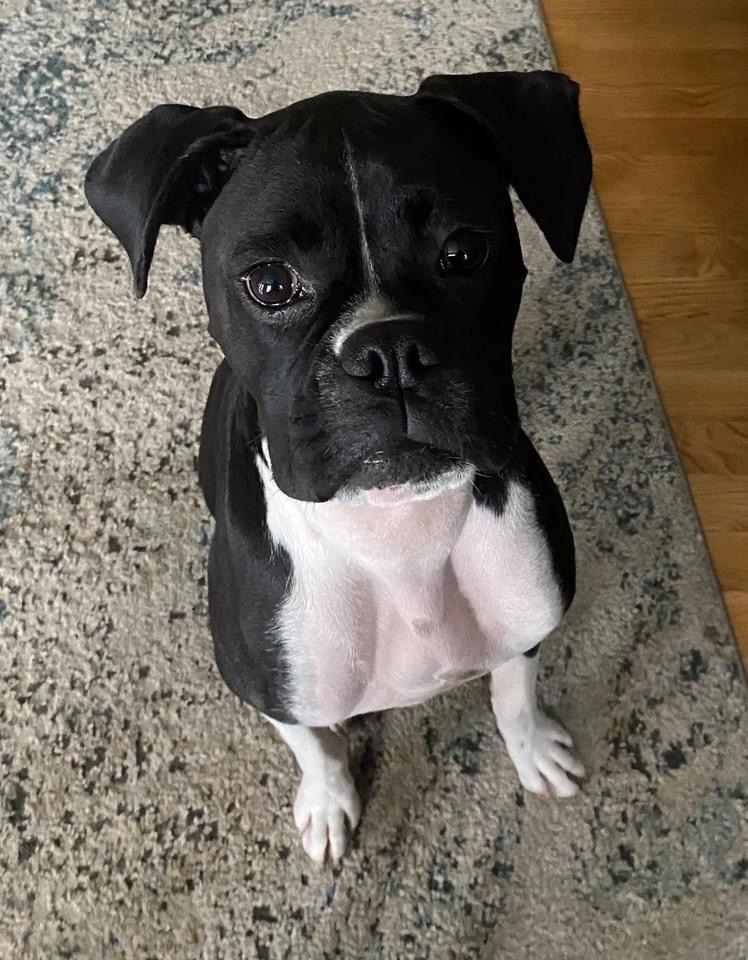 Meet Macie 🐾 2 YRS 🐾 F
*** PENDING ADOPTION ***
Meet Macie! She is 2 years old and coming into rescue because she needs a quiet, very patient, relaxed environment. She does not do well in chaos, or with lots of people coming and going. Macie is very unsure of the world around her. Her nub stays tucked, but it's clear she wants to enjoy the love and attention that is being offered. She literally does not know how. It's likely that Macie was never really properly socialized and it shows. She's extremely weary of men and it takes her a lot of time to trust. She's not a dog that you can just approach and dish out hugs and kisses. She needs time to get to know you. She needs time to get comfortable. She needs time to feel safe. Macie. Needs. Time. If you are not a patient person, she's not for you. She's like the poster boxer for decompression. Macie isn't destructive if left alone, but she does enjoy the company of a human... one that she's learned to trust. She was very friendly with our volunteer, but very unsure of how she was supposed to act. Wiggle? Hide? Accept attention? Retreat? Lean? Run away? She's got a million messages firing in her little boxer brain.
Macie will not be placed in a home with children or in a home where children visit. They make her very uncomfortable. She will not be placed in a home with other dogs/pets. She displays some resource/food guarding with animals.
Macie is like a flower seed. She's been planted in the ground, but she's never been watered or placed in the sun to help her grow. She needs a "green thumb"... someone who can help her sprout out of the dirt, and bloom into a gorgeous flower.
If you want to help Macie find her way and be the very best version of herself, please apply.
OTHER ANIMALS? NO
KIDS? NO - Quiet, chill, relaxed house is required

We often have many beautiful boxers in need of forever homes. From puppies to seniors, they all deserve their happily ever after. Keep an open mind and an open heart, and you just might find your best friend.

Foster a Boxer
Foster homes are a critical piece of our rescue puzzle and enable us to learn as much as we can about the boxers that come to us before being placed in forever homes.
Volunteer
We are always in need of volunteers. Do as little or as much as you want to help us, help them.
In order to continue to save the lives of beautiful boxers, we need funding help from the public. Please consider making a tax deductible donation in honor of your love for the breed.
The Boxer Rescue
Our Mission
Our goal is to promote responsible dog ownership, provide support to boxer owners, inform the public about the needs, qualities and characteristics of the boxer breed, and to be a positive presence in the boxer rescue community.  
Get Involved
If you would like to help The Boxer Rescue, please consider making a monetary donation.  The Boxer Rescue, Inc. is a 501(c) 3 non-profit organization and all donations are tax deductible. No donation is ever too small to help a boxer dog in need.
Pet Rock
September 8 🐾 12pm

Wyman Gordon
Woofstock
September 21 🐾 11am – 4pm
Hudson Elks Pavilion

Boxer Bash
 October 6  🐾  11am-3pm
Hopkinton State Park

Learn
Boxer Adoption Notes
Why Two Female Dogs May Not Be the Best Combination
If you find yourself considering this sort of same-sex adoption scenario, think again. As cute and playful same-sex sibling puppies are, chances are that once they mature, they will engage in some serious discussions that could turn bloody.
Is the boxer the right breed for you?
Boxers are forever puppies.  They seem to never to "grow up". So be prepared to deal with puppy behavior until they are around 3-4 years old.  They require a lot of exercise and stimulation.  Multiple long walks a day will help tire them out, and we all know that a "tired boxer is a good boxer".