A 501(C)3 Non-Profit Organization Serving New England
The Boxer Rescue
We are a group of volunteers, dedicated to finding loving forever homes for unwanted, abandoned, and surrendered Boxers. Our rescue works within Massachusetts, Maine, Rhode Island, Connecticut, and New Hampshire. We strive to not only save boxers, but to educate the public about responsible dog ownership, the importance of spaying and neutering, and how to best meet the needs of this amazing breed.
Adoptees
Make a Donation
Getting Involved
Save a Boxer
Adopting a Boxer
The Boxer Rescue, Inc. is a 501(c)3 non-profit organization serving the New England area.  Our group is made up of dedicated volunteers. These are the people who care for the homeless, abused and unwanted boxers because they have a love and passion for the breed and believe they all deserve a second chance.
Make a Donation
The Boxer Rescue could not exist without donations from people like you. Many of our dogs coming into rescue require expensive medical treatment before they can be placed in their "forever" homes. The adoption donation is often not sufficient to cover all of the expenses.   Since The Boxer Rescue is solely operated on a volunteer basis, funding is always tight; therefore, your donation small or large will go a long way in helping our dogs in need.
Get Ready To Snuggle
Our Adoptees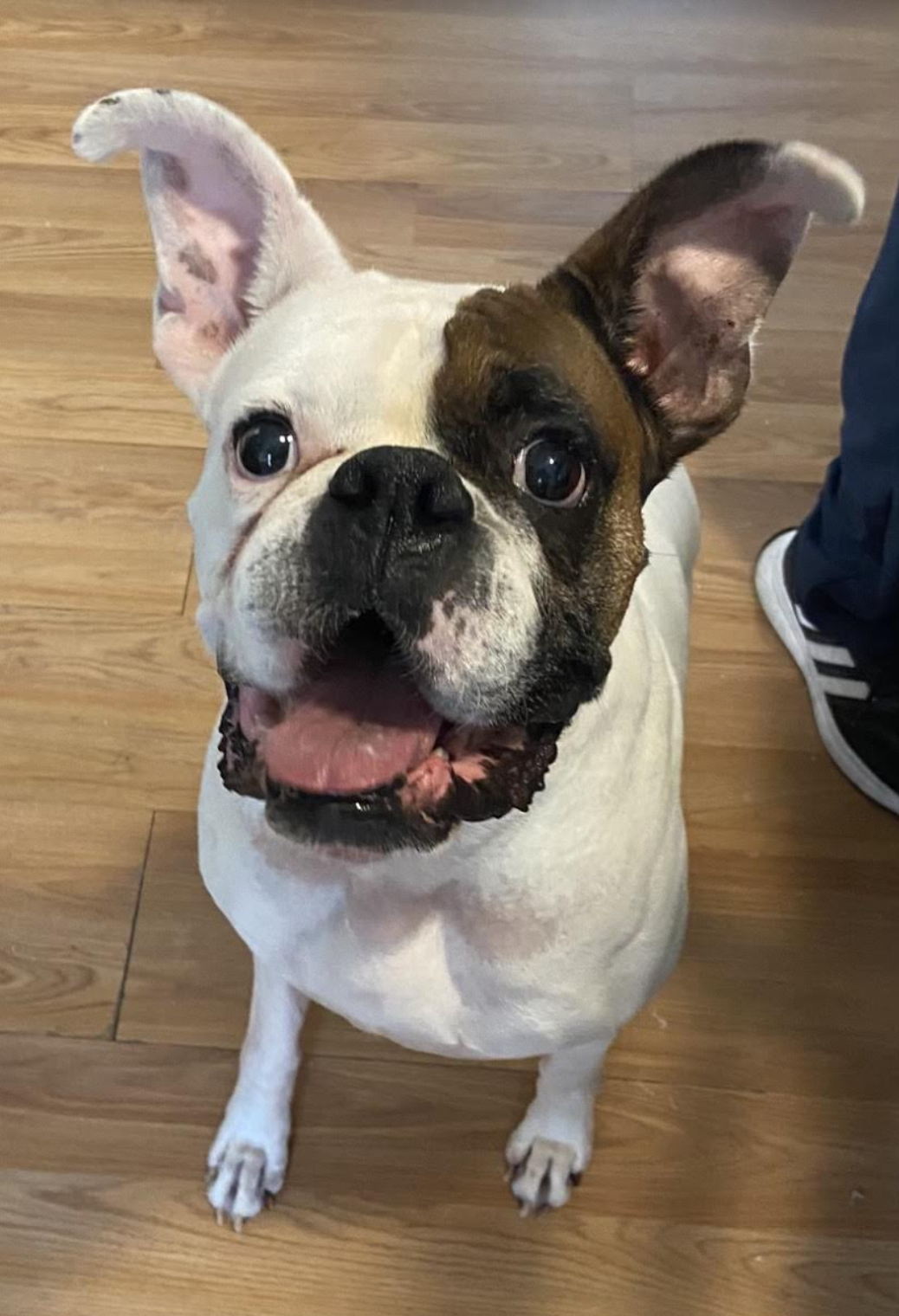 Meet Rocky 🐾 9/10YRS 🐾 M
Help us, help Rocky. He deserves the best 
HOME NEEDED FOR ROCKY - 9ish years old (we think)
MA RI CT or NH
Our volunteer went to meet Rocky. He's a sweet boy, very full of nervous energy. Looks like he was plucked right out of the Gremlins movie!!!
He was shaking like a leaf at one point, while simultaneously leaning all his weight into her. We really don't have a great history on Rocky, unfortunately. We are told one family member owned him for 8 years. Then another has had him for the past 2 years. The current owner says he's not much of a dog person and admits to not interacting much at all with Rocky. He spends a lot of time by himself. A lot of time 

He admits to not playing with him or giving him affection. It seems he sort of just exists there.
He was jumpy with our volunteer, and had that nervous energy going… like he wasn't sure what to do or how to act. He did enjoy a rubber stick toy she brought and played tug a bit with her. She did feel that his excitement would likely turn into him humping had she continued.
It should be known that he let out a low growl when our volunteer touched his back legs. Nothing more than that.. but it's something to be aware of. It could be pain related, as he's not been vetted in AT LEAST 2 years (we are waiting on any records prior to 2 years) or it could have been the uncertainty of who she was as he was a bit fearful.  OUR RESCUE WILL PAY TO HAVE HIM LOOKED AT BY A VET ONCE HE'S IN A HOME. He does have his rabies vaccine. We just need a soft place for him to land before we can arrange any vetting.
Rocky's not been socialized much in the past few years. As we mentioned, he seems to be alone most of the time (10+ hours a day). His human interaction is lacking.
We really want to get this boy out of where he is and into a foster (hopefully foster to adopt) home where he can properly decompress, and let some of the fear and uncertainty melt away.
He needs a home without young children (teens and older), no other pets (we have zero history) and humans willing to give him the time and space he needs, while also guiding him in a positive way.
He's a fun guy, with the best freaking ears in all of the universe. He's just been sort of neglected, for lack of a better word. His social and emotional needs have not been tended to. His physical needs have also fallen by the wayside. This boy needs a forever human or family to spoil him.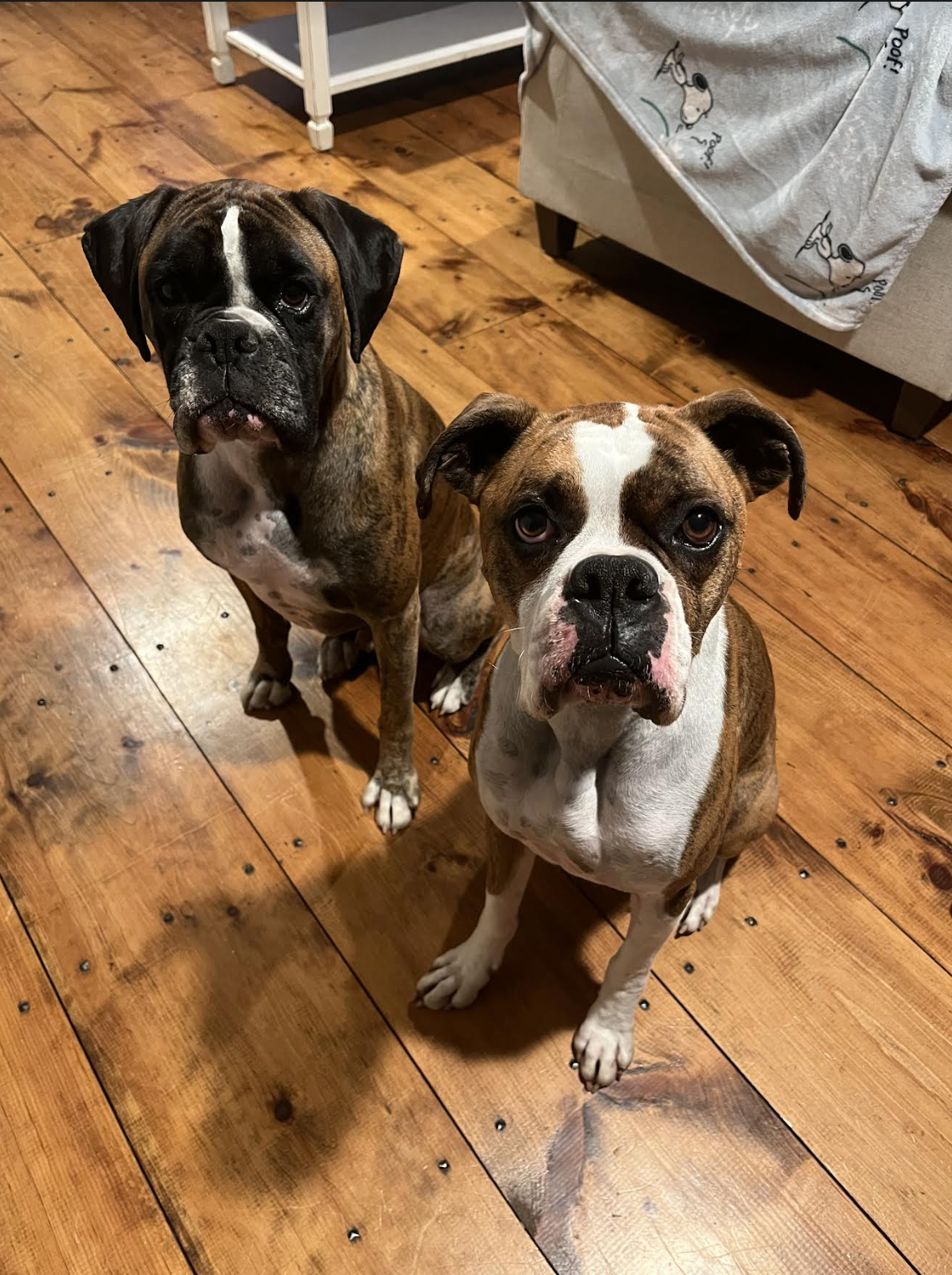 Meet Chief & Koda 🐾 4 YRS 🐾 M
This dynamic duo of all things young boxer boy energy, is seeking a forever home that can meet their needs.
They bring 2x the energy, 2x the snuggles, 2x the laughs, 2x the fun!
Chief (darker brindle) and Koda (lighter brown brindle) are not living their best lives at the moment. Their humans divorced, leading to a change in housing, and also more time alone for the boys. Their mom wants more for them. They deserve more attention, exercise, and consistency in their daily routine.
At under 4 years old, they both still ooze boxer excitement and can be jumpy upon initial meetings with humans. They are stellar snuggle muffins and ridiculously adorable.
We want them to be placed together, as they are pretty attached to each other. Chief tends to be a bit more of the alpha over Koda and he's cool with that. They've been around kids. We will consider children 8+ . NO CATS or other dogs.
Welcoming a pair of adolescent boxer boys into your home is enough to keep anyone busy!
We want to see them out walking (minus the prong collars they wear now) and with front clip harnesses on board. We want to see them stretching those boxer legs, getting some socialization, seeing new sights, smelling new smells. They are oozing potential.
Who wants to help them shine?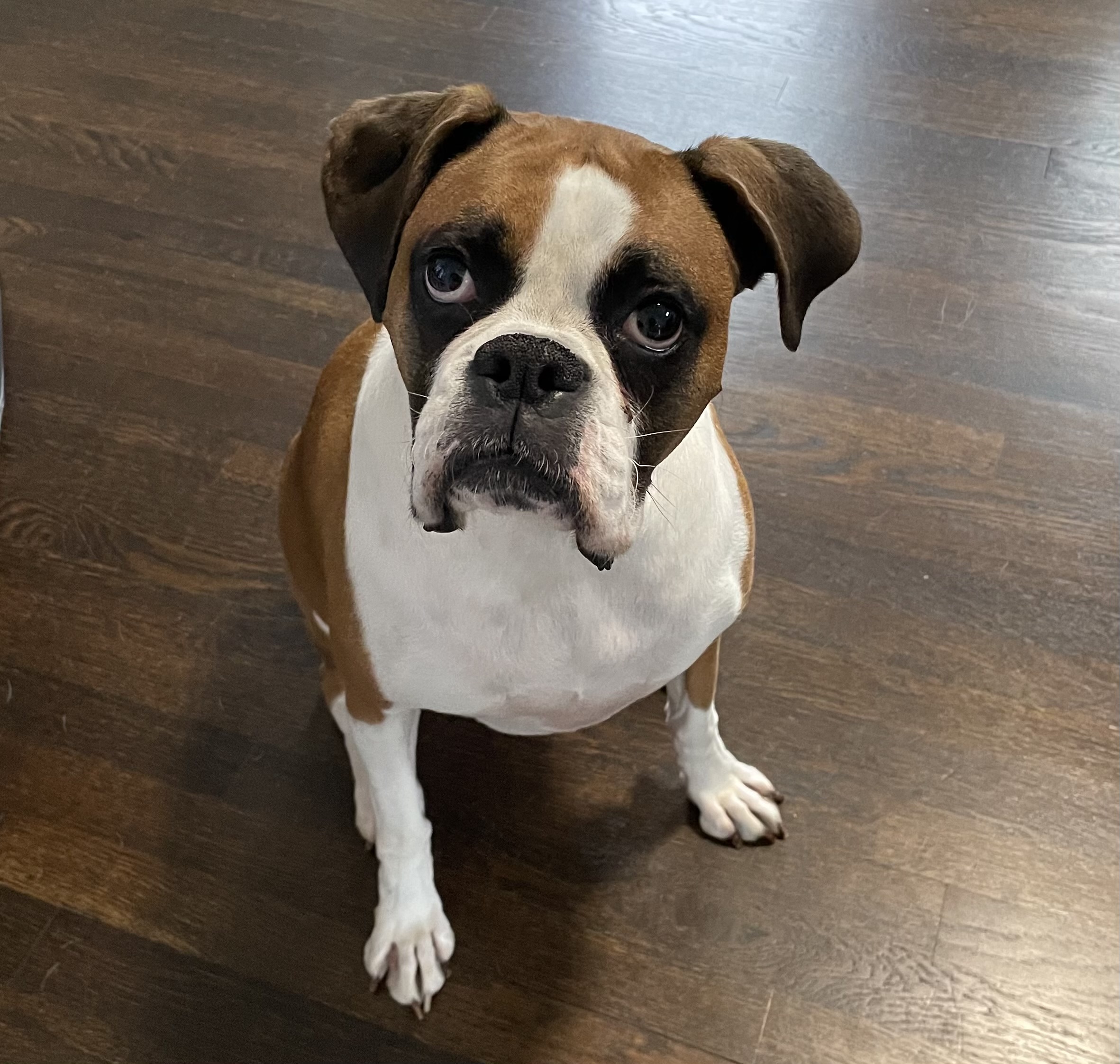 Meet Millie 🐾 4 YRS 🐾 F
***ADOPTION PENDING***
4 year old, Millie, is searching for a special home that can help her find her confidence.  She was purchased, as a pup, from a puppy mill (unbeknownst to her owner), and she's been terrified of life ever since.
Millie's tail is tucked most of the time. Loud noises scare her. When out on a walk, she just wants to retreat back home. The world is overwhelming to her. She's actually been prescribed medication to help her function.
Her owner has recently moved to a city setting, and the hustle and bustle is too much for her.
Her anxiety and fear of the outside, is only increasing.
She's super sweet, full of love, and full of so much potential. She just needs an environment more conducive to her needs.
We are looking for a quiet setting for Millie. She's not a city girl. She needs a home void of chaos and crazy, where she can learn how to "dog". She needs patience, time, and so much love.
We do think Millie could benefit from the company and guidance of a sweet, male boxer. She's not looking to be pounced on. She's looking for a bestie that can show her the ropes.
OTHER DOGS? Sweet, male could be good for her
CATS? No
KIDS? Teens +
FENCED IN YARD? Yes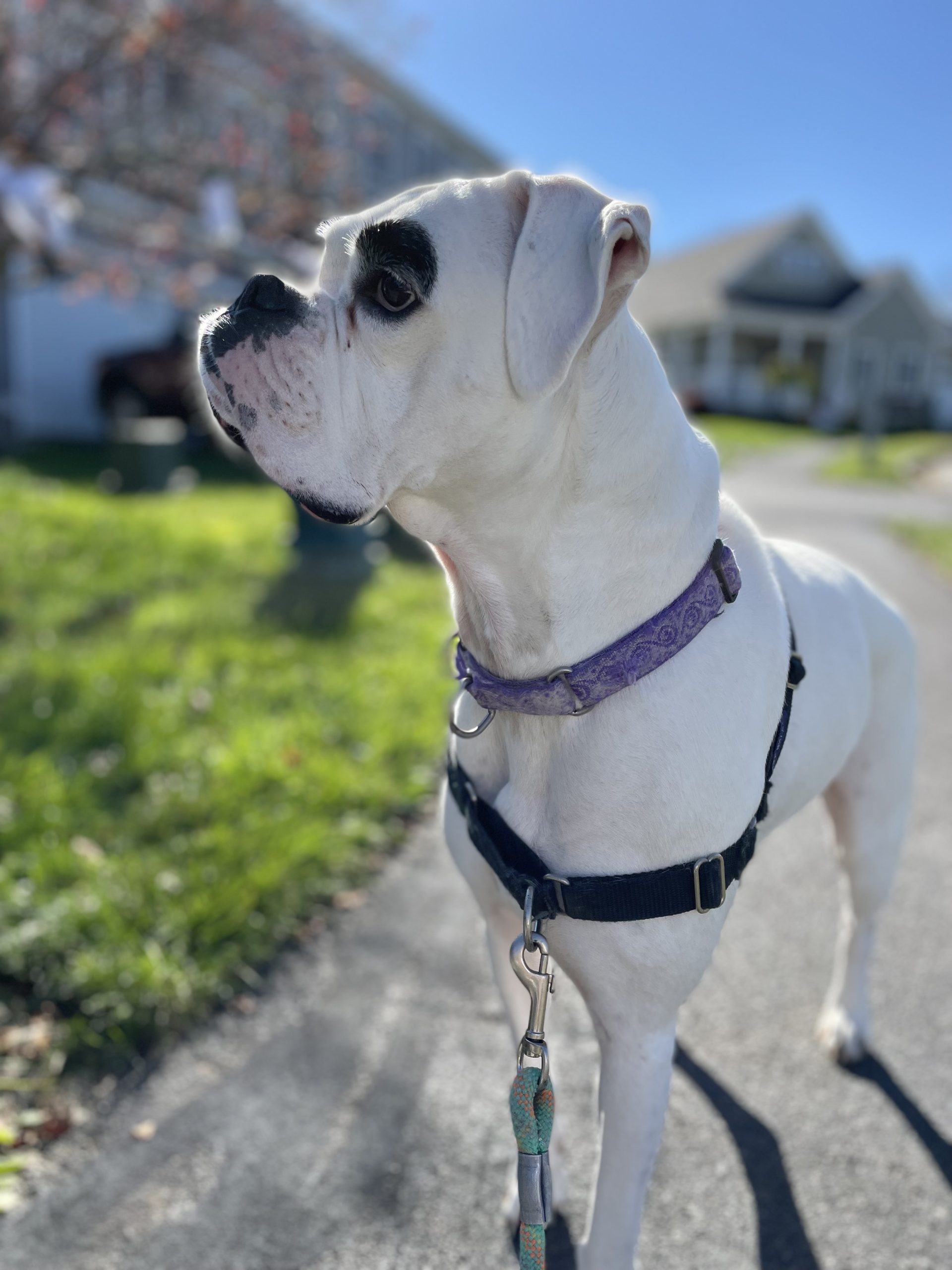 Meet Sadie🐾 5 YRS 🐾 F
***ADOPTION PENDING***
5 year old Sadie is the sweetest little peanut pants.  I met her this weekend and was showered in gentle kisses and got so many boxer hugs.
Sadie currently lives in a family with lots of young humans. She great with them BUT all the hustle and bustle that comes with a house full of littles, is putting Sadie at risk. Girlfriend has a habit of bolting out the front door. I witnessed it with my own eyes. She looks for any opportunity to GO and once she's gone, it's game on!
Sadie's not aggressive but she comes equipped with a loud bark. The peeps in her neighborhood aren't fans of her uninvited "hellos" when she's running amuck. People are out there scooping up their purse dogs, while Sadie's demanding attention in the middle of the road. It's quite the scene.
She's a very loved and very cared for member of her family. It's just that they have a lot going on.. A LOT. They reached out to us to help find Sadie a home where she will be safe from getting loose. She's a high risk for getting lost, injured, or worse.
The family admits to not walking her, as she has a fenced in backyard to play in. And while that's nice, she NEEDS walks. She needs to socialized more outside of her 4 walls. I brought a harness with me, and we walked her neighborhood a bit. She loved it! All the Halloween decorations brought out many adorable boxer head tilts. She pulls a bit, however, she was excited. With practice and training, she's going to shine!
Her owners tell us she's a bit unsure of some men, especially those wearing baseball hats. So, something to note and be aware of. Again, she's a bit under socialized so new people, accessories, sights, smells, should be introduced in a positive way. She's super curious and attentive to all that's going on around her.
Sadie's new home should be an active one … active in a way that includes her. She needs long walks, rides in the car, and fun outings to new places. She needs a home where she will be safe from bolting out doors. While she's great with kids, kids are notorious for being unaware of what's going on around them, and we can't have Sadie getting loose. Older kids might be best.
And training..  she needs training to help her stat safe at opened doors.. she needs to learn "wait" "stay" etc…. And recall, she's got to learn some recall. ALL of this is doable and will be so fun for her!
If you'd like to welcome this bundle of smoosh marshmallow into your home, apply for her!
OTHER DOGS? Sweet male boxer will be considered. She's never met another boxer but she's been ok meeting other male dogs. If we place her with a male, her family needs to be savvy, understand proper intros, and be ok with an adjustment period, however long that might be.
CATS? No
KIDS? She's great with kids..  they will be considered on an app to app basis.
FENCED IN YARD? Yes.
TRAINING? Yes.. she needs to work on some basics for her own safety.
Whoever adopts this girl, will be so freaking lucky. She's pure love!!!!!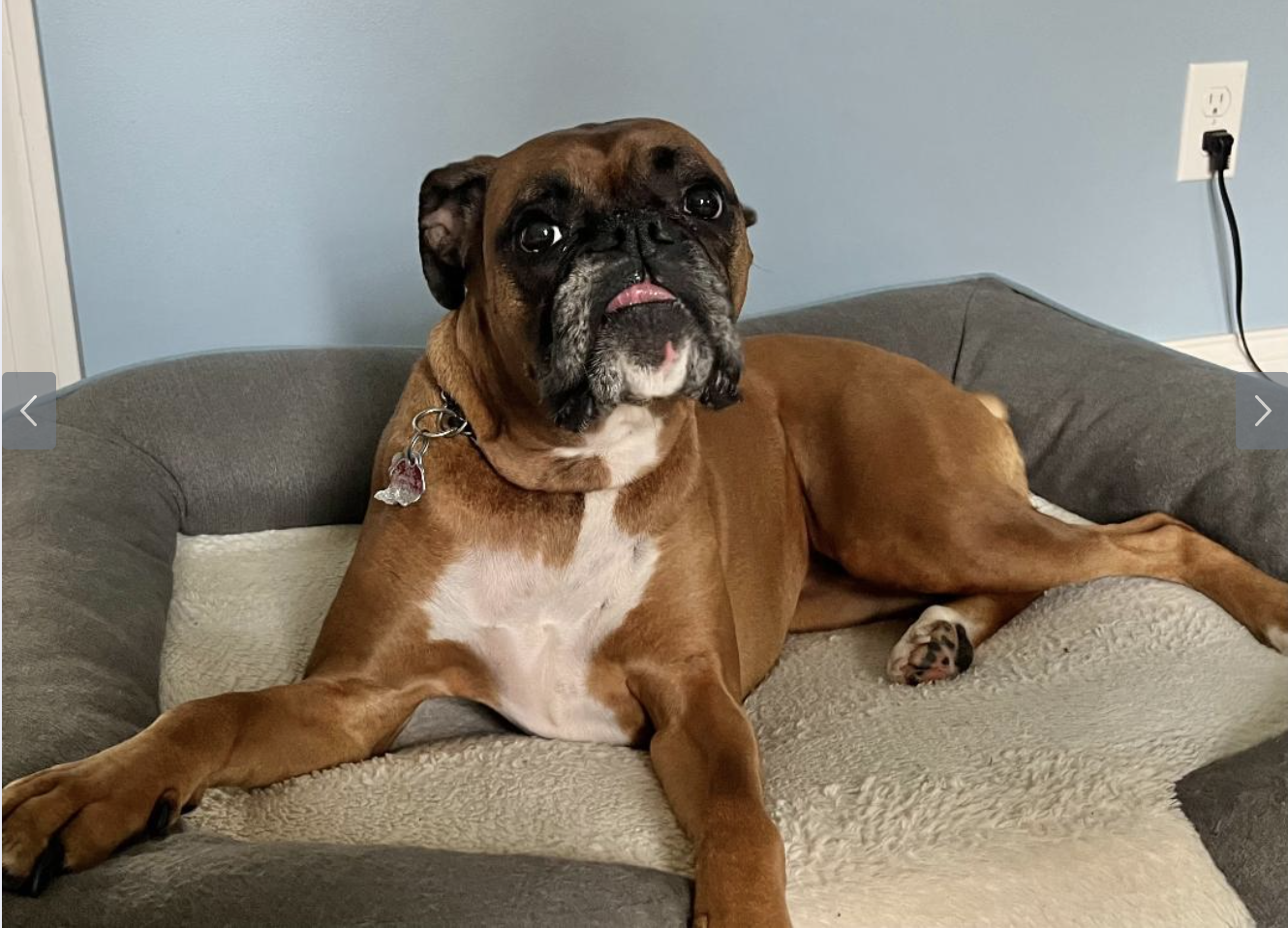 Meet Zoey 🐾 5.5 YRS 🐾 F
***ADOPTION PENDING***
Our volunteer just met Zoey… one word to describe her … PHENOMENAL!!!
Zoey is 5.5 years old and the only thing she wants is love and attention. She's craving it. She needs it. She's begging for it.
Zoey spends entirely too many hours, alone, in her crate. She's not getting walked. She's not having her physical and mental needs met at this point in her life. Her human realizes this, and asked us to help.
This girl lit up like a freaking Christmas tree when our volunteer showered her with attention. She loved belly rubs and gave kisses. At 5.5 years old, she's still got a lot of energy and will be in heaven when she's being taken out of the house for walks and spending quality time with humans who love, adore, and treasure her.
She tested great with our volunteer's son. We will consider kiddos 6ish + for Zoey. She's still a little jumpy and will steal kisses from anyone eye level.
Zoey will be placed as an only dog. We want to see her pretty much lathered and smothered in all that she's been missing out on since life changed for her owner. She's beyond deserving, and it's killing us to think of her in that crate for so many hours.
Please, if you are interested in welcoming a gem of a boxer into your heart and home, Zoey is your girl. She will be forever and ever grateful to be a part of a family where she's included in all things that make up a family.

We often have many beautiful boxers in need of forever homes. From puppies to seniors, they all deserve their happily ever after. Keep an open mind and an open heart, and you just might find your best friend.

Foster a Boxer
Foster homes are a critical piece of our rescue puzzle and enable us to learn as much as we can about the boxers that come to us before being placed in forever homes.
Volunteer
We are always in need of volunteers. Do as little or as much as you want to help us, help them.
In order to continue to save the lives of beautiful boxers, we need funding help from the public. Please consider making a tax deductible donation in honor of your love for the breed.
The Boxer Rescue
Our Mission
Our goal is to promote responsible dog ownership, provide support to boxer owners, inform the public about the needs, qualities and characteristics of the boxer breed, and to be a positive presence in the boxer rescue community.
Get Involved
If you would like to help The Boxer Rescue, please consider making a monetary donation.  
The Boxer Rescue, Inc. is a 501(c) 3 non-profit organization and all donations are tax deductible
. No donation is ever too small to help a boxer dog in need.
Pet Rock
September 8 🐾 12pm

Wyman Gordon
Woofstock
September 21 🐾 11am – 4pm
Hudson Elks Pavilion

Boxer Bash
 October 6  🐾  11am-3pm
Hopkinton State Park

Learn
Boxer Adoption Notes
Why Two Female Dogs May Not Be the Best Combination
If you find yourself considering this sort of same-sex adoption scenario, think again. As cute and playful same-sex sibling puppies are, chances are that once they mature, they will engage in some serious discussions that could turn bloody.
Is the boxer the right breed for you?
Boxers are forever puppies.  They seem to never to "grow up". So be prepared to deal with puppy behavior until they are around 3-4 years old.  They require a lot of exercise and stimulation.  Multiple long walks a day will help tire them out, and we all know that a "tired boxer is a good boxer".