The Boxer Rescue
Available Boxers
Adoption Service Area
Please note, APPLICANTS MUST BE 21 YEARS OLD and MUST reside in MA, RI, NH, or CT.
Be sure the application is filled out in its entirety.
Incomplete applications will not be considered.
Get Ready To Snuggle
Our Adoptees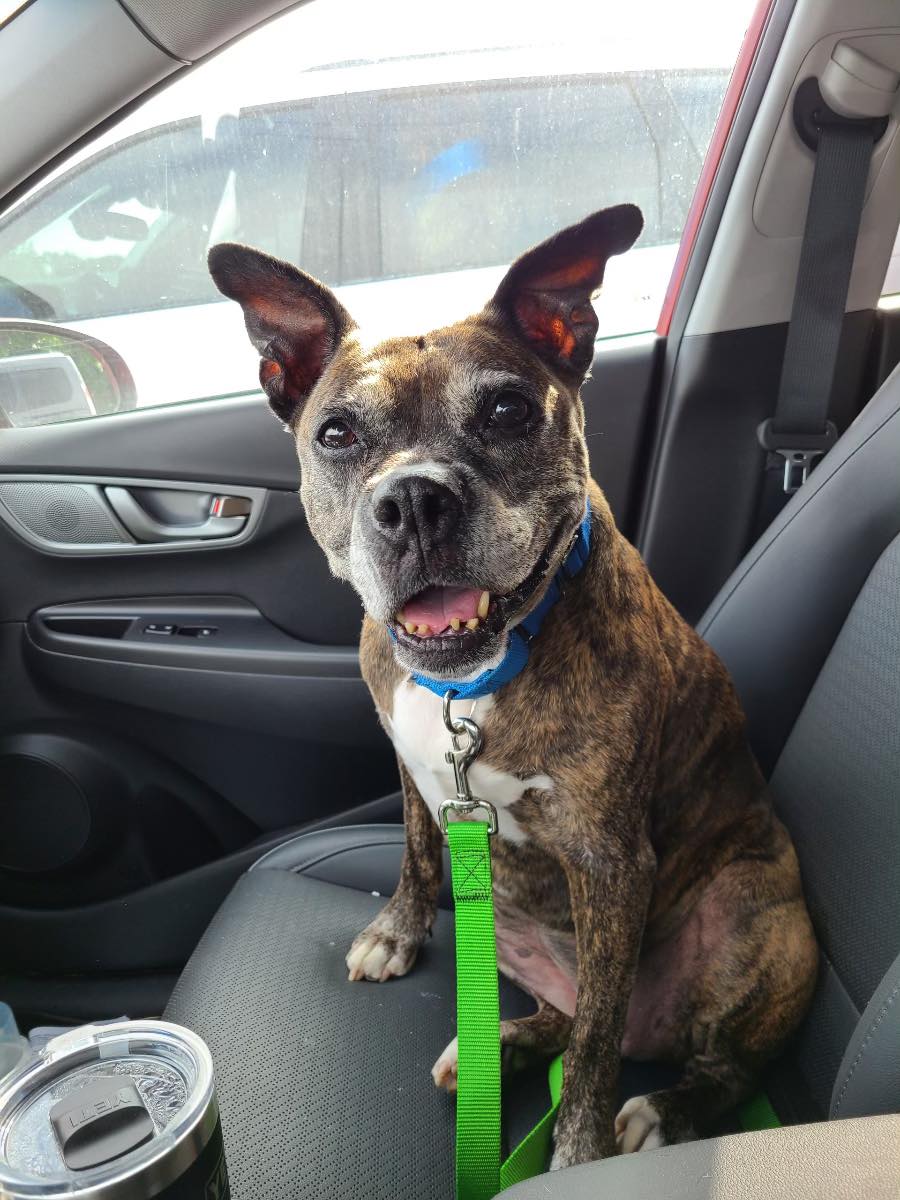 Meet Noel 🐾 9 YRS 🐾 F
Our volunteer was able to go and meet 9 year old Noel and she's quite simply as sweet as she looks. Noel is 9 years old and surrendered to a local ACO by her owner. He and Noel were homeless for a long time, and he had to make the decision to give her up, for his own well being.
Noel love being petted. She loves belly rubs, head rubs, bum rubs, neck rubs, back rubs... She loves all the petting and all the rubs! That's pretty much what she asks of you. At 9 years old, she's over the need to be a freshy mcfresh pants. She's looking for a quiet house, with some extra comfy beds, a nice daily walk to smell the smells, and any yummy treats you want to toss her way.
Noel was dog tested and it didn't go well. She made it known that she's a one woman show... This girl isn't sharing her belly rubs.
She does however not mind cats... So, if you have a cat, Noel could be your girl!
Please let us know if you'd be interested in her. ACO would love us to get her placed so she can enjoy the comforts of home and a family. She does have a sore/ulcerated lump on her hind end that is being looked at by a vet.
OTHER DOGS? NO
CATS? YES
KIDS? NO - we have no history at all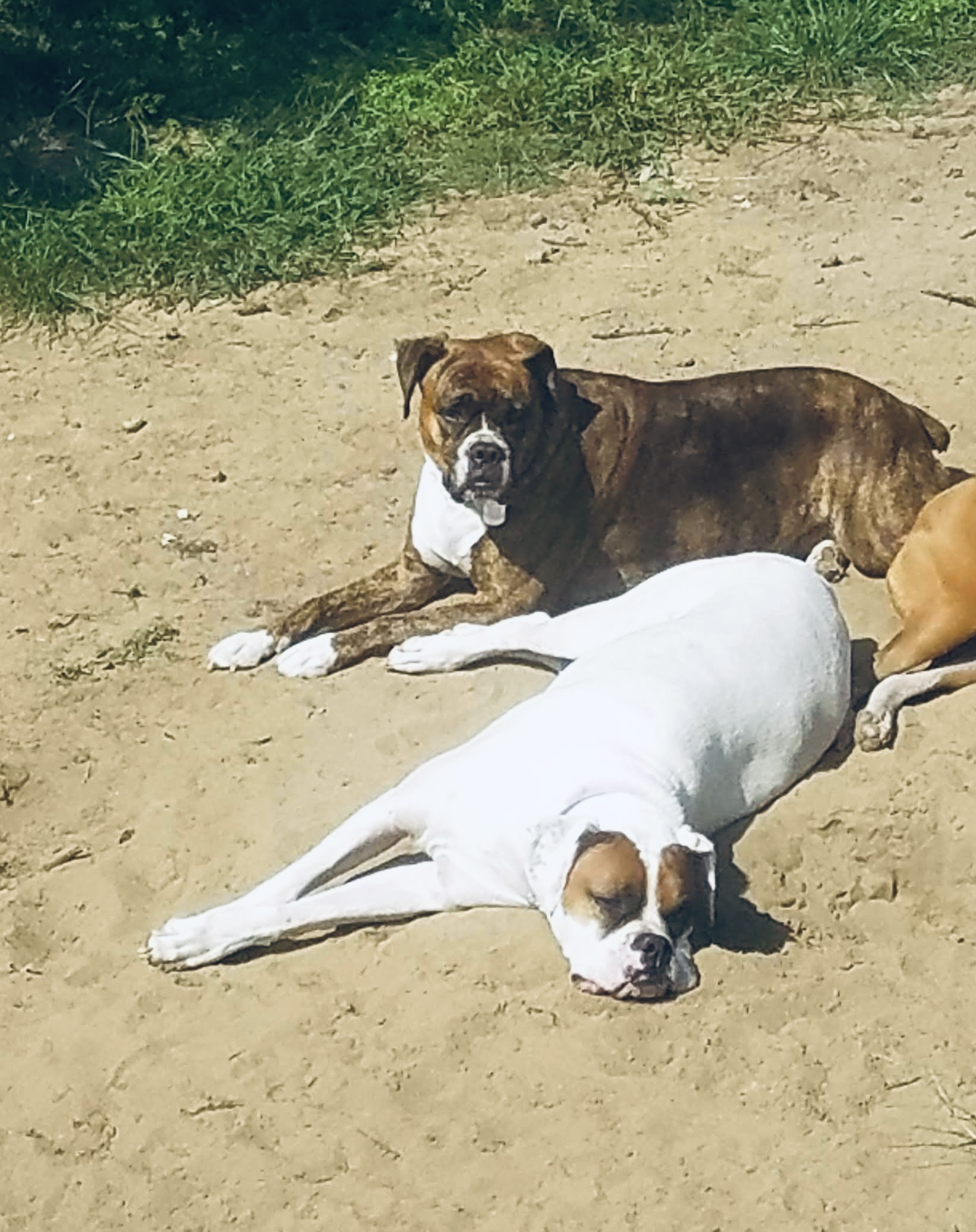 Meet Phoenix & Max 🐾 6/7 YRS 🐾 M/F
Phoenix, the brindle girl, will be 7 years old in November, and Max, the white boy, will be 6 in January. Their living situation has changed over the past few years and their mom wants them to be able to get out and about more. Right now, they spend much of their day confined to a small area of the home and don't get enough exercise. As a result, they've put on a little extra weight and are really missing the attention that we all know boxers crave so much. Phoenix and Max have lived with children so we will consider placing them in a home with kids. Mom reports that they are ok with other dogs, but Phoenix can be a little iffy around other female dogs.
Our volunteers reported that they were very friendly, not overly excitable by any means. Max was the barker of the crew, but he just seems to want attention. Their takeaway from this evaluation is that the dogs just don't seem to know how to be dogs, if that makes any sense. Sadly, they've spent so much time sort of gated off in a room in their home, that they've lost their boxer zest and zing. They did go for a short walk and they pulled a little bit, but nothing crazy. Again, they weren't super thrilled to go, but they don't get out much these days, so they are sort of accustomed to a more sedentary existence. This is why their family called us. They realize the dogs deserve more... We are thankful they reached out for help.
If you have been searching for a boxer, but would prefer to not have a velociraptor living amongst you, please consider this pair. They are at the perfect ages.... Happy to go for walks, but won't rip your arms out of your sockets. Happy to get attention, but won't bowl you over like you aren't even visible in their path. They are both happy to just relax and be a part of a family. They are a perfect boxer package!
OTHER DOGS? No.. they will be placed with each other only
CATS? No
KIDS? Yes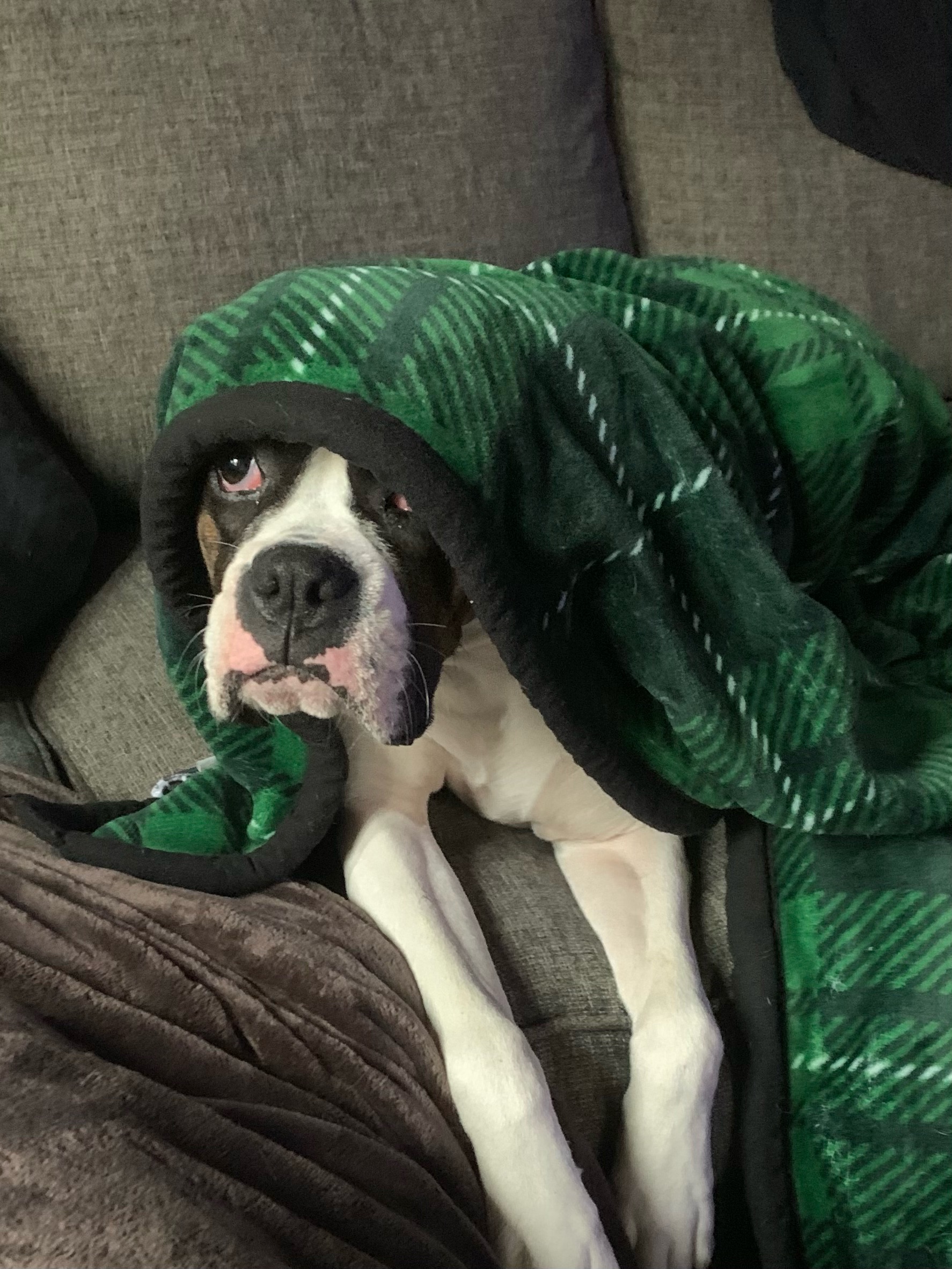 Meet Nora 🐾 2YRS 🐾 F
This gorgeous brindle gal is Nora. She's got her 2nd birthday coming up next month and is ready to party!
Nora is coming into rescue because she needs to be an ONLY DOG. She's living with other dogs, and the fights are becoming quite serious. Her owners are needing to keep her separated for safety's sake. They feel she will thrive as an only where she will get all the attention and all the snuggles.
Nora is spayed, and current on her vaccinations. She does have focal seizures and has been seen by a neurologist as a result. She currently takes phenobarbital and will require bloodwork every six months to be sure her dosage is correct. On the meds, the focal seizures are controlled. She lives a very happy, boxer existence.
Nora was super friendly with our volunteer when she met her. She loved being petted and assumed that boxer lean we all know so well. Nora is well behaved, super smart, and obviously quite a head turner with those stunning good looks. She does have a little bit of leash reactivity, but is easily redirected with positive reinforcement and praise for doing the right thing.
She's lived with children and is great with them.
Bottom line for this girl, is she just prefers to be an only dog. It's what will make her happiest. So, if you've been looking for a young boxer girl, Nora is ready and waiting.
OTHER DOGS? NO
CATS? NO
KIDS? YES
SPECIAL NEEDS? Medication for focal seizures (controlled with the meds)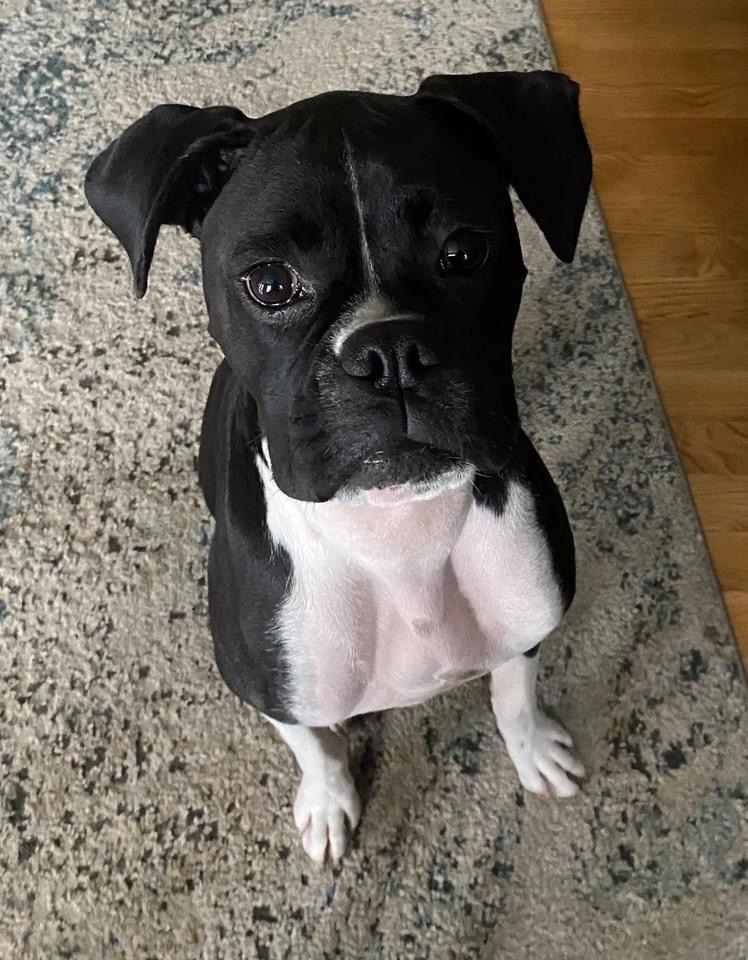 Meet Macie 🐾 2 YRS 🐾 F
*** PENDING ADOPTION ***
Meet Macie! She is 2 years old and coming into rescue because she needs a quiet, very patient, relaxed environment. She does not do well in chaos, or with lots of people coming and going. Macie is very unsure of the world around her. Her nub stays tucked, but it's clear she wants to enjoy the love and attention that is being offered. She literally does not know how. It's likely that Macie was never really properly socialized and it shows. She's extremely weary of men and it takes her a lot of time to trust. She's not a dog that you can just approach and dish out hugs and kisses. She needs time to get to know you. She needs time to get comfortable. She needs time to feel safe. Macie. Needs. Time. If you are not a patient person, she's not for you. She's like the poster boxer for decompression. Macie isn't destructive if left alone, but she does enjoy the company of a human... one that she's learned to trust. She was very friendly with our volunteer, but very unsure of how she was supposed to act. Wiggle? Hide? Accept attention? Retreat? Lean? Run away? She's got a million messages firing in her little boxer brain.
Macie will not be placed in a home with children or in a home where children visit. They make her very uncomfortable. She will not be placed in a home with other dogs/pets. She displays some resource/food guarding with animals.
Macie is like a flower seed. She's been planted in the ground, but she's never been watered or placed in the sun to help her grow. She needs a "green thumb"... someone who can help her sprout out of the dirt, and bloom into a gorgeous flower.
If you want to help Macie find her way and be the very best version of herself, please apply.
OTHER ANIMALS? NO
KIDS? NO - Quiet, chill, relaxed house is required
Frequently Asked Questions
Adoption Service Area
Please note, APPLICANTS MUST BE 21 YEARS OLD and MUST reside in MA, RI, NH, or CT. Be sure the application is filled out in its entirety. Incomplete applications will not be considered.
Where do your boxers come from?
Many of our boxers are owner surrenders. Perhaps the owner purchased the dog on impulse, not understanding the needs of a boxer. Sometimes, financial situations change, and families are not able to care for the dog anymore. We also take dogs that have been brought to shelters around New England. If a shelter reaches out for help, we do our best to find placement for the boxer in need. Lastly, we have a wonderful relationship with boxer rescue in Puerto Rico, and we work closely with them to bring boxers in need, from the island, to New England. All of our boxers are temperament tested and evaluated before coming into rescue. It should be noted that ALL dogs require a decompression period when going to a new home. Even the sweetest, most loveable boxer experiences fear and confusion during transitional times and foster/adoptive homes need to be conscious and respectful of this.
Can I adopt a female dog if I already have a female dog?
The short answer is no. Our experience in placing dogs, has shown us that placing two females together is oftentimes not the best long term situation. We receive many calls from owners needing to surrender their female boxers because there is fighting with another female dog in the house. Sometimes it's with another boxer and sometimes, it's with another breed. Either way, the fighting is often brutal and bloody. We have adopted a policy to never place two female dogs in the same house.
Are your boxers healthy?
Before adoption, our dogs are healthy to the best of our vets' knowledge. They are brought up to date on vaccines, tested for heartworm, and spayed or neutered (unless too young or not medically able to be). We also send our boxers with one month of heartworm and flea/tick prevention to get them started. Their vet records are provided upon adoption.
Do I need to have a fenced in yard to adopt a boxer?
We do not require a fenced in yard for all of our boxers. However, there are certain circumstances where a fence may be required and it will be noted in the boxer's bio. We look at each dog, individually, and based on the needs of that dog, we may require fencing. Please note that we do not consider an electric fence to be a proper method of containment and are not able place a dog in a home that uses electric fencing.
Do you have a shelter where I can come meet the boxers?
We are not a shelter and do not have a physical location where you can meet our adoptees. Most boxers will stay with their owners or shelter until we can secure a foster or adoptive home for them. Our boxers from Puerto Rico, are flown here once we've secured homes for them.
What Are Your Adoption Fees?
Puppies – $450.00
Dogs – 6 months and older $400.00
Dogs – 7 years and older $150.00
Pet Rock
September 8 🐾 12pm
Wyman Gordon
Woofstock
September 21 🐾 11am-4pm
Hudson Elks Pavilion
Boxer Bash
October 6 🐾 11am-3pm
Hopkinton State Park
Boxer Briefs
BOXERS WITH KIDS AND SENIORS:
Generally speaking, boxers have an affinity for children and for the elderly. Most can recognize the need to be more calm and gentle with certain people.  However, some have no idea how big and strong they are and could accidentally knock over a small child or senior adult. Please consider ALL family members when looking to welcome a boxer into your home.