The Boxer Rescue
Available Boxers
Adoption Service Area
Please note, APPLICANTS MUST BE 21 YEARS OLD and MUST reside in MA, RI, NH, or CT.
Be sure the application is filled out in its entirety.
Incomplete applications will not be considered.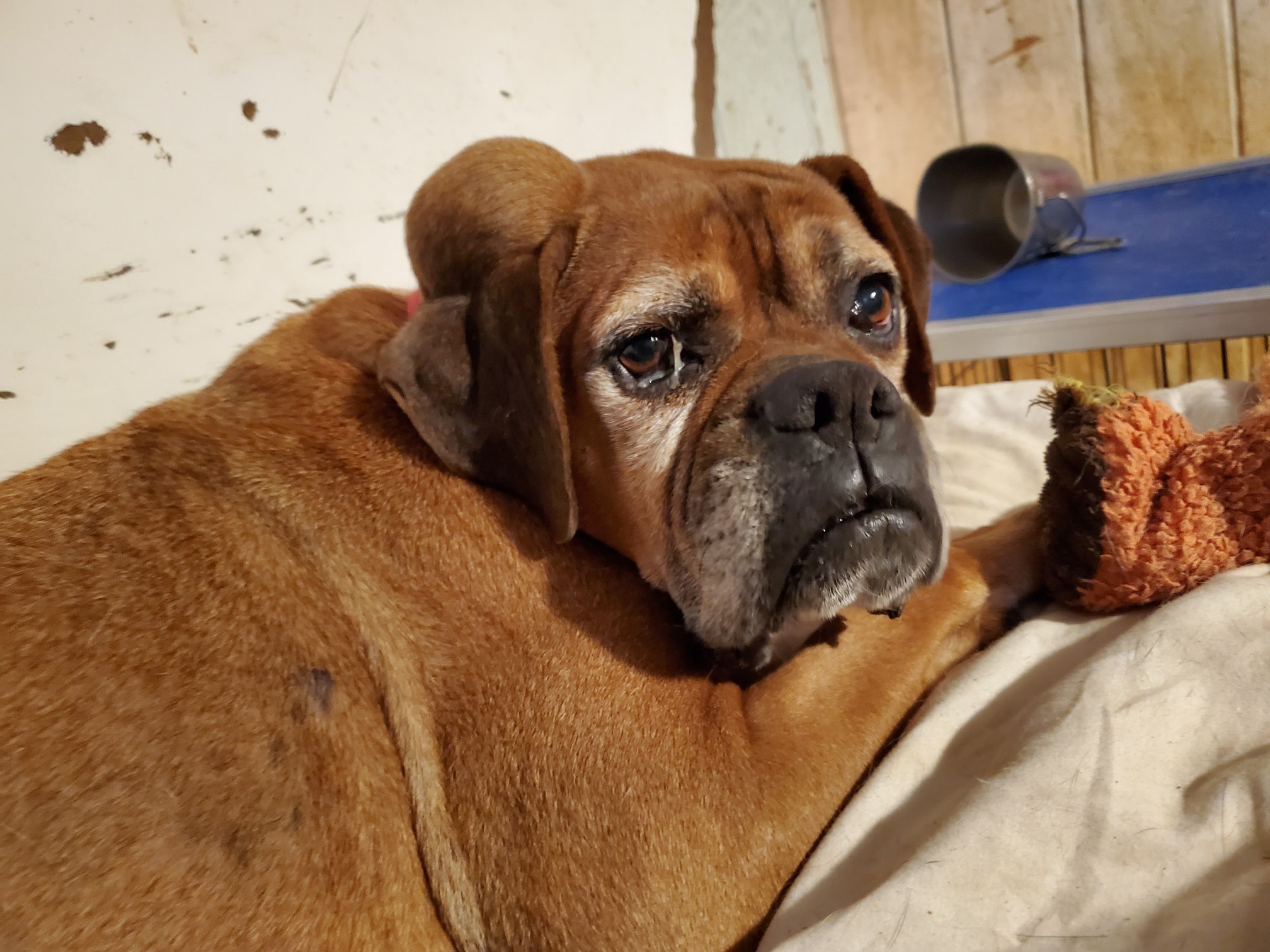 Meet Cricket 🐾 Senior 🐾 Female
** Medical Hold ***
Cricket will be transformed from a Southern gal to a New Englander very soon! It seems that this sweet, senior has spent most of her life outdoors. She was found, tied up, in a yard with another dog, but no humans around caring for them. The woman who found her, placed her with rescue down south and we stumbled upon her photo and couldn't look away. She's got that "kiss me" face!
Cricket is reportedly good with other dogs, seems to not mind a crate, and is adjusting to life inside a home. We have secured a foster home for her, here in New England, and we will be road tripping to get her here in a quick minute.
She is UTD on vaccines, spayed, and is HW negative (thank goodness, but her body has many lumps and bumps that we need to have looked at by one of our vets. There is one very large lump on her head and another on her back end, with lots of small ones sprinkled everywhere else. We are praying that they are nothing more than fatty cysts, but we won't know until she's looked at.
Cricket's road to happiness started when she was saved down south and her happiness journey will continue when we get her here.
Stay tuned for updates on this muffin head. If you would like to donate towards her care you can do so on our site www.theboxerrescue.org
If you might be interested in adopting her, email info@theboxerrescue.org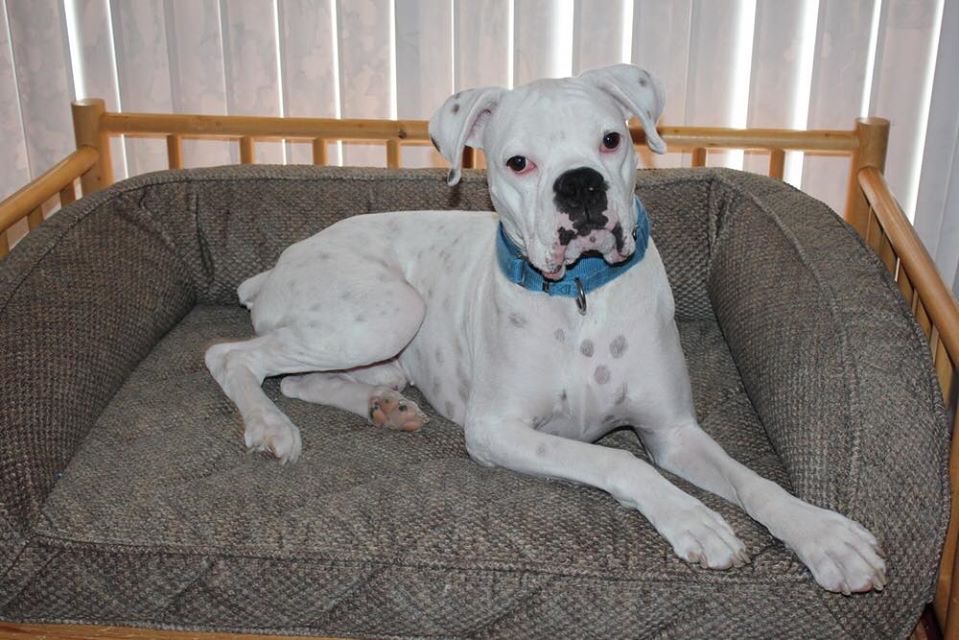 Meet Mellow 🐾 4-5 Yrs 🐾 Male
Meet Mellow!! Our friends at a local shelter in MA reached out to see if we could place him in his forever home. Of course we can!!!
Mellow has been undergoing heartworm treatment and is finally free of those pesky buggars, which means he's medically cleared to leave his foster home and move onto his forever home. We aren't sure of his age, but we are thinking 4-5 years.
Mellow needs to be placed in an ADULT ONLY and NO OTHER PETS home due to some slight resource guarding. Good news is that he's a fast learner, very food motivated, and enjoys training. He's learned to "drop it" and "leave it" as well as other basic skills. Mellow is housebroken and crate trained, but he doesn't need to be crated as he's pretty content to catch some zzzz's while his humans are out and about.
Look at his face!!! It's so squishy and kissable. Mellow will make someone an amazing best bud!
Frequently Asked Questions
Adoption Service Area
Please note, APPLICANTS MUST BE 21 YEARS OLD and MUST reside in MA, RI, NH, or CT. Be sure the application is filled out in its entirety. Incomplete applications will not be considered.
Where do your boxers come from?
Many of our boxers are owner surrenders. Perhaps the owner purchased the dog on impulse, not understanding the needs of a boxer. Sometimes, financial situations change, and families are not able to care for the dog anymore. We also take dogs that have been brought to shelters around New England. If a shelter reaches out for help, we do our best to find placement for the boxer in need. Lastly, we have a wonderful relationship with boxer rescue in Puerto Rico, and we work closely with them to bring boxers in need, from the island, to New England. All of our boxers are temperament tested and evaluated before coming into rescue. It should be noted that ALL dogs require a decompression period when going to a new home. Even the sweetest, most loveable boxer experiences fear and confusion during transitional times and foster/adoptive homes need to be conscious and respectful of this.
Can I adopt a female dog if I already have a female dog?
The short answer is no. Our experience in placing dogs, has shown us that placing two females together is oftentimes not the best long term situation. We receive many calls from owners needing to surrender their female boxers because there is fighting with another female dog in the house. Sometimes it's with another boxer and sometimes, it's with another breed. Either way, the fighting is often brutal and bloody. We have adopted a policy to never place two female dogs in the same house.
Are your boxers healthy?
Before adoption, our dogs are healthy to the best of our vets' knowledge. They are brought up to date on vaccines, tested for heartworm, and spayed or neutered (unless too young or not medically able to be). We also send our boxers with one month of heartworm and flea/tick prevention to get them started. Their vet records are provided upon adoption.
Do I need to have a fenced in yard to adopt a boxer?
We do not require a fenced in yard for all of our boxers. However, there are certain circumstances where a fence may be required and it will be noted in the boxer's bio. We look at each dog, individually, and based on the needs of that dog, we may require fencing. Please note that we do not consider an electric fence to be a proper method of containment and are not able place a dog in a home that uses electric fencing.
Do you have a shelter where I can come meet the boxers?
We are not a shelter and do not have a physical location where you can meet our adoptees. Most boxers will stay with their owners or shelter until we can secure a foster or adoptive home for them. Our boxers from Puerto Rico, are flown here once we've secured homes for them.
What Are Your Adoption Fees?
Puppies – $450.00
Dogs – 6 months and older $400.00
Dogs – 7 years and older $150.00
Pet Rock
September 8 🐾 12pm
Wyman Gordon
Woofstock
September 21 🐾 11am-4pm
Hudson Elks Pavilion
Boxer Bash
October 6 🐾 11am-3pm
Hopkinton State Park
Boxer Briefs
BOXERS WITH KIDS AND SENIORS:
Generally speaking, boxers have an affinity for children and for the elderly. Most can recognize the need to be more calm and gentle with certain people.  However, some have no idea how big and strong they are and could accidentally knock over a small child or senior adult. Please consider ALL family members when looking to welcome a boxer into your home.