The Boxer Rescue
Available Boxers
Adoption Service Area
Please note, APPLICANTS MUST BE 21 YEARS OLD and MUST reside in MA, RI, NH, or CT.
Be sure the application is filled out in its entirety.
Incomplete applications will not be considered.
Get Ready To Snuggle
Our Adoptees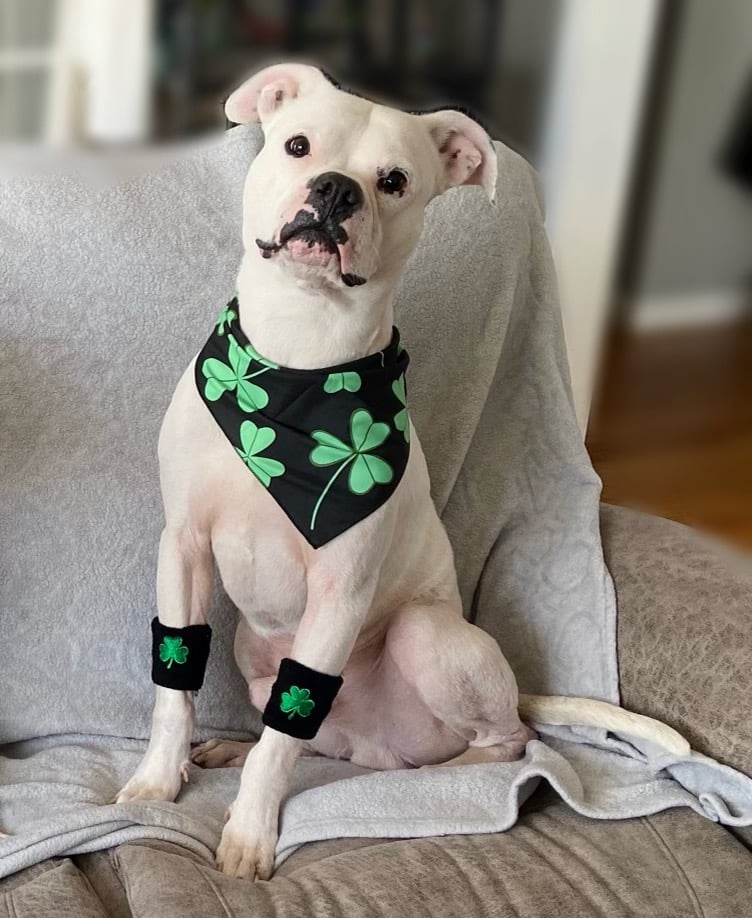 Meet Rocky 🐾 18 MNS 🐾 M
After speaking to his foster family, we've decided to consider a home with another dog for Rocky. However, it would have to be a female and she would have to be on the mellow side. His foster sister is very energetic and sassy, which wears on him. He tolerates her for a bit, and then he's all set with her boxer play.
So, if you have a sweet, chill, female, you can be considered for Rocky.
Rocky is very much a puppy, in a big boy body. So, he will need someone committed to continue working with him on basic obedience, house breaking, and those boxer manners. He's learned so much in his foster home, and we want to make sure that his forever family continues to work with him in a very positive way.
We've said it a million times, in all of posts about him... He's SO SWEET, SO LOVING, SO TRUSTING.... He's like a blank canvas just waiting to be turned into the most beautiful painting ever!
Rocky needs a family, home more often than not. He has shown some signs of separation anxiety. It's certainly something that can be worked on, but it will take time and patience. Perhaps the company of a sweet dog will help him with his confidence.
We have to remember that he likely lived his life, outside... never having stepped foot in a house, never having the comfort of a bed, never having been housetrained... It's all new to him. He's an 8 week old puppy, in a pre teen bod 🙂
A fenced in yard would be amazing for him, as he simply loves loves loves the sunshine and outdoors.
Rocky will need to be on a special diet for the rest of his life, due to the kidney damage he suffered from the neglect. Our rescue is committed to his future health care. We will discuss the specifics with any potential family.
OTHER DOGS? We will consider a mellow female for him
CATS? NO
KIDS? 12+
FENCE? Would be most ideal for him and would help with the housebreaking
TRAINING? Will be ongoing and new family needs to understand that he's very much a puppy and is still learning
ADDITIONAL INFO - He is special needs due to the neglect he suffered before rescue. While he is certainly getting stronger each and every day, he is a work in progress and will require vet visits to keep him on track. As we stated, we are committed to his care and will make sure he gets what he needs.
Our rescue is committed to Rocky and to his medical care. Donations are welcome and always appreciated. We have created a page, just for him!!
Read More
Fast forward one month.... Rocky has made so much progress!! His foster mom and dad have been wonderful for him. They have shown him what love is and how it can heal from the inside out.
It was our plan to get Rocky healthy and find him his forever home and we feel it's time to start that process.
Rocky is looking for a very special home. He has earned the right to be selective about where he spends the rest of his life. The neglect he endured left him with kidney disease. It is not curable. He will be on a special diet forever. He will require tests every 6 months or so, to check his kidney values. He will always need to drink more water, which means he will need to potty more often. He is still healing and getting stronger. It's going to be a long process, so he needs a home that will help him continue to get better and be ok with frequent vet visits. Rocky is still working on housebreaking, and though he's getting better, it's a work in progress. He's still very much a puppy and needs reminders to go outside, especially with his increased water intake. Speaking of being very much a puppy, he's learning about boundaries and manners, and how to be well behaved. Rocky is very very toy motivated, more so than food. So, his foster home uses toys to work with him on some basic training. Oh and TOYS... he eats them like they are his breakfast, lunch, and dinner!!! He's like a piranha when it comes to plushies and squeakers and anything not made of steel. He does need to be watched when he has a toy, just for his own safety. Rocky is not crate trained and has made it crystal clear that he hates the crate. We are looking to place him in a home where someone will be home more often than not. The most important thing in the whole wide world to this dog, is his humans. He trusts and loves very hard. He is the ultimate snuggle buddy, and couch partner. He would not do well in a home, where his humans are gone all day, and given his anxiety around being left alone or feeling confined, we won't put him in that situation. He is not destructive (unless you're a plushie), but he really does want to be with his peeps.
We will be placing Rocky as an only pet. It's a decision that has been made based on what his fosters have observed and what is best for HIM! While he tolerates his foster sister, he doesn't love her antics and he does get tired of her boxer play. If he had a choice, he would choose humans over dogs any day. So, that's what we are giving him. A lifetime filled with human attention.
Rocky's new family should have a fenced in yard... This is a must have.
He will not be placed with young children, but we will consider older children/teens.
We could go on and on about this dog. He is quite simply, all things amazing and wonderful! But, he is not for everyone. Rocky is a work in progress, behaviorally and medically. His journey to his best life is just beginning. That special home is out there for him, and we will find it...
The Boxer Rescue would like to make clear that we are committed to ensuring that his medical needs are met, forever. Our rescue will cover the care related to his kidney disease and ongoing physical ailments as a result of his neglect. The specifics of this will be addressed once we find his family.
In summary... PHEW!
Age? 19 mos (approximately)
Other pets? Nope... he prefers all things people and attention and being spoiled.
Kids? older kids/teens will be considered
Fenced in yard? YES
Training? ongoing, as he is very much a puppy with lots of puppy behaviors
Housebroken? Working on it and doing GREAT, but there will be accidents, especially since he does drink more water due to his kidney disease.
Leash walking? Does well.... hasn't gone far due to his torn paw pad
Separation Anxiety? Seems like he has some... We want to place him in a home where people are around during the day. He hates the crate or feeling confined/trapped. He gets scared and stressed
Neutered? NO and this is because of his kidney disease. Our vet doesn't want to do it now and he may not ever be a candidate for the surgery. It's something we will revisit down the road.
Ongoing Medical Care? He will need to visit the vet frequently. As mentioned, TBRI is committed to providing him with the medical care he needs. We will discuss specifics with an approved home.
If you've made it this far and read everything and you feel that you could be a good match for Rocky, you are welcome to apply. If you have questions, please email us at info@theboxerrescue.org
We adopt to MA, RI, NH, CT, and southern ME.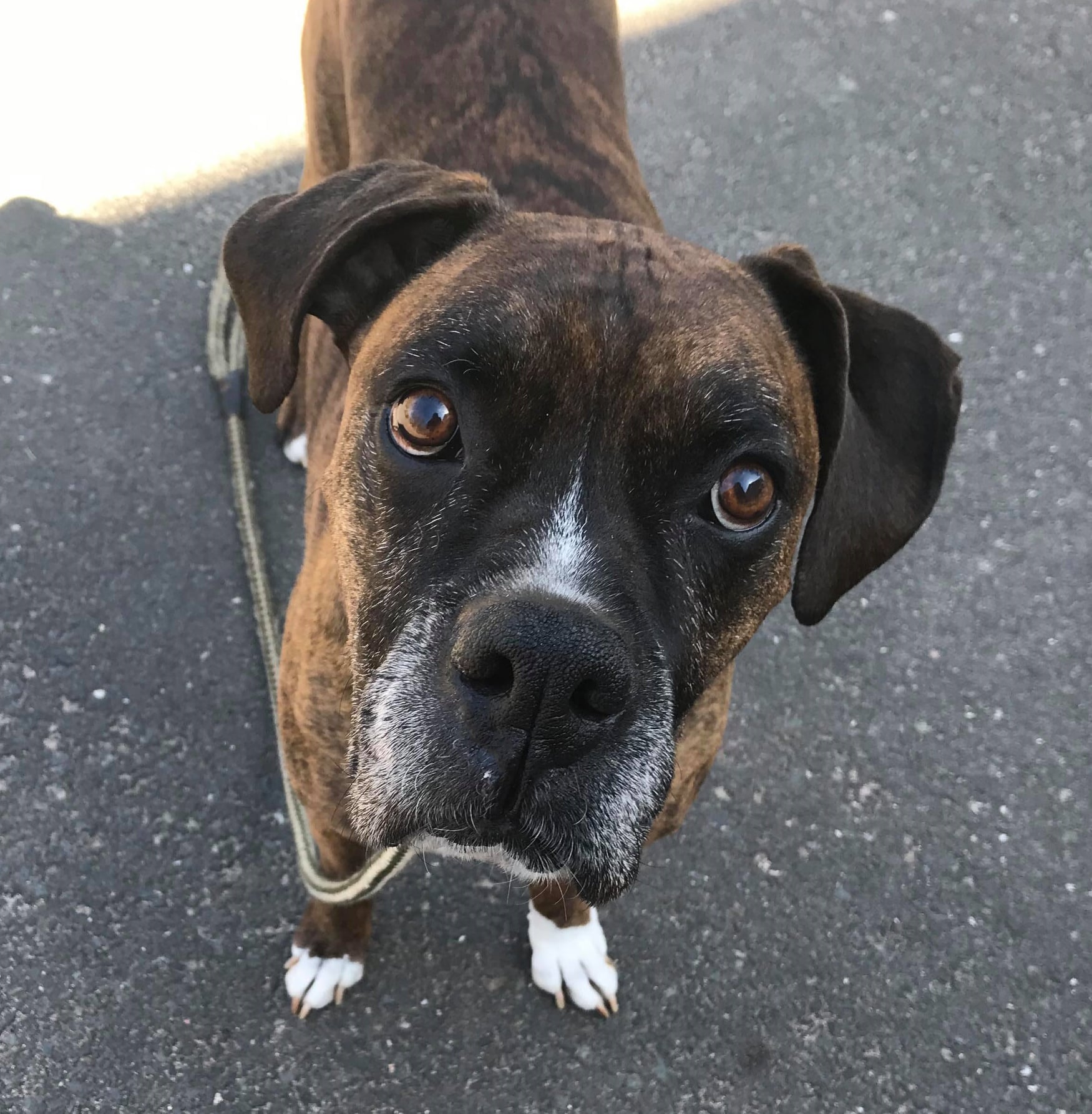 Meet Major 🐾 8 YRS 🐾 M
This "Major" hunk of boxer love is 8 years old and looking for a chill home to match his chill personality. He's a quiet guy, enjoys sunsets, wine with dinner, evening strolls, and 100% Egyptian cotton sheets. Major isn't throwing out all that crazy boxer energy these days. He's too mature and pretty much "been there, done that". He's a perfect gentleman, looking for a family to spoil him just a little bit (or a whole lot).
He is currently not able to live, safely, with the other dogs in his home, which is why he's coming into rescue and why he should be placed as an only dog. His owner also reports that he's not a huge fan of loud noises/chaos, so we'd like him to be placed in an adult only home or perhaps teens +
Our volunteer met Major and he is simply AAAAAHHHHH MAAAAAAA ZZZINNNNNGGG! He is like fine wine... The boy has gotten better with age. He LOVES going for walks and won't pull you down into a face plant in front of your neighbors (BONUS), and he very much enjoys going for car rides. So, you have a friend to take on those summer night ice cream runs.
Repeat. After. Me.... "SENIORS ARE THE BEST. SENIORS ARE THE BEST. SENIORS ARE THE BEST"! Got it? Don't shy away from them... Young boxers are great, but seniors are the bestest on the planet!
Dogs? No
Cats? No
Kids? Teens +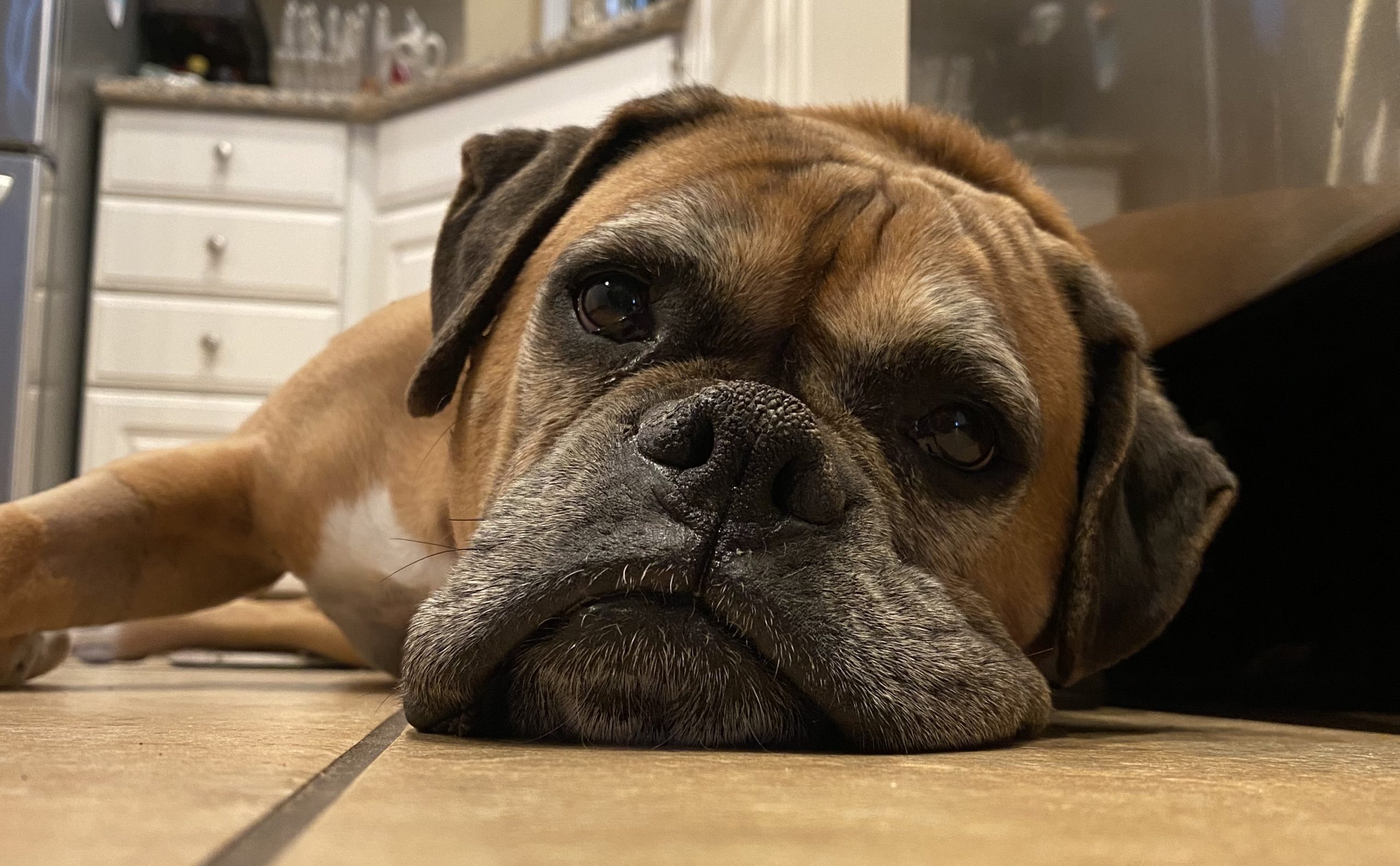 Meet Lucie 🐾 7.5 YRS 🐾 F
Sweet Lucie is recovering from her surgery to remove a mast cell and is is feeling all back to her normal self these days 😊 Once she gets the "all clear" from her vet, she will be ready to find her forever home. This gray faced beauty is 7.5 years old and coming into rescue because she is fighting with the other dogs in the home. She really will thrive as an only dog, simply because she loves all the attention, all the snuggles, and all the kisses. If you've been looking for a boxer, but without all the crazy, she's it!!! Her nutcase years are behind her and now she's a refined lady. She prefers couches and belly rubs over eating slippers and counter surfing. Lucie will make a wonderful addition to a family looking for a sidekick, shadow boxer. Plus, she loves to supervise after dinner dish washing, which is great because who doesn't love company when washing the dishes??
If you think she's your gal, please apply to adopt her.
NO OTHER DOGS/PETS
KIDS? teens +
MUST LOVE TO SNUGGLE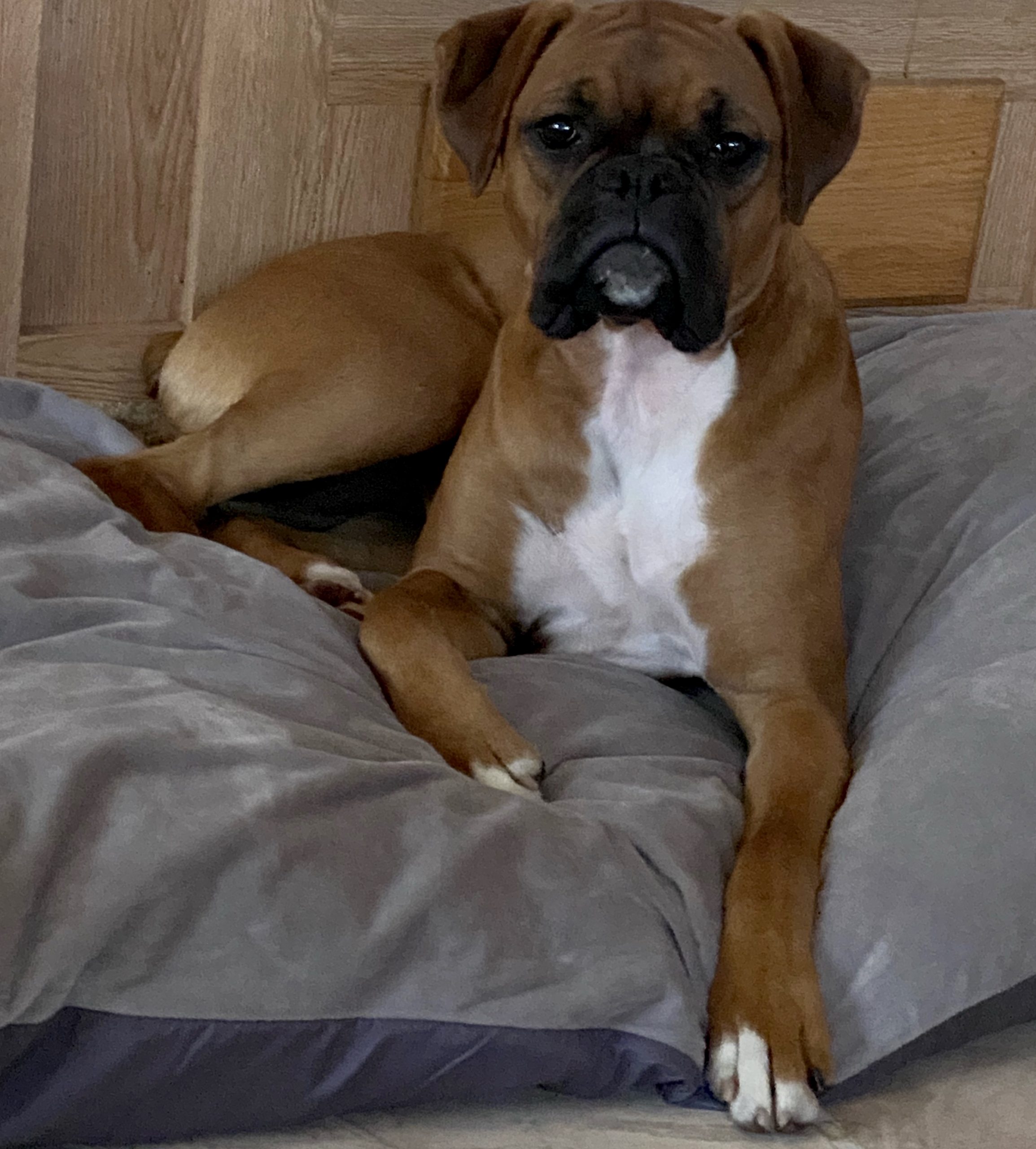 Meet Chloe 🐾 1.5YRS 🐾 F
** ADOPTED **
Chloe is a 1.5 year old, spayed female boxer, coming into rescue because she's fighting with another female dog in the home.
We will be meeting and evaluating Chloe very soon, but we do know that she is very sweet, super duper energetic, needs a lot of exercise, and walks well on leash.
She will likely be placed as an only pet, and with children over 10 years. We could consider younger children provided mom/dad will not demand we remove the dog if she knocks the child down.
Stay tuned for more info post Chloe's evaluation.
Frequently Asked Questions
Adoption Service Area
Please note, APPLICANTS MUST BE 21 YEARS OLD and MUST reside in MA, RI, NH, or CT. Be sure the application is filled out in its entirety. Incomplete applications will not be considered.
Where do your boxers come from?
Many of our boxers are owner surrenders. Perhaps the owner purchased the dog on impulse, not understanding the needs of a boxer. Sometimes, financial situations change, and families are not able to care for the dog anymore. We also take dogs that have been brought to shelters around New England. If a shelter reaches out for help, we do our best to find placement for the boxer in need. Lastly, we have a wonderful relationship with boxer rescue in Puerto Rico, and we work closely with them to bring boxers in need, from the island, to New England. All of our boxers are temperament tested and evaluated before coming into rescue. It should be noted that ALL dogs require a decompression period when going to a new home. Even the sweetest, most loveable boxer experiences fear and confusion during transitional times and foster/adoptive homes need to be conscious and respectful of this.
Can I adopt a female dog if I already have a female dog?
The short answer is no. Our experience in placing dogs, has shown us that placing two females together is oftentimes not the best long term situation. We receive many calls from owners needing to surrender their female boxers because there is fighting with another female dog in the house. Sometimes it's with another boxer and sometimes, it's with another breed. Either way, the fighting is often brutal and bloody. We have adopted a policy to never place two female dogs in the same house.
Are your boxers healthy?
Before adoption, our dogs are healthy to the best of our vets' knowledge. They are brought up to date on vaccines, tested for heartworm, and spayed or neutered (unless too young or not medically able to be). We also send our boxers with one month of heartworm and flea/tick prevention to get them started. Their vet records are provided upon adoption.
Do I need to have a fenced in yard to adopt a boxer?
We do not require a fenced in yard for all of our boxers. However, there are certain circumstances where a fence may be required and it will be noted in the boxer's bio. We look at each dog, individually, and based on the needs of that dog, we may require fencing. Please note that we do not consider an electric fence to be a proper method of containment and are not able place a dog in a home that uses electric fencing.
Do you have a shelter where I can come meet the boxers?
We are not a shelter and do not have a physical location where you can meet our adoptees. Most boxers will stay with their owners or shelter until we can secure a foster or adoptive home for them. Our boxers from Puerto Rico, are flown here once we've secured homes for them.
What Are Your Adoption Fees?
Puppies – $450.00
Dogs – 6 months and older $400.00
Dogs – 7 years and older $150.00
Pet Rock
September 8 🐾 12pm
Wyman Gordon
Woofstock
September 21 🐾 11am-4pm
Hudson Elks Pavilion
Boxer Bash
October 6 🐾 11am-3pm
Hopkinton State Park
Boxer Briefs
BOXERS WITH KIDS AND SENIORS:
Generally speaking, boxers have an affinity for children and for the elderly. Most can recognize the need to be more calm and gentle with certain people.  However, some have no idea how big and strong they are and could accidentally knock over a small child or senior adult. Please consider ALL family members when looking to welcome a boxer into your home.