The Boxer Rescue
Available Boxers
Adoption Service Area
Please note, APPLICANTS MUST BE 21 YEARS OLD and MUST reside in MA, RI, NH, or CT.
Be sure the application is filled out in its entirety.
Incomplete applications will not be considered.
Get Ready To Snuggle
Our Adoptees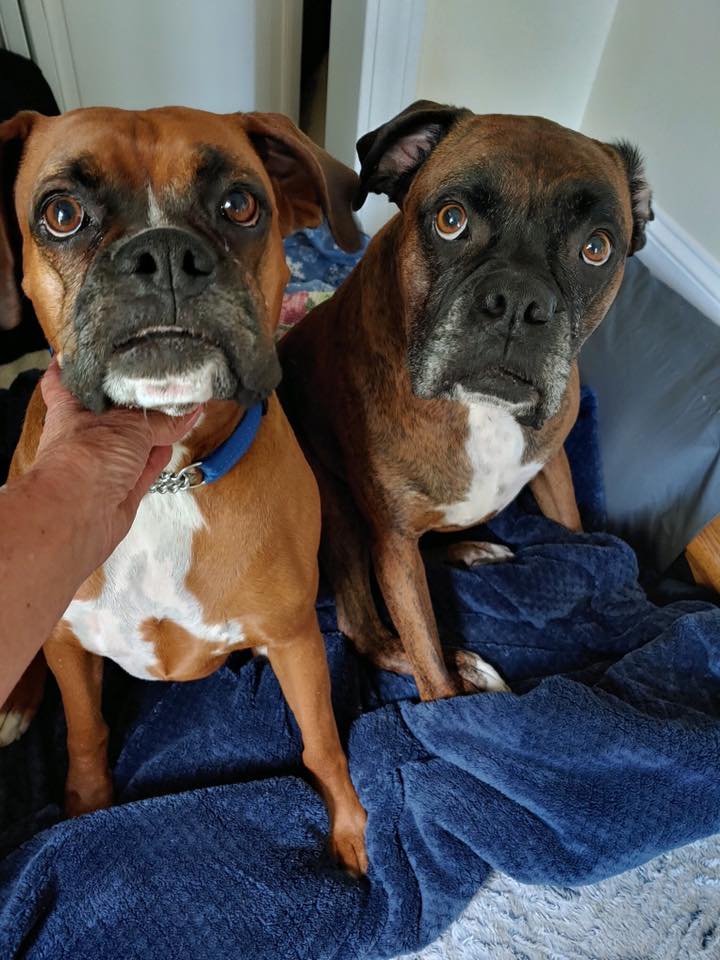 Meet Piper and Hoss 🐾 5 YRS 🐾 M/F
Piper and Hoss (5 years old) are a bonded pair in need of a loving home. They've been through quite a few transitions lately so the next stop must be their forever and ever home. They were used for breeding and our guess is that they were no longer useful so they were rehomed. Their current home has other dogs and Piper does NOT like other dogs.
These two need a home willing to be patient with them, allow them to complexly decompress, and feel safe and secure. They have a lot of boxer energy, and will benefit from long walks. Speaking of walks... our volunteer said they walked well using a front pull harness. So, we'd like their new home to use the same equipment. Piper may have some dog reactivity issues while on leash, but we aren't sure to what degree. Their new humans must be ok with dealing with that behavior and not think of it as her being "bad". Not all dogs like other dogs. They love each other, which is why we are keeping them together. Piper just prefers to have it be the two of them. They are very sweet, great snuggle buddies, and will bring some lucky human(s) a lot of joy and happiness.
A fenced in yard would be most ideal for them. Piper does have springs for legs and can jump a low fence.
We are currently working on getting them current on their vaccines.
If you are interested in this bonded pair and can fully commit to working with them, even if there are bumps in the road, feel free to fill out an application.
NO YOUNG KIDS -teens will be considered
NO OTHER PETS
FENCED IN YARD
ADOPTERS MUST LIVE IN NEW ENGLAND
Meet Stella 🐾 3 YRS 🐾 F
This beautiful muffin is Stella! She will be 3 years old next month.
Stella is coming into rescue because she is fighting with a resident female dog and the fights have become very serious and frequent. It's not safe for the dogs to stay together anymore.
Stella oozes boxer energy, has a very loud bark, and is quite excitable, especially out on walks when she encounters other dogs. Her family is working on ways to redirect her and keep her focused, so that will need to continue in her new home.
Stella's mom reports that she can be a bit nervous and unsure when meeting new people and will often "hide out" behind her until she's sure the boogieman hasn't entered the house. Once that's been established, she is all about getting loved on. It just takes her a little time to be comfortable, so her new family needs to be patient and not push her into any situation that may make her nervous.
Stella needs a lot of exercise and physical activity to drain that boxer energy. She is used to having people home during the day, so we'd like to place her with someone who is home more often than not.
She lives with children, so we'd consider ages 6+ for her. At this time, we believe she would be best as an only pet.
We will be meeting and evaluating her very soon, so stay tuned for more info.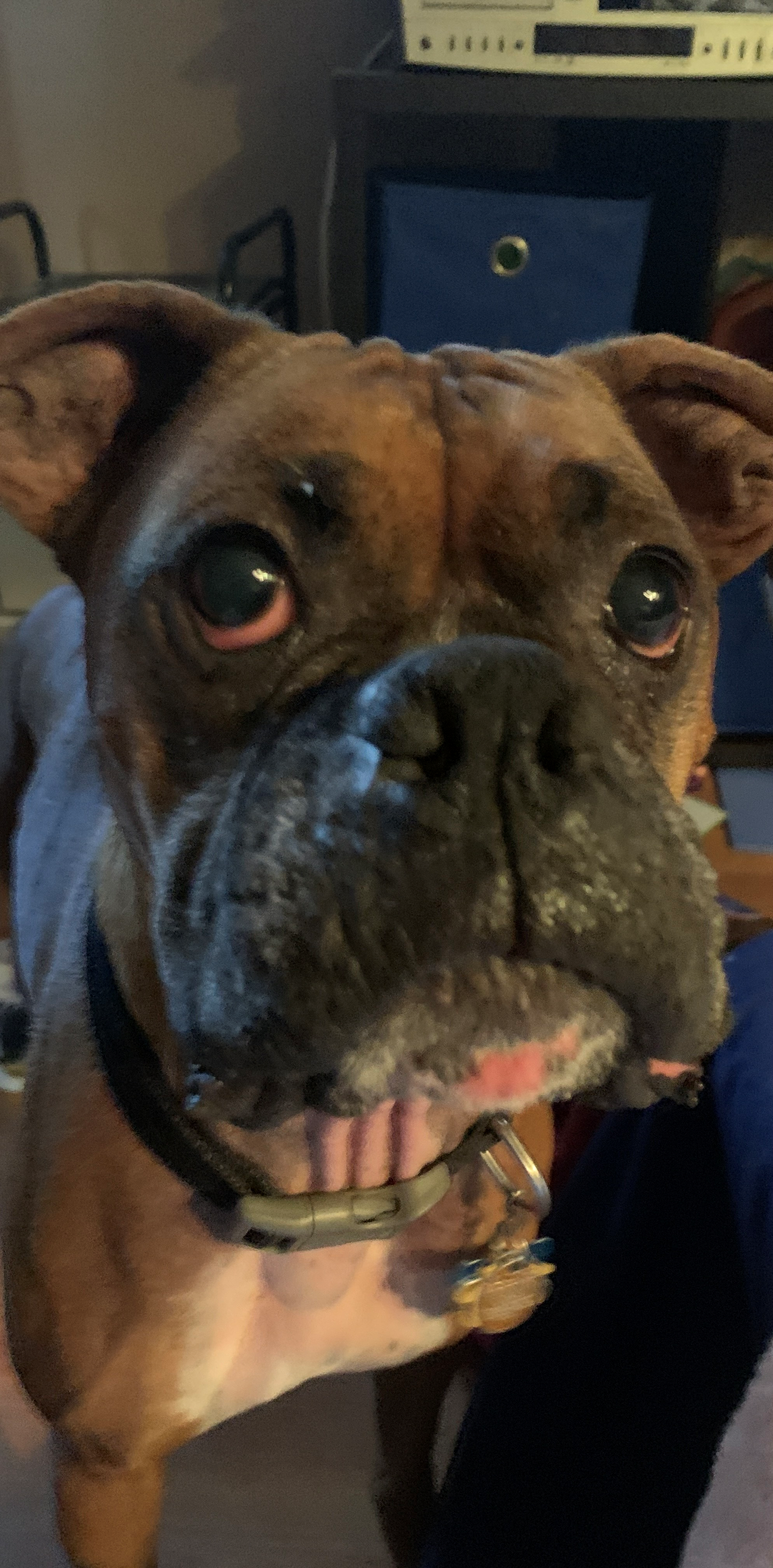 Meet Rocco 🐾 6 YRS 🐾 M
We received a call about this cutie pie, named Rocco, and we'd like to help find him a perfect home. He is 6 years old and coming into rescue because his owner feels he needs more time and attention.
Rocco is very energetic, loves to play (Jolly Balls are a fan favorite), and loves the company of humans. He is seeking a home where someone is around more often than not, as being alone makes him sad and anxious, and right now, he's home alone quite a bit.
We may try to place Rocco with a female dog, but we want to see how he reacts upon an evaluation. His owner reports that he's ok with other dogs, but HATES Beagles due to an attack by a pack of them (so who can blame him for not liking them)
Rocco does have some skin allergies that are managed with medication… allergies and boxers go hand in hand, right? !!
All in all, he's just the sweetest boy and deserves a happily ever after in a wonderful forever home.
Children 10+ will be considered.
Stay tuned for more info after he's evaluated.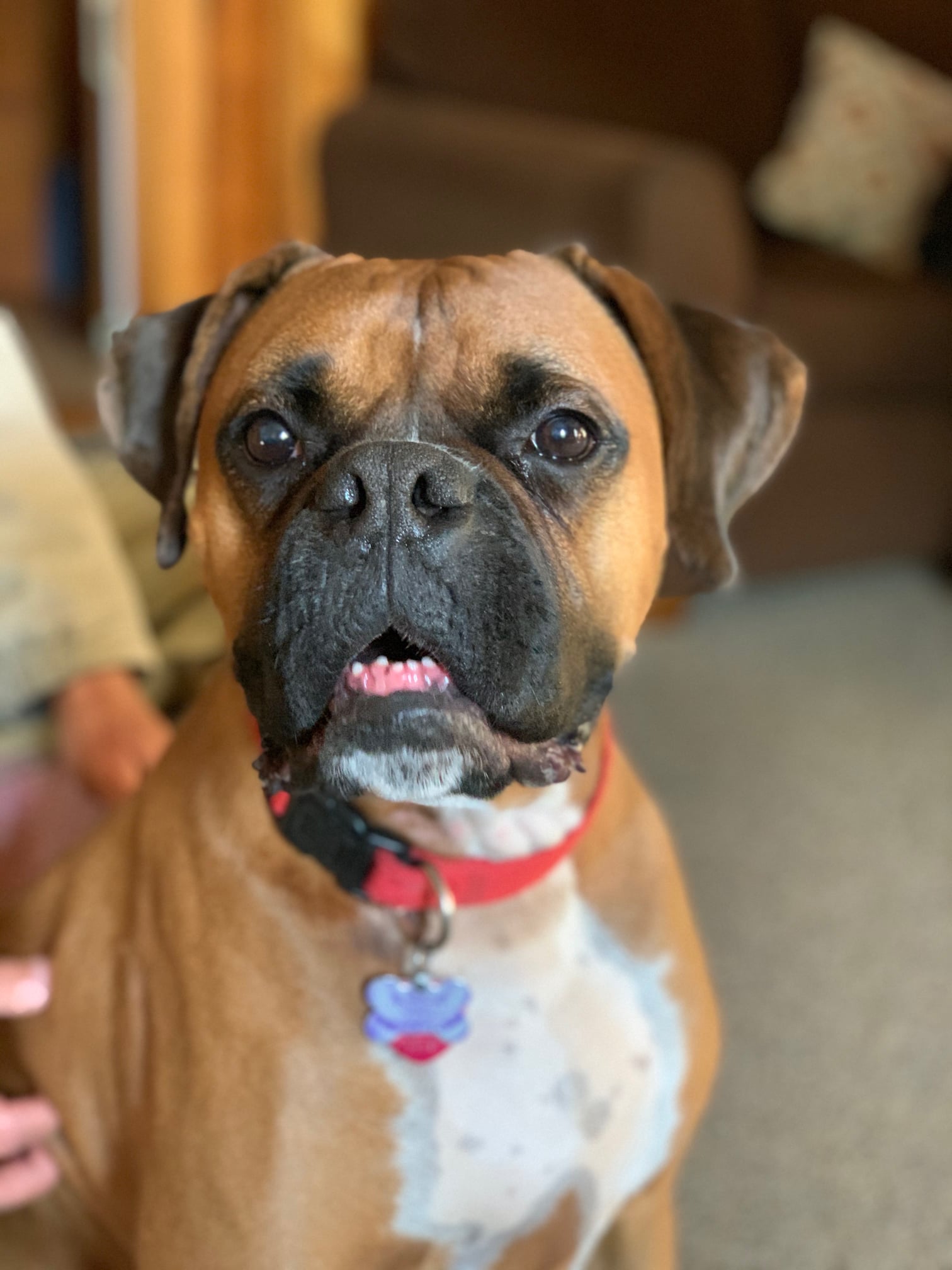 Meet Zeke 🐾 4 YR 🐾 M
Meet 4 year old, ZEKE! He is seeking a new home that will be able to manage his "protective" tendencies. Zeke is a self proclaimed "head of the household" when his dad isn't around, and he really doesn't need that title. It's too much work for him and he'd be happier just being Zeke, handsome boy. Here's what we have learned about him through his owners and during our meet and greet....
Not a fan of delivery drivers or strangers that approach the house. He did once get out and attempted to nip someone, but did not bite. He tends to bark and carry on.
Zeke is great with new people, provided that intros are done outside, on leash, and his humans are at ease. He'll hold the darn door for you and welcome you with open paws if he doesn't feel threatened or the need to protect his family.
He loves other dogs and attends doggie daycare.
Walks great on leash, but will sometimes become protective of mom and kids which makes mom very nervous.
After meeting Zeke today, we feel that he is a candidate for rescue, if he is matched with that "just right" home. He was perfectly fine meeting our volunteers this AM, outside of the house. After just a few minutes, everyone ventured inside. He was wiggling, snuggling, cuddling, kidney beaning, and receptive to being petted and loved on. Had our volunteers just walked into the house, Zeke would likely have not been so welcoming. It's a quirk, but it's one that we feel can be worked on by someone with boxer experience and by someone willing to manage the behavior, and not be made nervous by him. He doesn't want to be in charge.. He just thinks he has to be sometimes.
We are looking for a home without small children for Zeke, just to minimize the amount of activity and comings and goings in the home.
We think he would LOVE a female dog to help keep him balanced. She should be confident and well mannered so he can learn from her.
A fenced in yard would be ideal for him.
Zeke was a pleasure to meet. In the right home, he will do just fine. If you have boxer experience, and are willing to work with a dog like Zeke, you are welcome to apply.
OTHER DOGS? Confident FEMALE
CATS? NO
KIDS? NO
FENCED IN YARD? ideally, yes!
TRAINING? Will need ongoing training and patience to deal with his protective behavior.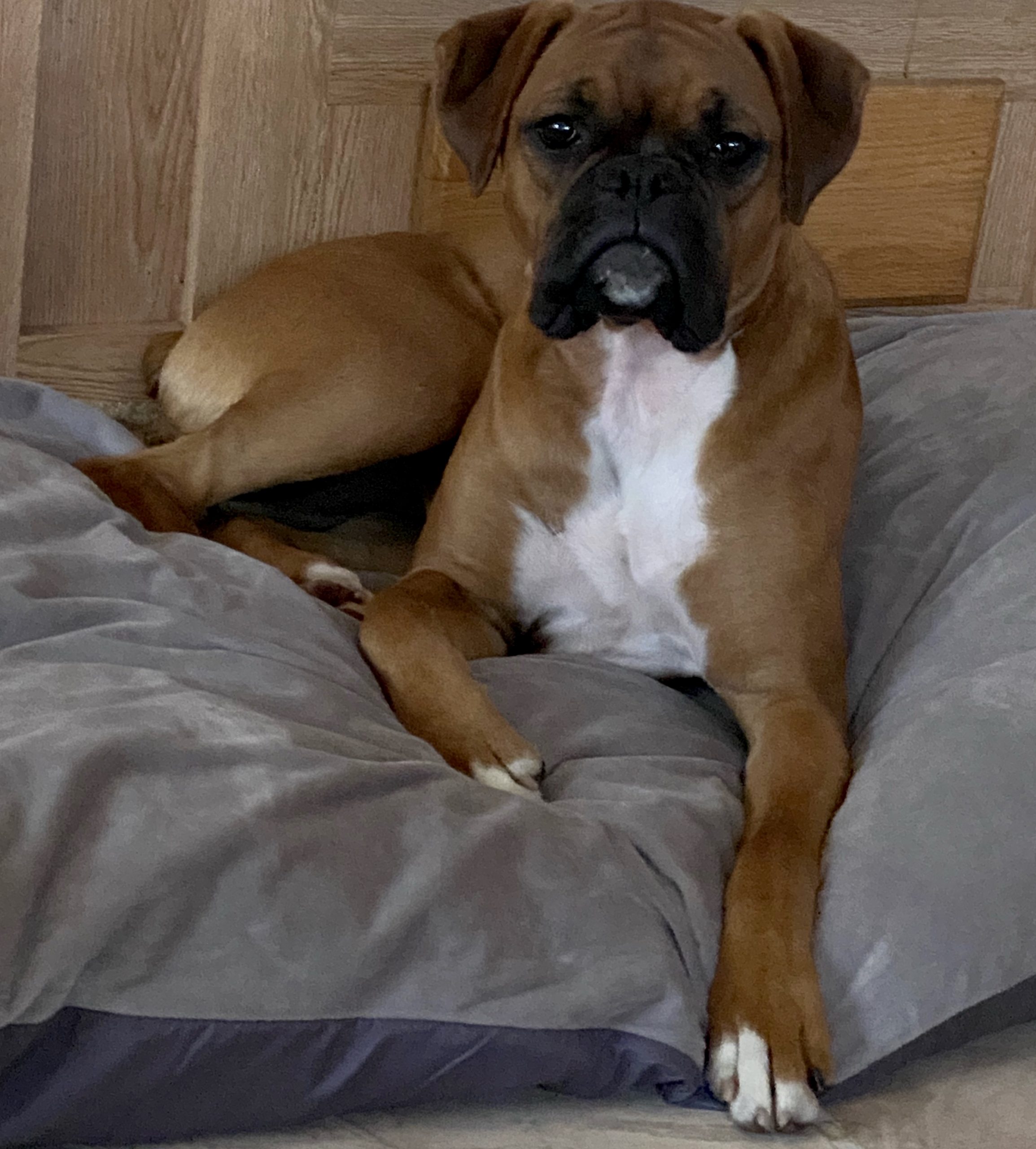 Meet Chloe 🐾 1.5YRS 🐾 F
Chloe is a 1.5 year old, spayed female boxer, coming into rescue because she's fighting with another female dog in the home.
We will be meeting and evaluating Chloe very soon, but we do know that she is very sweet, super duper energetic, needs a lot of exercise, and walks well on leash.
She will likely be placed as an only pet, and with children over 10 years. We could consider younger children provided mom/dad will not demand we remove the dog if she knocks the child down.
Stay tuned for more info post Chloe's evaluation.
Frequently Asked Questions
Adoption Service Area
Please note, APPLICANTS MUST BE 21 YEARS OLD and MUST reside in MA, RI, NH, or CT. Be sure the application is filled out in its entirety. Incomplete applications will not be considered.
Where do your boxers come from?
Many of our boxers are owner surrenders. Perhaps the owner purchased the dog on impulse, not understanding the needs of a boxer. Sometimes, financial situations change, and families are not able to care for the dog anymore. We also take dogs that have been brought to shelters around New England. If a shelter reaches out for help, we do our best to find placement for the boxer in need. Lastly, we have a wonderful relationship with boxer rescue in Puerto Rico, and we work closely with them to bring boxers in need, from the island, to New England. All of our boxers are temperament tested and evaluated before coming into rescue. It should be noted that ALL dogs require a decompression period when going to a new home. Even the sweetest, most loveable boxer experiences fear and confusion during transitional times and foster/adoptive homes need to be conscious and respectful of this.
Can I adopt a female dog if I already have a female dog?
The short answer is no. Our experience in placing dogs, has shown us that placing two females together is oftentimes not the best long term situation. We receive many calls from owners needing to surrender their female boxers because there is fighting with another female dog in the house. Sometimes it's with another boxer and sometimes, it's with another breed. Either way, the fighting is often brutal and bloody. We have adopted a policy to never place two female dogs in the same house.
Are your boxers healthy?
Before adoption, our dogs are healthy to the best of our vets' knowledge. They are brought up to date on vaccines, tested for heartworm, and spayed or neutered (unless too young or not medically able to be). We also send our boxers with one month of heartworm and flea/tick prevention to get them started. Their vet records are provided upon adoption.
Do I need to have a fenced in yard to adopt a boxer?
We do not require a fenced in yard for all of our boxers. However, there are certain circumstances where a fence may be required and it will be noted in the boxer's bio. We look at each dog, individually, and based on the needs of that dog, we may require fencing. Please note that we do not consider an electric fence to be a proper method of containment and are not able place a dog in a home that uses electric fencing.
Do you have a shelter where I can come meet the boxers?
We are not a shelter and do not have a physical location where you can meet our adoptees. Most boxers will stay with their owners or shelter until we can secure a foster or adoptive home for them. Our boxers from Puerto Rico, are flown here once we've secured homes for them.
What Are Your Adoption Fees?
Puppies – $450.00
Dogs – 6 months and older $400.00
Dogs – 7 years and older $150.00
Pet Rock
September 8 🐾 12pm
Wyman Gordon
Woofstock
September 21 🐾 11am-4pm
Hudson Elks Pavilion
Boxer Bash
October 6 🐾 11am-3pm
Hopkinton State Park
Boxer Briefs
BOXERS WITH KIDS AND SENIORS:
Generally speaking, boxers have an affinity for children and for the elderly. Most can recognize the need to be more calm and gentle with certain people.  However, some have no idea how big and strong they are and could accidentally knock over a small child or senior adult. Please consider ALL family members when looking to welcome a boxer into your home.