The Boxer Rescue
Available Boxers
Adoption Service Area
Please note, APPLICANTS MUST BE 21 YEARS OLD and MUST reside in MA, RI, NH, or CT.
Be sure the application is filled out in its entirety.
Incomplete applications will not be considered.
Get Ready To Snuggle
Our Adoptees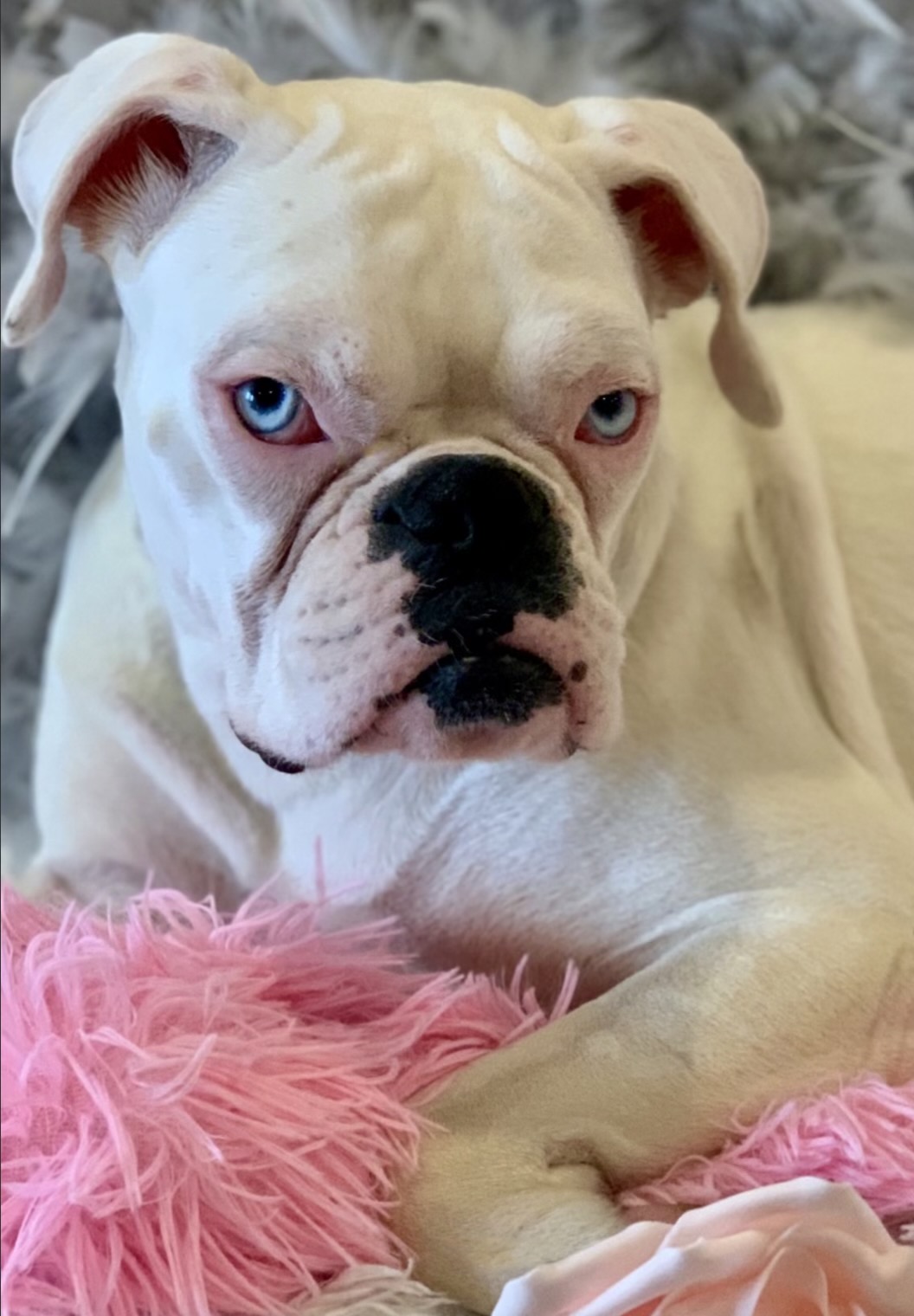 Meet Cleo 🐾 1 YRS 🐾 F
2022 is going to be Cleo's year!!! Let's find this fanny pack of perfection, the most glorious forever home!
Cleo came into rescue feeling pretty yucky, and looking very defeated. In just a few short weeks, she's put on over 10lbs and has found her girlish figure. She's gone from shy and unsure, to full of life and sass. Cleo is active, fun loving, goofy, silly, playful, and all other things boxer. But, she's also the most perfect cuddle bug, spooner, and bed hog.
While, Cleo is certainly thriving in her foster home, the neglect she suffered has left its mark. She's very much a work in progress. Cleo is NOT housebroken. She's getting there, but she's definitely not there yet. Cleo was under socialized and not exposed to much of the world around her, before rescue.  Some things are still scary to her… She's just beginning to explore all that is out there to see. Baby steps. Cleo is not crate trained, and her experience with a crate or cage or room or whatever she was kept in, has left her fearful of the whole containment thing.
We are super excited for this gal to find her forever home. She's going to need someone home more often than not… work from home? She'd love it!!!!
Cleo is a young boxer, and we all know what that means.  This girl has to move. She loves to run and play, and with continued leash work, she's going to love going for long walks. She's discovered the joy of living her best life, and we aren't about to stifle that joy
Cleo has found a friend in another boxer. We would be perfectly fine placing her with a mild mannered, playful, active, MALE boxer.  It would be good for her to have a confident role model. She may be tiny but she plays hard. Her foster mom reports that she's less concerned about guarding items these days, which is great. It's a testament to her feeling safe and comfortable. A new home will need to allow her time to settle in and feel that safety all over again. She may not be as willing to share with a new, unfamiliar dog right away. It's all part of the rescue process. She will need time, space, patience, and commitment.
OTHER DOGS? Sweet, playful, active MALE will be considered
CATS? No
KIDS? 8+
FENCED IN YARD? Yes
MEDICAL? Cleo needs to be spayed in approximately 3 months. Our rescue will take care of that. She's currently eating a prescription food, as her GI system readjusts to nourishment.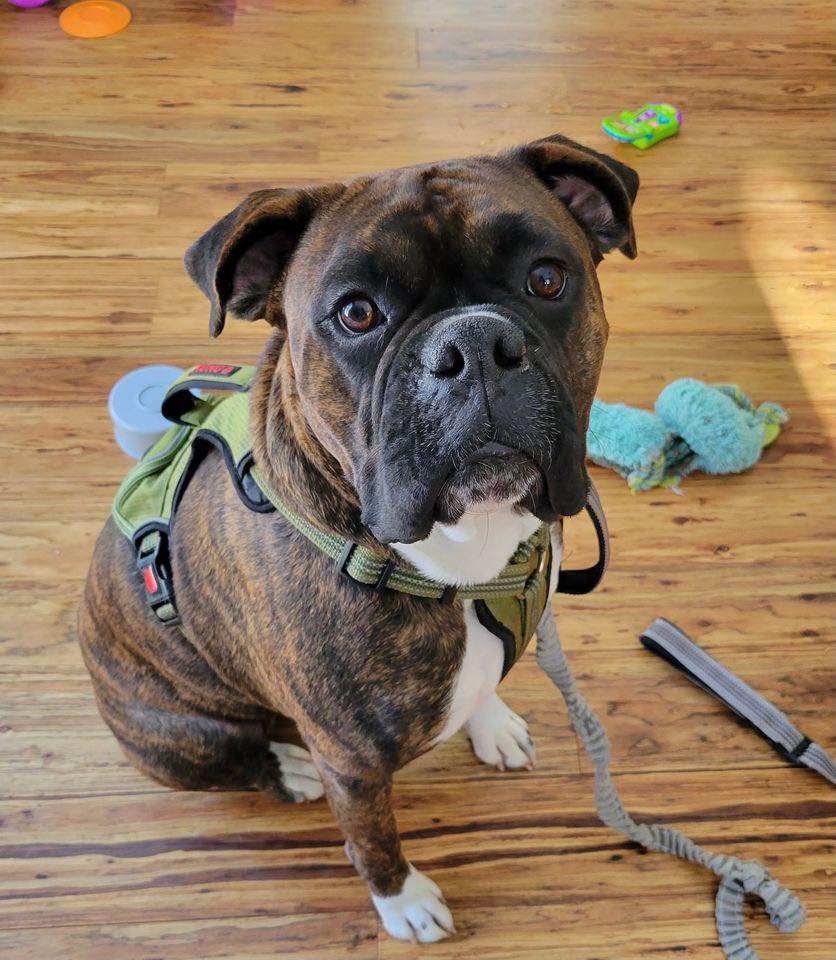 Meet Hank 🐾 1.5 YRS 🐾 M
ER MER GERD....  Handsome Hunky Hot Stuff HANK is ready and waiting for his forever home!  LOOK AT HIS FACE!!  Soooo squishy and mushy and goobery!!
Our volunteer met 1.5 year old Hank this afternoon and BRRRRR it was a chilly day to do an eval.  But, the cold didn't stop his nub from going 1,000 MPH.  He was beyond happy to meet her and her husband and welcomed all the rubs and pets and attention that was coming his way. 
Hank is being surrendered because he is very scared, nervous, and uncomfortable around young children.  They move fast, smell weird, and invade space.  Hank does all he can to avoid the child in the house, and with another on the way, Hank's life is about to get more stressful.  So, we are looking to place him in an adult only home or a home with teens and older, where he doesn't have to worry about little humans all up in his biz. 
He's also very scared of fireworks, thunder, and the vet.  Whoever adopts him, must be willing and able to keep him safe during storms and during fireworks, and help him perhaps become more comfortable in a veterinary environment.  It's totally possible, but your vet needs to be on board and willing to take the time with Hank.  Right now, he's needing to be muzzled.  It would awesome if that whole experience  could be turned around for him.
Hank is spending a lot of time in his crate right now, mainly due to the fact that he isn't a fan of the little peep in the house.  We'd love to see this boy with a new family who can provide him with all the exercise and attention that a young boxer boy needs.  He loves to play outside in the snow. He loves walks and hikes.  He loves to move and shake that brindle booty. 
Hank soaked in all the attention he was getting when we met him today.  He could not possibly get enough. 
We will consider placing Hank with a FEMALE dog (NO MALES), as he tested pretty well with our volunteer's girl.  However, it's most important that his physical and mental needs be met.  So, if he goes into a home as an only dog, that's ok...  He would very much enjoy that one on one attention for sure.  And he'd likely be happy to make some doggie friends in the hood. 
We are recommending positive based training for Hank and his humans in his new home.  It's a great way to bond and get to know the ins and outs of each other.  Plus, he's a young boy and has lots to learn. 
OTHER DOGS? Will consider a sweet FEMALE but another dog isn't necessary
CATS? No
KIDS?  Hard NO.  He's being surrendered due to his fear of kids, and we are not putting him in a situation where he will be made to feel uncomfortable again or where he could be set up for failure.  No kids... no future kids, no grandkids... no friends' kids... you get the drift. ACTIVITY LEVEL - HIGH... needs a lot of exercise and training will be required.
Frequently Asked Questions
Adoption Service Area
Please note, APPLICANTS MUST BE 21 YEARS OLD and MUST reside in MA, RI, NH, or CT. Be sure the application is filled out in its entirety. Incomplete applications will not be considered.
Where do your boxers come from?
Many of our boxers are owner surrenders. Perhaps the owner purchased the dog on impulse, not understanding the needs of a boxer. Sometimes, financial situations change, and families are not able to care for the dog anymore. We also take dogs that have been brought to shelters around New England. If a shelter reaches out for help, we do our best to find placement for the boxer in need. Lastly, we have a wonderful relationship with boxer rescue in Puerto Rico, and we work closely with them to bring boxers in need, from the island, to New England. All of our boxers are temperament tested and evaluated before coming into rescue. It should be noted that ALL dogs require a decompression period when going to a new home. Even the sweetest, most loveable boxer experiences fear and confusion during transitional times and foster/adoptive homes need to be conscious and respectful of this.
Can I adopt a female dog if I already have a female dog?
The short answer is no. Our experience in placing dogs, has shown us that placing two females together is oftentimes not the best long term situation. We receive many calls from owners needing to surrender their female boxers because there is fighting with another female dog in the house. Sometimes it's with another boxer and sometimes, it's with another breed. Either way, the fighting is often brutal and bloody. We have adopted a policy to never place two female dogs in the same house.
Are your boxers healthy?
Before adoption, our dogs are healthy to the best of our vets' knowledge. They are brought up to date on vaccines, tested for heartworm, and spayed or neutered (unless too young or not medically able to be). We also send our boxers with one month of heartworm and flea/tick prevention to get them started. Their vet records are provided upon adoption.
Do I need to have a fenced in yard to adopt a boxer?
We do not require a fenced in yard for all of our boxers. However, there are certain circumstances where a fence may be required and it will be noted in the boxer's bio. We look at each dog, individually, and based on the needs of that dog, we may require fencing. Please note that we do not consider an electric fence to be a proper method of containment and are not able place a dog in a home that uses electric fencing.
Do you have a shelter where I can come meet the boxers?
We are not a shelter and do not have a physical location where you can meet our adoptees. Most boxers will stay with their owners or shelter until we can secure a foster or adoptive home for them. Our boxers from Puerto Rico, are flown here once we've secured homes for them.
What Are Your Adoption Fees?
Puppies – $450.00
Dogs – 6 months and older $400.00
Dogs – 7 years and older $150.00
Pet Rock
September 8 🐾 12pm
Wyman Gordon
Woofstock
September 21 🐾 11am-4pm
Hudson Elks Pavilion
Boxer Bash
October 6 🐾 11am-3pm
Hopkinton State Park
Boxer Briefs
BOXERS WITH KIDS AND SENIORS:
Generally speaking, boxers have an affinity for children and for the elderly. Most can recognize the need to be more calm and gentle with certain people.  However, some have no idea how big and strong they are and could accidentally knock over a small child or senior adult. Please consider ALL family members when looking to welcome a boxer into your home.