The Boxer Rescue
Available Boxers
Adoption Service Area
Please note, APPLICANTS MUST BE 21 YEARS OLD and MUST reside in MA, RI, NH, or CT.
Be sure the application is filled out in its entirety.
Incomplete applications will not be considered.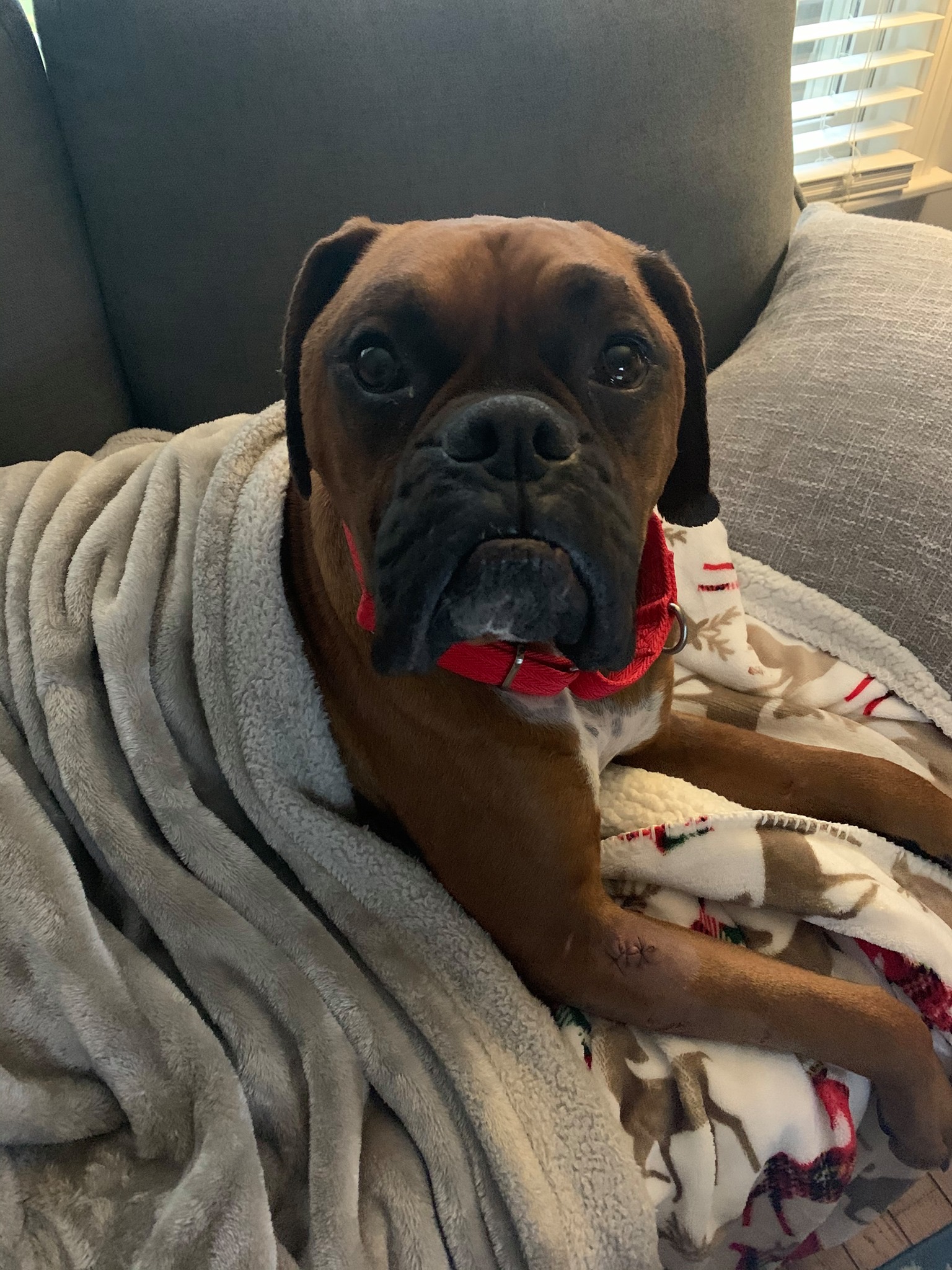 Meet Rocco 🐾 17 month 🐾 Male
-Name: Rocco
-Age: approximately 517 days
-Sex: not having any
-Relationship Status: single and not going to mingle
-Employment Status: Unemployed and freeloading off his foster mom.
-Dream Job: CEO Quality Control all things couches
-Volunteer positions: Self appointed President of Neighborhood Watch and Self Appointed President of BAB (Boxers Against Booties)
-Ideal Saturday Night: dinner by the fire, followed by snuggles under the covers
-Favorite Movie: any romantic comedy with Hugh Grant brings out his sappy side
-Favorite Sports Team: New England Patriots. He can often be found rocking Pats swag and cursing at the TV when their offense fails to do anything right.
-Loves: long walks on the beach, sunsets, bedtime stories, beef jerky, fleece blankets, cotton blankets, electric blankets, sherpa, the Sunday paper, and rural life.
-Dislikes - cold weather, tax season, black Friday, other dogs, when strangers approach him outside of his home, riff raff on his front lawn, city life.
-Love Language: Belly rubs
Before Rescue : Rocco came to us from a situation where he was not well socialized and was being repeatedly attacked by another resident dog.
After Rescue : He has been in foster care for a month or so and doing very well. We have discovered that he is not a fan of other dogs and very reactive on leash. He also is not comfortable with strangers approaching him outisde of his home.
His ideal home: Rocco's ideal home would have a large, fenced in yard for him to run and play in. He would be an only pet where he will be spoiled rotten, allowed to cuddle on the couch and under any covers he wants. There would be no young kids in his home. He would not do well in a busy, city type environment, but would likely thrive in a more rural/country setting where he can take long walks and not be bombarded with tons of dogs and strange people all the time. Rocco's ideal human would have some boxer experience, patience, and dedication to the breed. His "issues", as a result of his past, would not be seen as a negative. His new human would see all the good things that he brings to the table and be willing to work with him for as long as it takes. It might be a lifetime of management, but it will be a lifetime well spent and well worth it. He is loyal, he is loving, he is smart. He's the perfect fit for a perfect someone out there.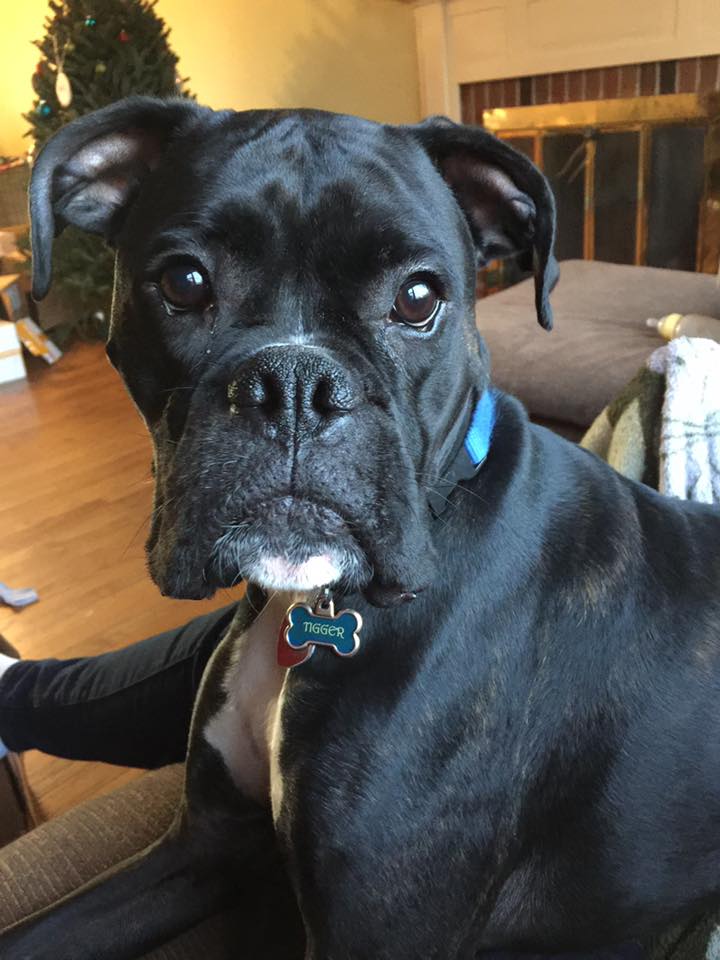 Meet Tigger 🐾 5 YR 🐾 Male
Tigger is 5 years old and looking for a new home due to a divorce situation. He's very loved and very attached to his "mom. The decision to surrender him is beyond difficult, but has to happen.
Tigger is quite nervous and shy around men. A sorority house is what he's looking for... bring on the ladies. He's lived with children so we can consider a home with kids over 10. Tigger visits the dog park with his mom and seems to enjoy other dogs, but she feels he would prefer to be an only pet at home.
We aren't sure how Tigger is going to tolerate being separated from his mom. His new home has got to understand that the transition could be hard for him. In reading the notes from his vet, there is mention of him being muzzled and taken very carefully and slowly from the family, just to give you an idea. He was fine once removed. He's also been boarded and was fine once removed from the family. So, there's hope... he just needs patience, structure, and a great distraction, such as exercise. He's got to keep his mind moving forward.
Other dogs? Not to live with
Cats? No
Kids? 10+
Men? Not a fan of. Makes him nervous.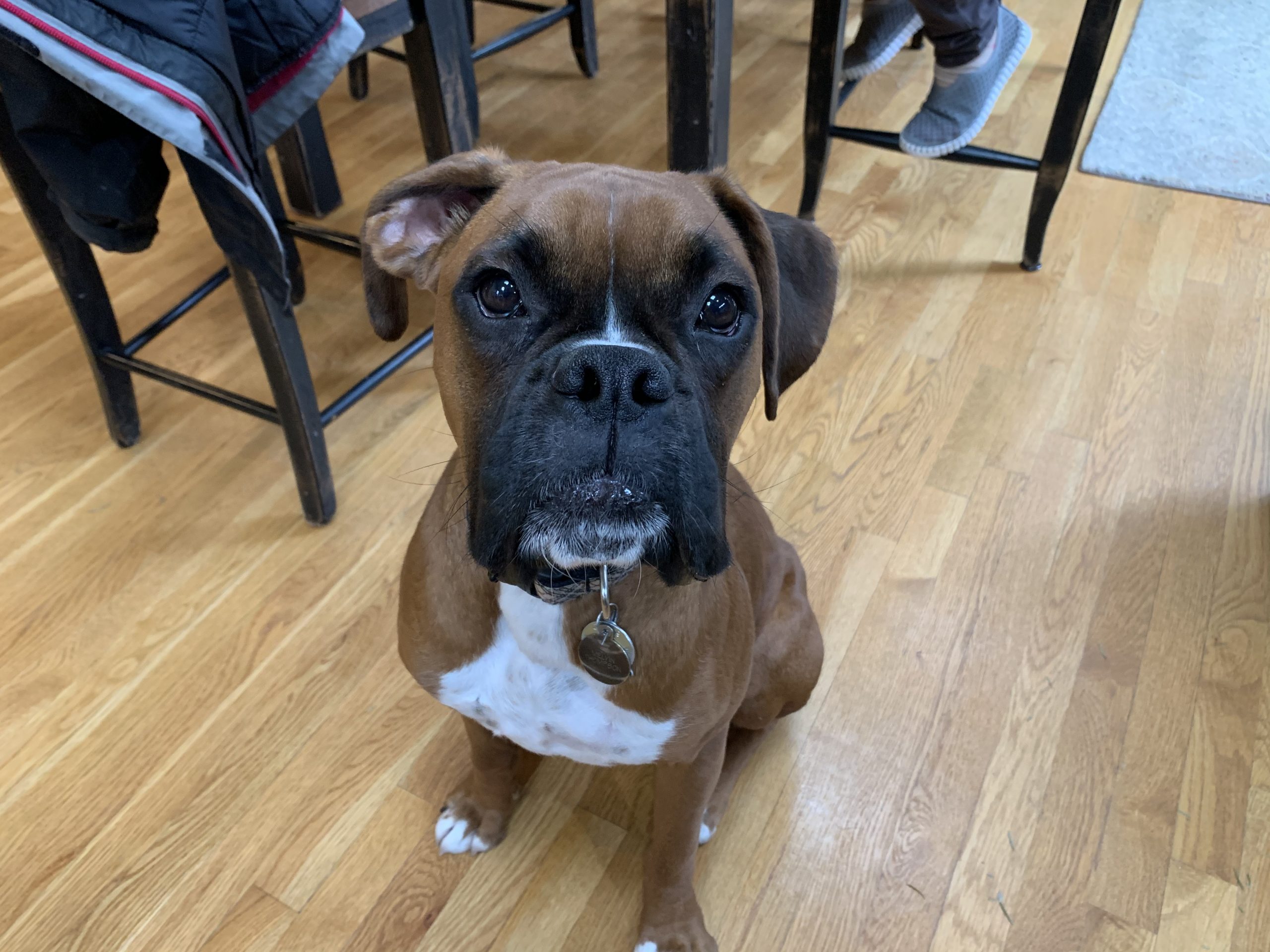 Meet Melvin 🐾 9 month 🐾 Male
**Pending Adoption **
Meet the marvelous Melvin! He is 9 months old and full of typical boxer energy. Melvin is super sweet, very smart, food motivated, and ready to learn. He will need to attend some basic training to help get him on track to being the bestest boy on the planet. He currently lives with another dog and there are some issues around resource guarding. We will consider placing him with a sweet female ONLY IF there are no young children in the home and if the adopter is willing and able to manage any resource guarding that may arise. That means being aware of high value items such as bones and human food that may be a trigger.
If placed as an only dog, which is totally fine, we will consider placing Melvin with young kids. He's a bit jumpy, so the kids need to be sturdy and not spiral into cry town if they are knocked down. He's a young dog and needs a bit of positive guidance.
Melvin is neutered and UTD on his vaccines. He is crate trained and house broken.
Remember, he's a young boxer... needs LOTS of exercise. He will not do well left alone all day in a crate while his humans work.
OTHER DOGS? Female considered, but see above regarding the resource guarding
KIDS? Older if placed with another dog. Will consider younger kids if he's placed as an only.
CATS? No
TRAINING? Will be required by the rescue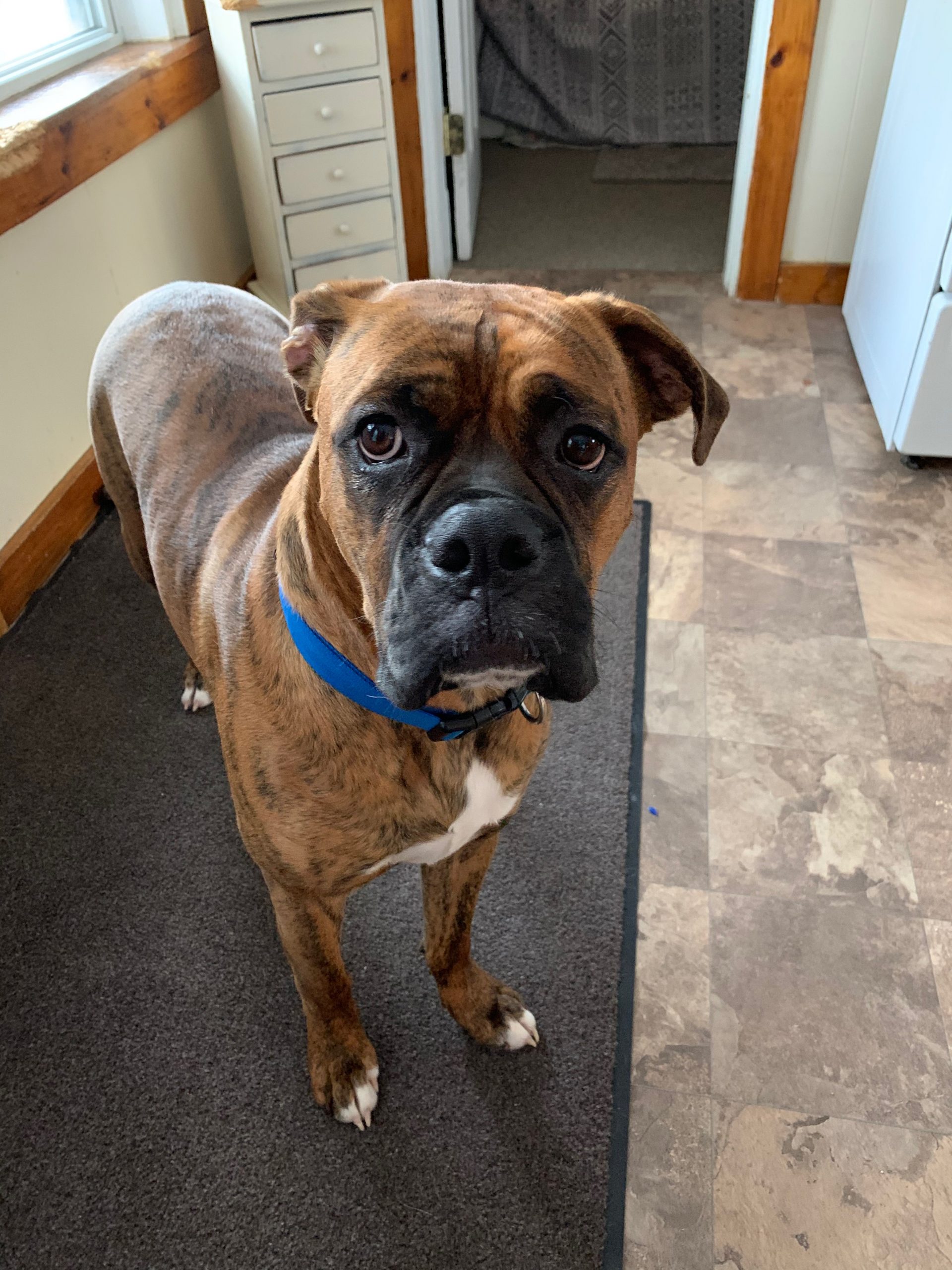 Meet Max 🐾 10 MNTH 🐾 Male
** ADOPTION PENDING **
Oh boy!!! Here he comes... Batten down the hatches!!! It's Max and he's ready to tear it up in the best boxer way possible. This 10 month boy spends a lot of time alone and isn't getting the exercise he needs. So, we are looking for a home that will be able to offer him a s*%t ton of exercise, followed by a s*%t ton more exercise.
Good old Max the man is crate trained, house broken, current on his vaccines and he's minus two balls. Soooo.. he's good to go!
Like to take walks? Great... he's your guy. Just be prepared to spend time teaching him how to walk. Right now, he's rocking maybe a D- in that class. Max is a perfect candidate for higher education. It will benefit him greatly!
As you can see, he's got an A+ in the looks department. That face says "move over... I want the couch and a paw massage"
We'd like to see Max placed in a home with a fenced in yard. He thinks he's Dora the Explorer and got himself hit by a car a while back. His front leg is worth 50 million dollars now and he's good as new. We'd like to make sure he stays that way.
Other dogs? Female ok
Cats? Nope
Kids? 10+ (open for discussion but no toddlers)
Training? Hell to the yeah
Fenced in yard? Please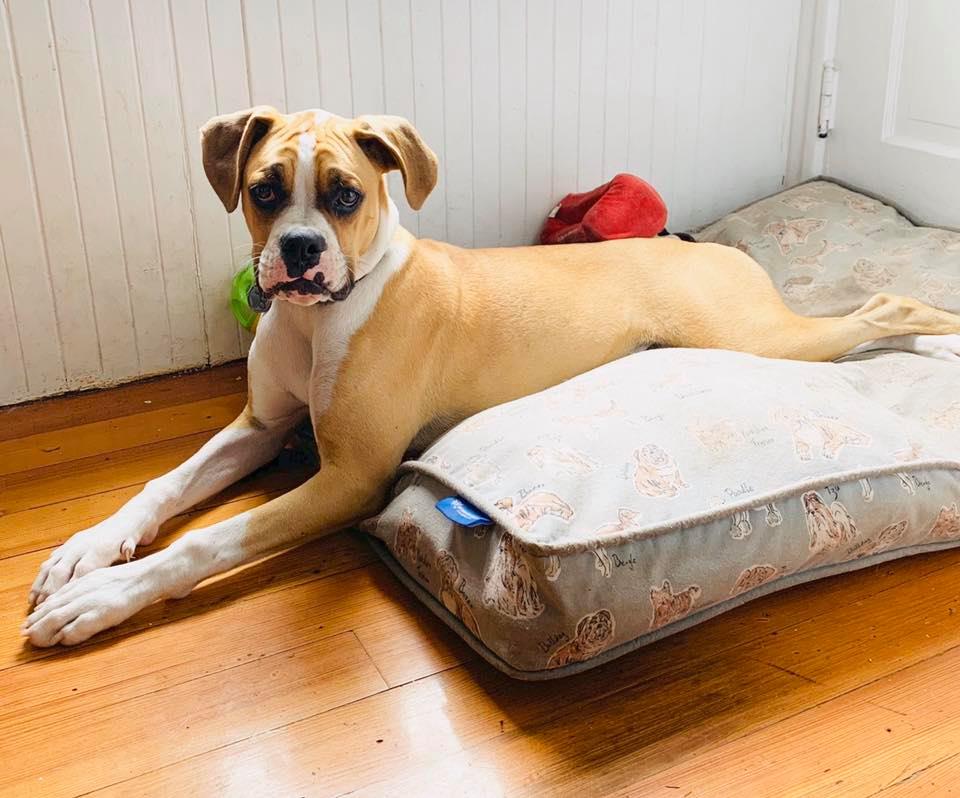 Meet Sunny 🐾 1 YR 🐾 Male
** ADOPTION PENDING **
This ray of sunshine has quite a fitting name... Sunny will celebrate his first birthday next week! He's a total love and as cute as they come. Sunny's family doesn't have the time to devote to a young boxer, so they turned to us to help find him a family who can best meet his needs. Sunny is oozing boxer energy and would love love love a fenced in yard where he can run like the wind. He'd make a great walking, running, or hiking partner and may want to continue on, long after you've thrown in the towel. He's still working on housebreaking but getting better. He would thrive in a home where he's not alone for long periods of time. He needs some positive based training especially when it comes to greeting people. Right now, he's taking the in your face kangaroo approach and it's not always fun to be on the receiving end of the overzealous hello. Sunny is a puller on leash, but a front clip harness and a lot of practice will curb that behavior. We know he's a very willing student!
Sunny could be placed with a young female dog, who shares his zest for life. His energy level could throw an older dog over the edge.
No cats.
Due to his jumpy behavior, no little kids, but we will consider older, more sturdy kiddos.
Sunny will be neutered once he comes into rescue.
Other dogs? Young female considered
Cats? No
Kids? No toddlers but we would consider older
Fence? Yes
Training? Will be required
Frequently Asked Questions
Adoption Service Area
Please note, APPLICANTS MUST BE 21 YEARS OLD and MUST reside in MA, RI, NH, or CT. Be sure the application is filled out in its entirety. Incomplete applications will not be considered.
Where do your boxers come from?
Many of our boxers are owner surrenders. Perhaps the owner purchased the dog on impulse, not understanding the needs of a boxer. Sometimes, financial situations change, and families are not able to care for the dog anymore. We also take dogs that have been brought to shelters around New England. If a shelter reaches out for help, we do our best to find placement for the boxer in need. Lastly, we have a wonderful relationship with boxer rescue in Puerto Rico, and we work closely with them to bring boxers in need, from the island, to New England. All of our boxers are temperament tested and evaluated before coming into rescue. It should be noted that ALL dogs require a decompression period when going to a new home. Even the sweetest, most loveable boxer experiences fear and confusion during transitional times and foster/adoptive homes need to be conscious and respectful of this.
Can I adopt a female dog if I already have a female dog?
The short answer is no. Our experience in placing dogs, has shown us that placing two females together is oftentimes not the best long term situation. We receive many calls from owners needing to surrender their female boxers because there is fighting with another female dog in the house. Sometimes it's with another boxer and sometimes, it's with another breed. Either way, the fighting is often brutal and bloody. We have adopted a policy to never place two female dogs in the same house.
Are your boxers healthy?
Before adoption, our dogs are healthy to the best of our vets' knowledge. They are brought up to date on vaccines, tested for heartworm, and spayed or neutered (unless too young or not medically able to be). We also send our boxers with one month of heartworm and flea/tick prevention to get them started. Their vet records are provided upon adoption.
Do I need to have a fenced in yard to adopt a boxer?
We do not require a fenced in yard for all of our boxers. However, there are certain circumstances where a fence may be required and it will be noted in the boxer's bio. We look at each dog, individually, and based on the needs of that dog, we may require fencing. Please note that we do not consider an electric fence to be a proper method of containment and are not able place a dog in a home that uses electric fencing.
Do you have a shelter where I can come meet the boxers?
We are not a shelter and do not have a physical location where you can meet our adoptees. Most boxers will stay with their owners or shelter until we can secure a foster or adoptive home for them. Our boxers from Puerto Rico, are flown here once we've secured homes for them.
What Are Your Adoption Fees?
Puppies – $450.00
Dogs – 6 months and older $400.00
Dogs – 7 years and older $150.00
Pet Rock
September 8 🐾 12pm
Wyman Gordon
Woofstock
September 21 🐾 11am-4pm
Hudson Elks Pavilion
Boxer Bash
October 6 🐾 11am-3pm
Hopkinton State Park
Boxer Briefs
BOXERS WITH KIDS AND SENIORS:
Generally speaking, boxers have an affinity for children and for the elderly. Most can recognize the need to be more calm and gentle with certain people.  However, some have no idea how big and strong they are and could accidentally knock over a small child or senior adult. Please consider ALL family members when looking to welcome a boxer into your home.