The Boxer Rescue
Available Boxers
Adoption Service Area
Please note, APPLICANTS MUST BE 21 YEARS OLD and MUST reside in MA, RI, NH, or CT.
Be sure the application is filled out in its entirety.
Incomplete applications will not be considered.
Get Ready To Snuggle
Our Adoptees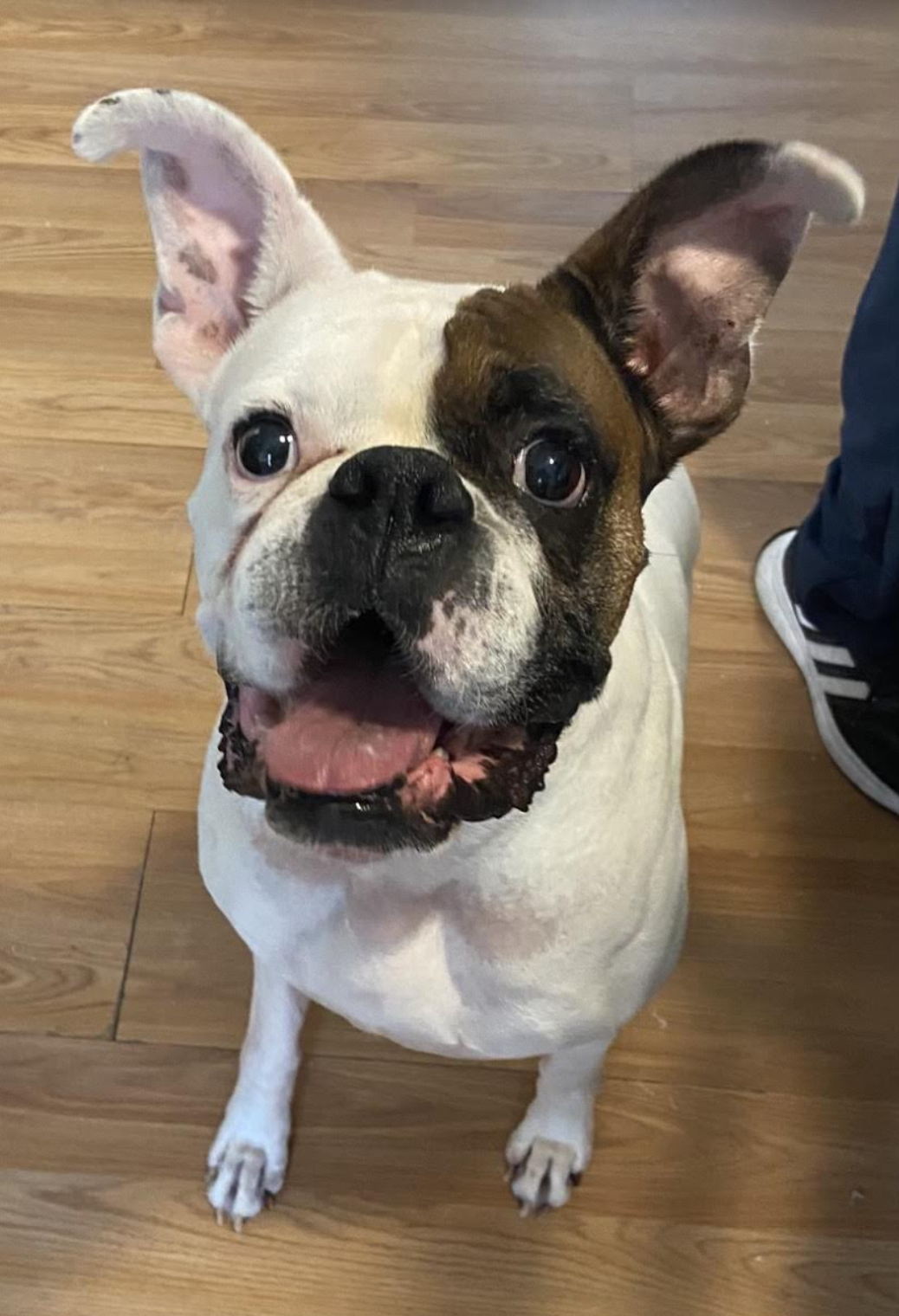 Meet Rocky 🐾 9/10YRS 🐾 M
Rocky has settled into life with his foster mom and dad, and while we are happy to see him so happy, foster life isn't forever life. We want him to find his happily ever after.
Rocky is around 9 years old. He's spicy, zesty, sassy, and fun loving. 9 is a number. He's got a whole lotta life left to live and is seeking a human or humans to join him on his journey. Rocky loves loves loves walks. He also loves looking damn good while doing it. Blue is his color… although he looks dapper in red as well. He's not a puller. He just cruises along, turning heads, courtesy of his amazing looks and out of this world ears.
Rocky's life prior to rescue wasn't all that joy filled. He spent most of his time alone. He didn't play with toys, get affection, or snuggle on the couch. All that changed when he arrived in foster. It took Rocky a little bit to learn how to accept and handle all the newfound attention. Now, he happily welcomes the love of his fosters without being overstimulated. He adores toys! Be careful, he may steal your credit card and place a million Chewy orders for ALL THE TOYS!
Rocky can be a little weary/unsure of strangers approaching and new people entering his space. He just needs time to sort out that they aren't a threat and then it's GAME ON, love fest. He's just not a dog you can run up to and smother with attention. He hasn't had that in his life. He has to feel out the new humans coming and going. Once you're in his circle of trust, you're there for life! Rocky's new humans need to understand and be respectful of this.
He adores being with his peeps. We'd love to see him in a home where he's not left alone for hours on end. He's been there, done that. It wasn't great for his mental health. He's had a taste of the awesome life with his fosters and he isn't looking back. Rocky isn't crated and just chills when he must be left alone.
Rocky will be neutered in a few weeks. He was vetted and all went well. The vet was amazing with him and allowed him time to acclimate to her touching and handling him. Yay for patient and kindhearted vets!
Rocky is ready to start interviewing potential forever homes. Let's get some apps for this gem!
OTHER DOGS? He would like to be an only and soak up all the attention he didn't get for the first 9 years of his life.
CATS? No
KIDS? We feel he's best suited for an adult only home or a home with teens or older. His fosters are a retired couple and it's a great fit for him.
Meet Kimber🐾 1 YRS 🐾 F
Meet 1 year old, Kimber!  She's GORGEOUS with a face you want to smoosh and mush all day long.
Kimber's owner reached out for help because they simply have too many boxers and are feeling overwhelmed.  Kimber is having issues, mainly with another female in the home, and fights have occurred. Her human contacted us to ensure that she will land in a loving home.
Kimber hasn't been socialized much outside of her family circle. She isn't walked, and her owner admits that she will need practice with leash walking for sure. Kimber has never met or interacted with dogs outside of her family. We are looking to place her as an only dog. This way, she can settle into her new life, attend some positive based training to bond with her new family, and learn how to be her best self. Perhaps, down the road, her new adopters can properly introduce her to a male dog, and see if she's a candidate for a buddy.  At this time, it's most important that she get lots of attention and be allowed to decompress.
Kimber has no history with children. Given her young age, we will consider kids 8+.
She is used to having someone home during the day, but is crate trained for when errands need to be run.
Kimber is still a baby girl… She's full of that crazy boxer energy and is not a couch tater. She will require a plethora of exercise, mentally and physically, as well as some positive based training to help build her confidence and bind with her new family.
Our volunteer that met her said she's very sweet, just a little unsure of new things. Again, she's been living in a bit of a bubble with her family and hasn't been exposed to much of the big wide world. With some patience, guidance, love, and confidence, she will shine.
OTHER DOGS? No
CATS? No
KIDS? 10+
Kimber is spayed and current on vaccines.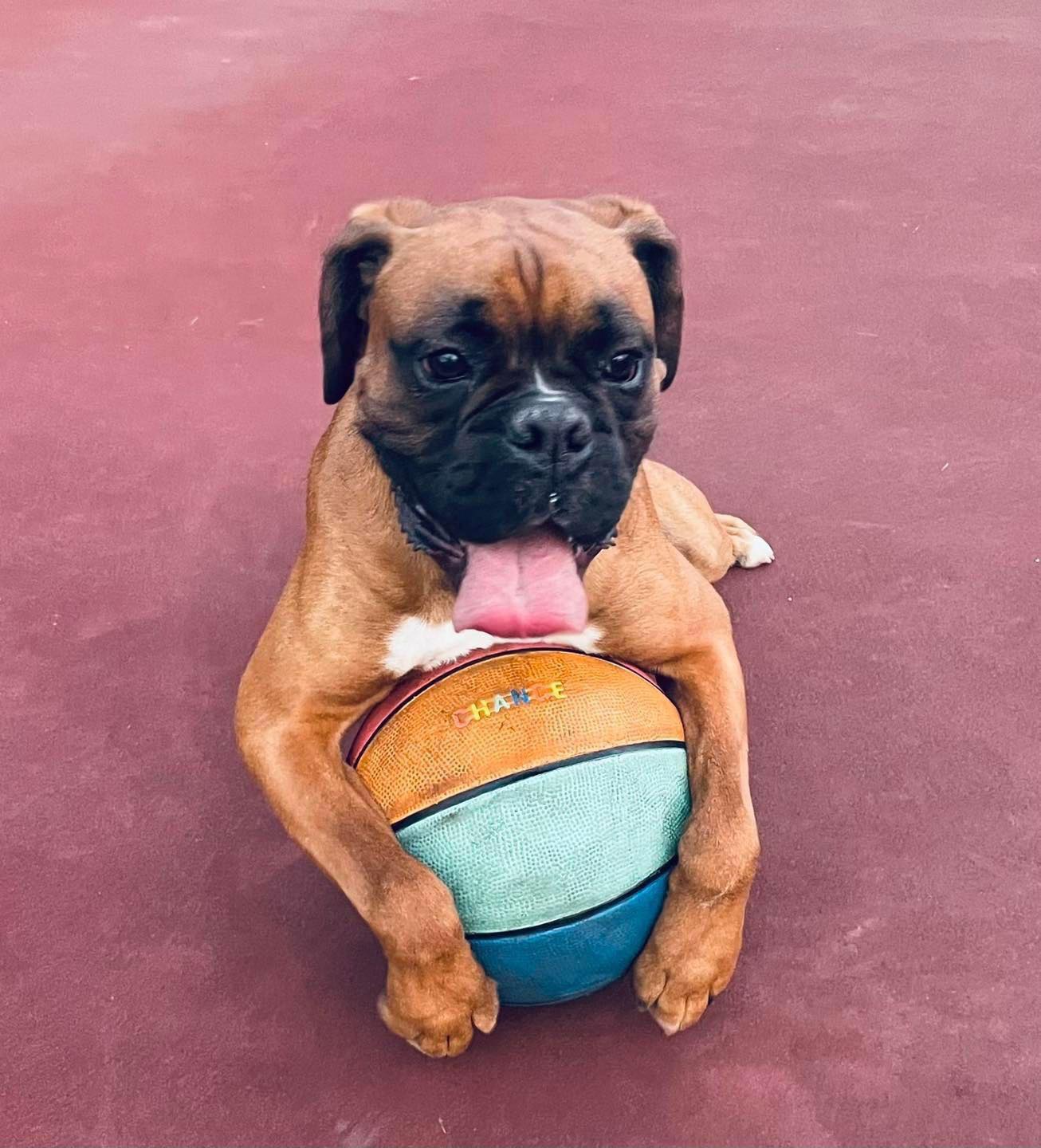 Meet Bo 🐾 2 YRS 🐾 M
** PENDING ADOPTION **
Meet Bo! He will be 2 in February and is coming into rescue because he's a boxer. It's that simple, but also that complex. His current home didn't do their research before getting him from another family. His boxer qualities are just too much for them, their current dog, and their child. Bo is in that velociraptor stage. He's mouthy, he's sassy, he's full of piss and vinegar. He doesn't hear the word "no" or maybe he hears it but gives no effs. He's got energy through the roof and up to the clouds. Bo is a BOXER!!!!!!!
He's also sweet, loving, adorbs, and a smarty pants. He just hasn't had the right humans in his life yet to set boundaries, give him structure, or meet his crazy boxer boy needs.
Our volunteer met Bo today and he was great!!! Full of energy, and a bit mouthy but responsive to corrections. He was great with her female dog, so we'd love to see him have a confident girl in his life that can help keep him in check and play play play with him.
OTHER DOGS? Female boxer with equal energy will be considered
CATS? No
KIDS? 12+
FENCED IN YARD? Yes
TRAINING? Positive based training will be required for Bo.
Bo is current on vaccines but is not neutered. We will have that taken care of once he's settled in a home.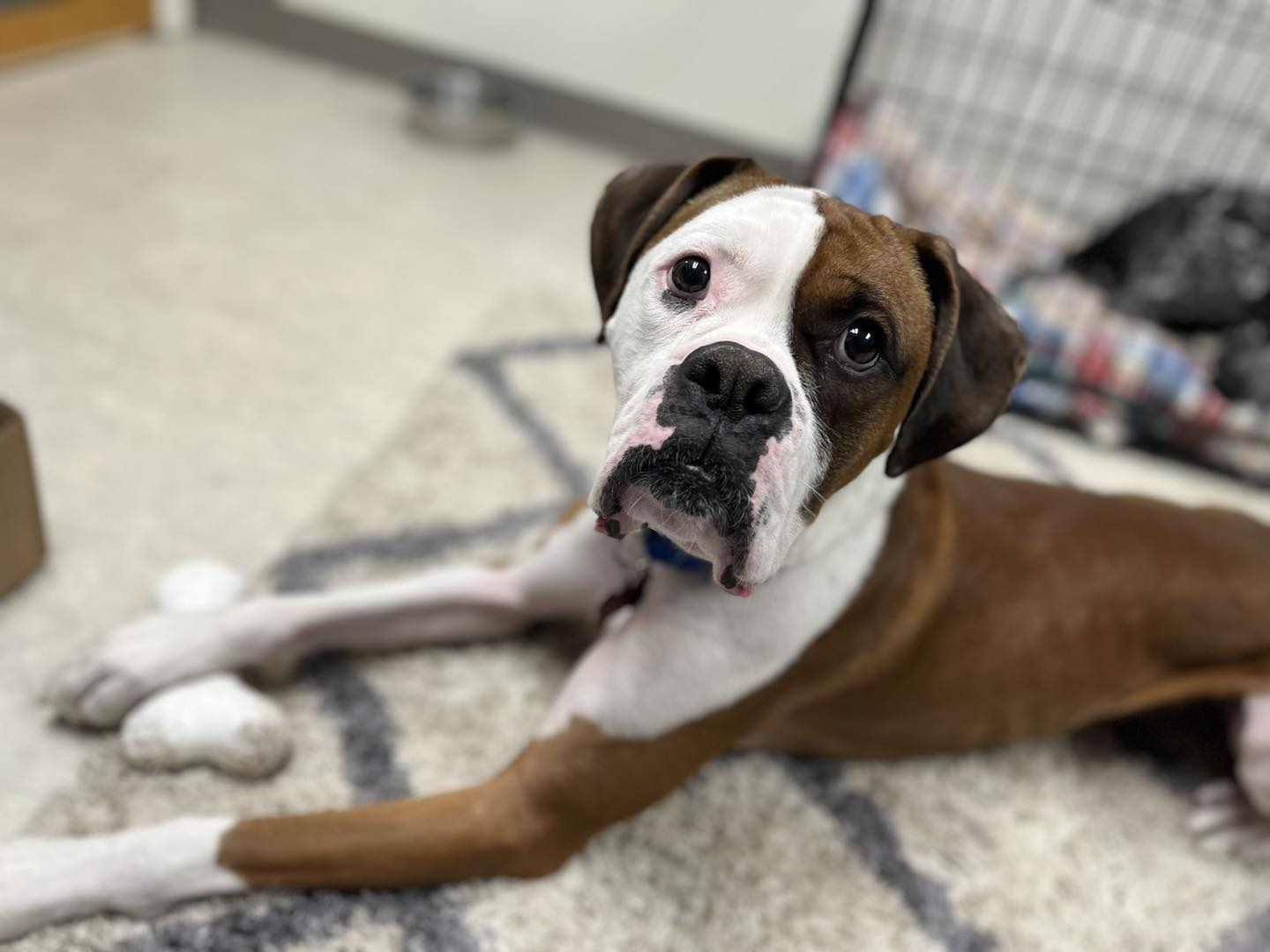 Meet Tucker 🐾 2 YRS 🐾 M
** PENDING ADOPTION **
Tucker is 2 years old and overflowing with all things boxer. He's got oodles of energy, loves to hike, walk, play, snuggle... REPEAT. We are seeking a forever home for Tucker that can meet his physical and mental needs. He isn't a dog that would enjoy being alone. He isn't a dog that can just lounge on a couch or sit in a crate. He isn't a dog that will be happy with one short walk a day. He is a dog that thrives on human companionship and attention. He is a dog that needs adventure in his life. Take him exploring... he's in his element out there in the world.
When Tucker came to us, he was skin and bones. There was concern that something was medically wrong with him. Since being in foster, he's gained much of his weight back and has had none of the GI issues that his former owners were seeing. After running lots of diagnostic tests, it seems that Tucker's issues were related to the environment he was living in. It is imperative that his forever home be able to continue the level of activity, structure, exercise, and attention that he's getting in his foster home.
He loves his foster sister, so we will consider a home with a female dog, who can match his energy level.
He has no history with kids. We will consider 10-12+ for him.
No cats.
A fenced in yard would be most ideal for him, in addition to the walks he loves so much.
Positive based training will be required in his forever home.
Below is more info from his foster mom.
FOREVER HOME WISHES - Tucker/Tugboat would do best in a home familiar with the breed. Boxers are a lot if you don't know what you're getting. And he's a very typical boxer and he needs to be around sturdy, active people that don't mind being jumped on/around, punched and climbed on. Will also need a fair amount of attention, training, activity and cuddles alike. He's an active guy and would do best in an active home so he gets his energy out without being depressed or destructive. A fenced in yard is most ideal. He would benefit from another active, confident and playful dog in the house to match him and wear each other out . If you're looking for a partner to share your life with who will always make you smile and remind you to find joy in the little things, Tucker might be your guy. If you like to hike or do another activity that you could share with him and then come home and cuddle on the couch with a movie, Tucker might be your guy. Do you collect antiques, lead a lazy lifestyle and are away from home a lot where Tucker would spend significant time in a crate alone, Tucker is NOT your guy. Tucker is a wonderful dog and deserves to be the center of someone's world where he can get attention, mental and physical stimulation, and love. He hasn't had any vomiting while in foster care and his stool has normalized with a diet change. He has gained ~11 lbs since taken into care and still has a couple pounds to gain to get to his optimal weight. It is recommended to continue the current diet and maintain that weight. Along with general veterinary care (preventatives, vaccines, wellness lab work, etc.) there is a chance that Tucker may need more extensive veterinary care in the future to address his weight or occasional coughing and adoptive parent(s) should be prepared for that possibility.
Frequently Asked Questions
Adoption Service Area
Please note, APPLICANTS MUST BE 21 YEARS OLD and MUST reside in MA, RI, NH, or CT. Be sure the application is filled out in its entirety. Incomplete applications will not be considered.
Where do your boxers come from?
Many of our boxers are owner surrenders. Perhaps the owner purchased the dog on impulse, not understanding the needs of a boxer. Sometimes, financial situations change, and families are not able to care for the dog anymore. We also take dogs that have been brought to shelters around New England. If a shelter reaches out for help, we do our best to find placement for the boxer in need. Lastly, we have a wonderful relationship with boxer rescue in Puerto Rico, and we work closely with them to bring boxers in need, from the island, to New England. All of our boxers are temperament tested and evaluated before coming into rescue. It should be noted that ALL dogs require a decompression period when going to a new home. Even the sweetest, most loveable boxer experiences fear and confusion during transitional times and foster/adoptive homes need to be conscious and respectful of this.
Can I adopt a female dog if I already have a female dog?
The short answer is no. Our experience in placing dogs, has shown us that placing two females together is oftentimes not the best long term situation. We receive many calls from owners needing to surrender their female boxers because there is fighting with another female dog in the house. Sometimes it's with another boxer and sometimes, it's with another breed. Either way, the fighting is often brutal and bloody. We have adopted a policy to never place two female dogs in the same house.
Are your boxers healthy?
Before adoption, our dogs are healthy to the best of our vets' knowledge. They are brought up to date on vaccines, tested for heartworm, and spayed or neutered (unless too young or not medically able to be). We also send our boxers with one month of heartworm and flea/tick prevention to get them started. Their vet records are provided upon adoption.
Do I need to have a fenced in yard to adopt a boxer?
We do not require a fenced in yard for all of our boxers. However, there are certain circumstances where a fence may be required and it will be noted in the boxer's bio. We look at each dog, individually, and based on the needs of that dog, we may require fencing. Please note that we do not consider an electric fence to be a proper method of containment and are not able place a dog in a home that uses electric fencing.
Do you have a shelter where I can come meet the boxers?
We are not a shelter and do not have a physical location where you can meet our adoptees. Most boxers will stay with their owners or shelter until we can secure a foster or adoptive home for them. Our boxers from Puerto Rico, are flown here once we've secured homes for them.
What Are Your Adoption Fees?
Puppies – $450.00
Dogs – 6 months and older $400.00
Dogs – 7 years and older $150.00
Pet Rock
September 8 🐾 12pm
Wyman Gordon
Woofstock
September 21 🐾 11am-4pm
Hudson Elks Pavilion
Boxer Bash
October 6 🐾 11am-3pm
Hopkinton State Park
Boxer Briefs
BOXERS WITH KIDS AND SENIORS:
Generally speaking, boxers have an affinity for children and for the elderly. Most can recognize the need to be more calm and gentle with certain people.  However, some have no idea how big and strong they are and could accidentally knock over a small child or senior adult. Please consider ALL family members when looking to welcome a boxer into your home.