"The chase" Photo by: Padraicyclops
"If you pick up a starving dog and make him prosperous, he will not bite you; that is the principal difference between a dog and a man" - Mark Twain
Please consider Fostering!
The Boxer Rescue is always in need of quality foster homes willing to open their doors and their hearts to our rescued Boxers.

Fostering a dog is a most rewarding experience. While all of our volunteers are extremely valuable members of our group, we could not rescue any boxers without our foster moms and dads.
Foster families help unwanted or abandoned boxers by taking them into their homes. The foster family treats the foster dog as a family member. They nurse it through any medical issues it may have, provide love, socialization and training when needed to help the dog overcome behavioral problems. When the dog is ready to find its forever home, TBRI will begin to research compatible adoptive families. This research is largely based on the information we receive from our foster families as they are the ones that have gotten to know our Boxers the best.
TBRI does its best to find out upfront what we can about the dogs that come into our rescue.
We try to find out if they have behavioral issues, medical issues, etc. prior to choosing a foster family.

Unfortunately, often times the information we receive from the person that surrendered the Boxer, may not be accurate.

Before deciding to become a foster family, you will need to take into consideration that there may be unexpected issues that TBRI was not aware of.

Some of the dogs may be angels, some might need a little coaching on good manners, while some may have been abused and need help overcoming their fears.

You will see the Boxers at the lowest moments in their lives, and you will watch them as they regain that Boxer spirit that we all know and love. Boxers are highly resilient dogs and they will ingrain themselves as a part of your home and heart in no time!

As a Foster family, you will be the person we look to for information on the rescue dog. You'll provide information to TBRI on your experience with the dog, what he/she requires for care, and the behavioral issues, if any, you have experienced with the dog. Our foster families will be asked to speak with potential adoptive families about their foster dogs habits and personalities. Since you will know your foster dog better than anyone, the information you provide to us is crucial in helping us to find the best "forever home" for that particular dog.

Foster families are an integral part of our mission to give every Boxer dog we can a chance at the best possible life and to thrive and feel the love they deserve in a forever home. Please considering fostering, our Boxers will be forever grateful. TBRI will provide you with everything you need to become a foster home. We will provide all of the medical care that your foster needs. We will also provide a crate, collar, leash and dog bowls if needed. Foster homes are often asked to transport their foster dogs to veterinarian visits when needed but we understand that sometime this will be impossible. We will ask our volunteers for help with this should it be needed. Here at TBRI we are a team and we all help each other.

Please consider this before committing to Fostering

•Be prepared for the unknown. We try to find out all that we can about a rescue dog, however, it is not always accurate or there may not be much known about a particular dog, as some of our dogs are strays or come in from shelters where there is little information left from the previous owners.

•Be prepared for the dog that is coming into your home to be stressed and out of sorts for a little while. Take it SLOW (baby steps) you will need to give him/her time to adjust.

•Be prepared for a dog that may have medical issues that needs to be taken care of.

•Be prepared to train the foster dog if needed.

•Be prepared, fostering a dog can be a "bitter sweet" task. We all fall in love with our foster dogs and that's how it should be. If you didn't love them you wouldn't be doing this. Remember every foster dog you nurture and help has the best chance of finding a "forever home" and for every Boxer that finds their "forever home", your home then becomes open to help another Boxer that is in need. Saying goodbye to your foster dog can be bittersweet. Tears will often shed. But remember, you are the catalyst that allows your foster dog to get to its "forever home". Never forget, your foster dog will always be with you. They leave their paw prints on your heart forever!

•Be prepared to keep your foster dog for a long time. It can be weeks, months or longer that the foster dog is with you. TBRI goes to great lengths to match the right "forever home" with its dogs. Sometimes a suitable family for your foster dog may not come along so quickly. Therefore, we ask that you be patient with us and know that we are looking for the perfect home for your foster.

•Most importantly remember you ARE NOT ALONE. TBRI works as a team. We are here to provide support and advice. We have a 24/7 crisis team for anything you need at any time.
"The Chase" Photography by:
Patrick McArdle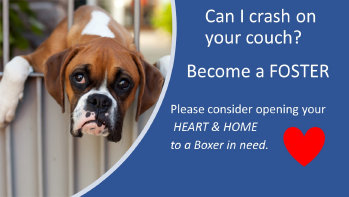 Foster
Volunteer
Surrender
Adoption




Donate Now