Foster
Volunteer
Surrender
Adoption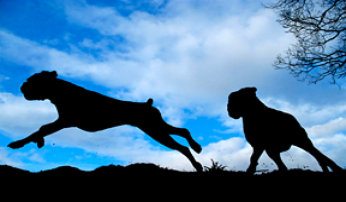 "The Chase" Photography by:
Patrick McArdle
"The Chase" Photography by:
Patrick McArdle
Friends of
The Boxer Rescue

Happy Tails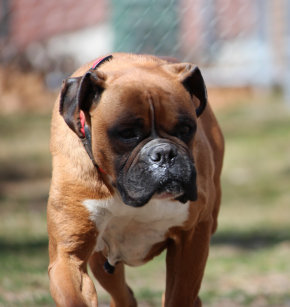 Please support
The Boxer Rescue
Pertinent Information

| Male: 7 years - DEAF | UTD: Yes |
| --- | --- |
| Weight: 75 lbs | Good with Other dogs: some |
| Color: White | Good with Cats: NO |
| Ears: Natural | Children: Older 16+ |
| Tail: Docked | Microchipped: |
| Neutered: To be done | Training required: Yes |
| Surrender: Owner | Adoption Donation: $250.00 |
April 1, 2018

Meet Brixton! Brixton is a 7 year old DEAF white male that is coming into the program as his current home no longer has the time to take care of him. He is one handsome boy with one "blue eye". He does currently live with a few dogs and has had resource guarding issues on a few occasions with food and attention with another dog and his human. Our volunteer met Brixton and introduced her dogs to him and found he can be a little aggressive on leash as he kept lunging to get at her boy and was giving the Boxer growl. Her dogs did not seem threatened in anyway, and she feels he just does not know how to greet properly, as he had no manners whatsoever with greetings, so any introductions with other dogs needs to be done slowly and positively.

He has not been well socialized and will need a Boxer Savvy home to work with him on his socialization skills and manners. He does know some hand signals such as sit, down, come and stay, but will need formal training for bonding as well. Brixton is use to someone being home more often than not and he is used to a fenced in yard. He is not currently being walked, so he will need help with loose leash walking and being introduced to new environments in a positive manner. He was crate trained as a puppy, but does have free roam as an adult and does fine. He has been around children and is fine, but because he is a good size boy with no manners, we will be placing him in a home with older children or no children. He has no history with cats, so no kitties for this boy! Brixton relies heavily on his human and will be your shadow until he becomes comfortable and confident.

Brixton needs a home that is willing to commit to working with him, a home with patience and a lot of time to give him the attention he so desperately needs. He is a super sweet boy that will make someone a wonderful companion. To learn more about the deaf dog, please visit Deaf Dogs Rock , Deaf Dog Fund or you can visit our page at Deaf Dogs.

A note on the Deaf: Deaf dogs are dependent on us. It is always important that we earn and sustain their trust by being clear and caring.

Deaf dogs make wonderful companions if you are willing to make a special effort to live with them successfully. Most notably they need to be carefully supervised and managed on leash at all times or within a confined area. More challenging for humans who are so used to talking is the need to develop a mode of communication without sound, using hand and body signals. The deaf dog is not handicapped – he or she simply can't hear. They do not know they are deaf. Typically, deaf dogs compensate for the lack of hearing sound by developing a stronger reliance on visual signals and on their sense of smell. Because dogs don't speak or use language to communicate as we do, they are ahead of us in their ability to read body language and detect meaningful patterns of motion. Research has shown that even dogs with normal hearing learn signals easier and faster than they do words. So the challenge really is for us to learn to use signals effectively and consistently to build an effective relationship with our deaf dog.